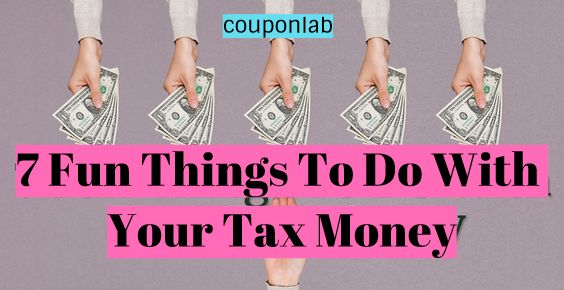 7 Fun Things To Do With Your Tax Money
by couponlab
It's tax season and we tend to be pretty conservative with our extra cash mostly because student loans are a killer. If you are like us, we tend to be curious about what people spend with their tax refund. In researching for this article, we've seen there are a ton of things people typically spend their money on. People tend to try and be responsible with an unexpected windfall. This is great; it helps provide a good resource for your individual family. However, sometimes being spontaneous is exciting. We decided to look into what people are spending their money on and what they actually want to spend it on. We had a fun time researching this list and hope it will give you a little inspiration to go wild.
1. Get a tattoo. Half of us on the social team have tattoos, and we love them! Recently, while getting a tattoo one of our tattoo artists mentioned that tax season is the busiest time of year for them. Yes, tattoos are permanent, but it is something that people really never have the extra cash for. If you've had that idea itching for sometime, this is the time to go for it. We highly recommend researching your tattoo artists. Make sure they can provide what you are looking for, and, since they are experts, taking their advice is crucial.
2. Start your own podcast or YouTube channel. Do you have a friend that you love to chat with? Do you think that you guys have enough charisma or fun to talk to about random or specific topics for a while? The equipment to start either can be a little pricey. If you are starting off you can find some reasonably priced equipment and eventually upgrade as your hobby becomes more in-depth. Finding some great editing software is key to making your production great. Who knows? You may end up becoming a sensation.
3. One of the most obvious ways to spend that extra cash is on a vacation, but don't go somewhere ordinary. Head out to some of the national parks out west. Before the ice is completely gone, how about checking out Glacier National Park? The Bad Lands, Yellowstone, Grand Canyon and Yosemite National parks have some of the most fantastic sites in the world. Book that trip to Napa Valley that you've always wanted. Perhaps you can finally book that trip to Puerto Rico, the Virgin Islands or that cabin in Alaska. Whatever you do, go for it. One of the best places to look for information if you are looking to do some solo travel is the solo travel subreddit. We have a couple of additional articles like 41 Pictures of Unique Hotels That'll Infect You With The Travel Bug or How to Plan Your Solo Travel Adventure.
4. One of the of the first things people tend to do is spend money on their house. How about spending money on that thing that you really want, not necessarily need. I suggest splurging on that amazing electronic, kitchen or amazing piece of furniture. Some suggestions are the new Nintendo Switch, a new couch because your dog or cat scratched it or that Kitchen Aid mixer you've been eyeing. Yes, it's something that you are getting for your house, but it's fun.
5. I know the 3 of us in the social media department really love learning. Picking up a new hobby or learning something that you've always wanted to do or know. Learn a new language, photography, how to knit or cook. If you don't have a community college near you or have time for courses, maybe try something like The Great Courses.
6. Build a new wardrobe including shoes, jewelry, and hair accessories. Building a wardrobe doesn't happen overnight, but when big events happen this is a great way to change and find your style. Start off with the basics, but it doesn't have to boring. Knowing your shape, what colors work, your comfort and what cuts flatter you are all important to selecting a new wardrobe. Everyone deserves to feel amazing. Remember that when you are building your wardrobe, key pieces make a good wardrobe fantastic. Pick that perfect little black dress, biker jacket, boot, bag, pant, perfect white tee, lipstick and accessory. Once you have your favorites and your new style, maybe it will give you the confidence to get that new job, go out and do that new hobby or go on the date that you've always wanted to.
7. Build something amazing. Not too far south from our headquarters, a local police officer built a pirate ship in his backyard just in time for his wedding. We aren't saying that you need a pirate ship, but she-sheds or tree houses are very trendy lately and can be as elaborate or simple an escape as you want. We love the idea of having a little self-care space. We have a couple of ideas on our Pinterest on what you could do to spruce up your backyard. What are your ideas?