Camping World Buys Gander Mountain, Liquidation Sales on the Way
by couponlab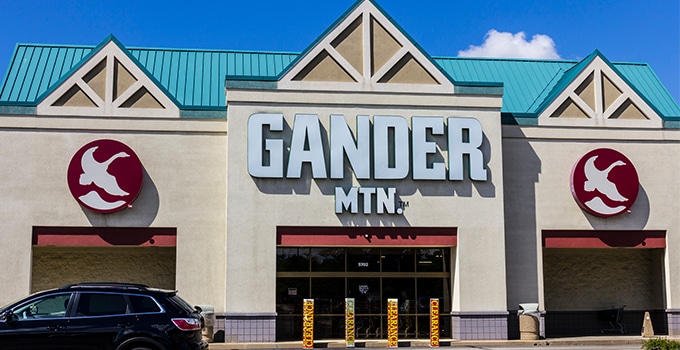 UPDATE 6/30/17:
After stating an original goal to reopen 70 Gander Mountain stores, Camping World is now committing to only 57 reopenings. Marcus Lemonis, CEO of Camping World Holdings, said in statement, "We are not willing to open stores which we do not believe have a clear path to profitability." The 57 stores include locations in Iowa, Kentucky, Mississippi, South Carolina, Tennessee, Florida, Georgia, Indiana, Missouri, Ohio, Virginia, North Carolina, Pennsylvania, Minnesota, New York, Texas, Michigan and Wisconsin.
UPDATE 5/8/17:
Camping World has announced it will continue to operate at least 70 Gander Mountain stores following their acquisition. This is good news for Gander Mountain fans, especially since Camping World was only on the hook for 17 leases as per their financial commitment. Camping World CEO Mark Lemonis took to Periscope to make the announcement, shedding light on speculation that Camping World was shuttering all Gander Mountain stores. In a statement, Lemonis said, "All stores are liquidating, and the inventory in there is going to go away, but the stores aren't closing. My goal is to open at least 70."
Lemonis reiterated Camping World's commitment to profitability, saying, "It's up to the local staff, the manager to run that store profitably. I will not be picking stores that do not have a clear path to profitability — I will not do that under any circumstance." It is also speculated that Camping World might add store-within-a-store concepts in the form of small Camping World or Overton's sections inside Gander Mountain stores.
Gander Mountain will continue to honor gift cards until May 17, so if you have any left, spend them ASAP. Liquidation sales began May 5 and will continue until all merchandise is sold.
ORIGINAL ARTICLE:
When we wrote earlier this year about Gander Mountain's bankruptcy, things looked bleak for the outdoor lifestyle retailer, but thankfully, Camping World has purchased the company. In their agreement, Camping World agreed to assume at least 17 leases, but that leaves the rest of Gander Mountain's 160 stores in limbo. The successful bid comes after Sportsman's Warehouse had expressed interest in buying the failing company, and includes Overton's, an aquatic sports and recreation retailer.
Gander Mountain is already in the process of liquidating 32 stores nationwide (a list can be found here), and more could be coming if Camping World doesn't assume the leases of more than 17 stores. Camping World CEO Marcus Lemonis did say, however, "While we are obligated to assume a minimum of 17 leases, our designation rights will allow us to operate stores and retain employees at a number to maximize profitability," indicating they may be willing to take on more stores than the minimum. Chief Operating Officer of Camping World Brent Moody went on to say, "Camping World's plan is to immediately right size the inventory and operate only in retail locations with occupancy costs that we believe support profitable operations, with an extreme focus on corporate overhead and expenses, consistent with our other operating segments." Camping World will be liquidating product from many locations to even out inventory, meaning big sales nationwide. Keep an eye on your local Gander Mountain for discounts and liquidation events.
Certainly not the first company this year to go under, Gander Mountain is part of a trend in sporting goods and recreation chains losing their grip on profits in the last year, with Sports Authority and Eastern Outfitters filing for bankruptcy. Cabela's is still awaiting the ruling on their purchase by Bass Pro Shops, which may be shot down by the Federal Trade Commission as a violation of anti-trust laws. Gander Mountain is one of nine retailers to file for Chapter 11 bankruptcy this year, putting 2017 on track for the most bankruptcies since the 2008 recession.