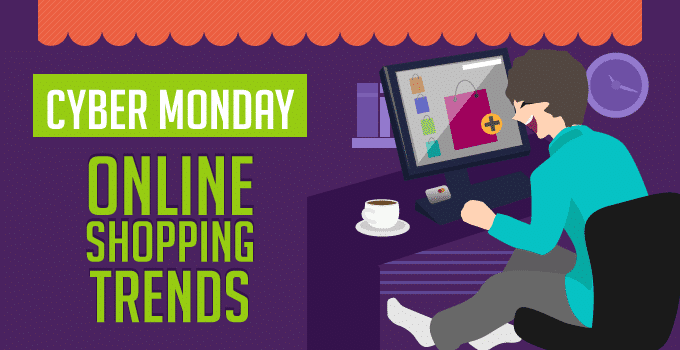 Cyber Monday Online Shopping Trends
by couponlab
Every Monday after Thanksgiving, online retailers roll out their biggest and best sales of the year. For nearly 10 years, it's served as a sensible alternative for shoppers who want to enjoy the extreme savings of Black Friday without all the potential beatings and tramplings. It all began in the late '90s as online retailers like Amazon.com were growing in size and number. Every year, eShopping seemed to peak at the end of the four-day Thanksgiving weekend, spurred on by sorrowful shoppers looking for all the big items they missed on Black Friday. In 2020, the National Retail Federation declared the day "Cyber Monday." The following year, retailers started throwing official Cyber Monday sales, and an online tradition was born.

Since then, Cyber Monday spending has been consistently on the rise. While the first Cyber Monday sales in 2006 only raked in $610 million, by 2014 they crossed the $1 billion mark. Today the amount of spending has risen to well over $2 billion. However, the amount individual shoppers spend has begun to decrease. In 2021, the average Cyber Monday shopper checked out with about $200 worth of goods. Today that number has dropped to $150. This trend reflects a similar drop in sales for Black Friday as well, suggesting that Cyber Monday isn't dipping in popularity but that the entire holiday shopping industry is taking a small hit at the moment.
This could also be due to the fact that in recent years, Cyber Monday has been getting stretched out into "Cyber Week." Online retailers have started their sales earlier and earlier, some as early as Sunday morning, and extended them later and later. Some stores take their cyber sales all the way to Friday, offering new special deals on different items for every day of the week. While statistically the most shopping still occurs Monday morning at the official kickoff of Cyber Monday, the spending for Cyber Week has been steadily on the rise. In 2014, 38% of shopping took place on Cyber Monday. The other 62% took place across the days leading up to and days after Cyber Monday, with 30% of online shopping happening on Saturday and Sunday and the other 32% stretched out over the course of Cyber Week.
Shopping over Cyber Week could also be a response to employers who have been cracking down on Cyber Monday at work; 30% of employers have reported blocking access to all retail sites on Cyber Monday because of a distinct decrease in productivity from workers seeking out insane deals on the company dime. Even more drastic, 7% of HR reps reported having to reprimand or fire an employee for excessive shopping on Cyber Monday. So while Cyber Monday may be on the rise, you'd better tread carefully. Saving hundreds of dollars on a TV or smartphone probably won't make up for all the money you'll lose if you get fired.
No matter where you do your shopping or how much you choose to spend, there's simply no denying that Cyber Monday is increasingly becoming a part of the American holiday tradition. It still only pulls in a fraction of the money that Black Friday does, but that number has been steadily rising, with huge jumps in the last two years alone. Could there be a near future where all our holiday shopping is done online and the madness of Black Friday seems like some half-forgotten, national nightmare? It's possible, and while we may miss the frantic fun of fighting for our savings on Black Friday, we'll probably all be saying silent thanks to Cyber Monday for keeping us safe and sound behind our computers and smartphones.