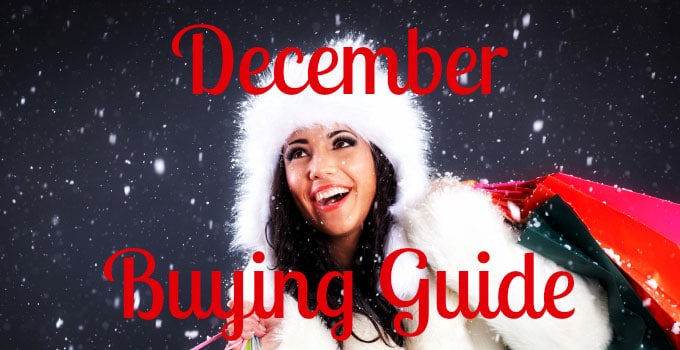 December Buying Guide – Holiday Gifts and More
by couponlab
Online shoppers spend more money in December than any other month, even when Cyber Monday falls on Nov. 30, like this year. There are more sales each day and weekend than any other month, and more items shipped than any other month. At its heart, December is big consumer spending, especially on holiday gifts for kids. In fact, 9 in 10 parents will spend the same or more than they did a year ago, and 70% will buy each of their children 3 or more gifts. Add to that 61% of adults will buy their significant other at least one gift, that's a lot of money moving around this season. (See the Holiday Gift Buying survey and INFOGRAPHIC for more data.)
Some of the hottest gifts that kids want are toys and video games. They also want clothing, shoes, tablets, smartphones and laptops (who wouldn't) and retailers know this, so expect to find post-Black Friday tech deals in abundance. Adults' big gift desires this year are for clothing, shoes, jewelry and vacations. A smaller percentage would also be happy with mobile devices, TVs and new computing devices. Both kids and adults rank gift cards as one of the most wanted holiday gifts. Shoppers for the majority of these items will be pleased to know that these are high on the list of what to buy in December.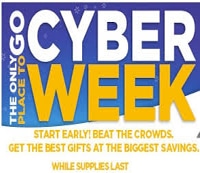 Cyber Week Deals:  We've all heard of Black Friday creep, yes? Well Cyber creep goes the other way as the days after Cyber Monday are now referred to as Cyber Week. Big retailers will feature huge store and category discounts from 10-50% off. This is the perfect time to stack these discounts with shipping offers and cash back. Often you can get the majority of your gifts purchased at one store and cash in on all the savings opportunities. Here's a short list of 20 retailers offering  members cash back on gifts during Cyber Week.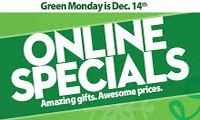 Green Monday Deals:  The second Monday in December is quaintly called Green Monday. It offers a second round of store-wide discounts this month that focus on items for the home and kitchen, like cookware, bakeware, dinnerware, cutlery and glassware. Although the enormity of clothing discounts won't match what we saw on Cyber Monday, look for one-day store exclusives and buy-one-get-one specials on Green Monday. This may be your last chance to get the hot selling models and styles, if they aren't out of stock already.
Free Shipping Day (or week): Really, this event is an alert that you are running out of time to get items shipped for Christmas. Some stores have already decreased, or eliminated, their spending threshold for free shipping, and many other stores that get listed as participants aren't decreasing their shipping offer at all on this day, but there are dozens of stores that offer free shipping or flat rates year round (see full list). With that said, the reason to pay attention to this event is that it represents the last round of online sales and discounts; many will rival BlackFriday and Cyber Monday as retailers make one last push to clear inventory. It's a good time to find cheap electronics and computer accessories, batteries, holiday decorations and clothing.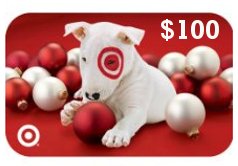 Gift Cards: Late December and right before Christmas break is the best time to buy gift cards, or e-gift cards. Not only will dozens of stores offer gift card discounts (e.g. $100 GC for $80), especially for restaurants, movies and local entertainment, but you can also get cash back on many gift card deals. Anyone looking for gift card discounts should read the fine print, especially when trying to apply cash back to the initial purchase or during redemption.
December Clearance: This event starts promptly the day after Christmas and includes huge 50-90% discounts on holiday decorations, wrapping paper/bows/tags, dinnerware, food and candy. Clearance (or End of Season) shoppers should also look for decreased pricing on off-brand, fall and winter clothing and shoes, toys, small electronics and small appliances. Tap into Hot Deals forum no later than Dec. 26 for insider savings on these items as the deal hunters love this time of year and share tips willingly.