Dominate the New Year: 13 Wacky Resolutions for 2019
by couponlab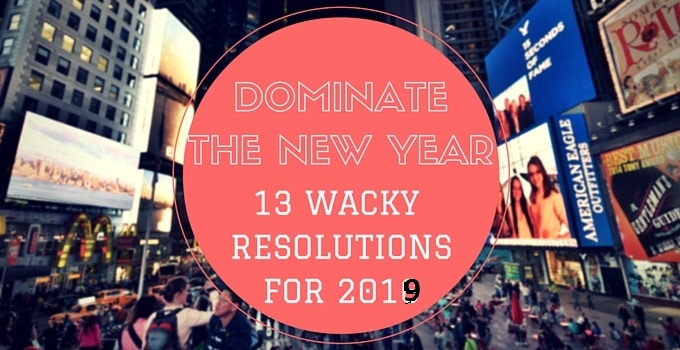 Look, 2019 is coming whether you like it or not. So you might as well start it off right with a great New Year's resolution. And I'm not talking some namby pamby resolution like vowing to lose a couple of pounds or something like that. I'm talking hard core resolutions. Resolutions that will make Baby New Year wet his Pampers. So, whaddya say, reader? Are you gonna be the windshield or the bug in 2019? Personally, I prefer the windshield. That's why I'm resolving to do all thirteen of these things this year, even if it kills me. So let's do this!
MEET GARY BUSEY
Go big or go home, right? Nothing's bigger than meeting the man himself. Ask him about what it was like playing Buddy Holly. Ask him about competing on "Celebrity Apprentice." Ask him if the Amazon Fire TV Stick is really as great as he says it is in the commercials. But be prepared, because his answers will probably be ultra-crazy and nonsensical. What can I say? The man is a legend.
PHOTOBOMB 1,000 SELFIES
It's always good to set goals for yourself at the beginning of the year, and this one is incredibly practical. Just go around to a bunch of spots where millennials typically gather, such as Taylor Swift concerts or obscure coffee shops, and wait around. You're bound to hit the thousand mark before too long. Just don't make fun of their weird beanie hats and skinny jeans. Millennials are a sensitive generation. (I know because I'm one of them.)
FIND THAT MOLE IN YOUR ORGANIZATION
You've been putting this one off for too long. You've suspected it for months now. So many of your plans have been foiled lately that there's gotta be a squeaky wheel somewhere among your ranks. Is it Janice in accounting? What about Maurice in human resources? Or what if this conspiracy goes all the way to the top. Heaven forbid! But you've always had a bad feeling about President Morris. The way he calls you names like champ and pal whenever he sees you has always grated on you for some reason. You know it shouldn't. You know he's probably just a friendly guy. But you can't shake the "what ifs" that continue to haunt your dreams. So it's time to take action. Whack that mole in 2019. Whack… that… mole.
ASK STAN FROM SALES ABOUT HIS TRIP TO PITTSBURGH
Come on. He's a good guy. Sure you're bored out of your mind whenever he talks to you, but it won't hurt you to ask him just this once about his trip to the Steel City. But why does he have to go on vacations to such boring places? Couldn't he go to Cabo or something once in a while? Last year he went to Buffalo for crying out loud! Who vacations in Buffalo?
Nevertheless, it would be good of you to talk to Stan about his trip one day on your lunch break. Heaven knows no one else will.
GET GARY BUSEY TO STOP STALKING YOU
Look, you knew there was a risk of this when you resolved to meet him. Now he won't stop following you. Hopefully you won't have to get the police involved, but you most likely will. What can I say? Gary's just an ultra clingy guy. The man's a legend.
Oh, and if you do have to go the witness protection route, make sure you get a cool alias like Jefferson Steelflex and Alvin Yakatori. After all, it's not every day you get to pick a new name for yourself.
LIVE TWEET 2019
Look. If you love live tweeting stuff so much, then why not live tweet an entire year?
Parameters: You must tweet about every single thing you do. No exceptions.
Sample tweet: "Just found another piece of lint in my belly button. Lol. #LiveTweet2019."
MIME IT UP 2019
Look. If you love mimes so much, then why don't you try being one for an entire year?
Parameters: No talking. No using real objects, only mime objects. And if you get stuck in an invisible box, you must stay in that box until either another mime comes to help you or you mime yourself up an invisible door.
Sample mime tweet: "@mime4lyfe1 Yo, bro. Stuck in another box. Can u help me out? #MimeItUp2019 #LiveTweet2019."
A.B.C.: ALWAYS BE CAGING
Embrace your inner Nicolas Cage this year by Caging as much as humanly possible. Now, if you're wondering what exactly Caging is, watch this instructional video to find out. You could also watch a bunch of Nicolas Cage films for inspiration, but be careful not to overdo it. A little Cage goes a long way.
KISS YOUR OWN ELBOW
Scientists say you can't. They say it's "not physically possible." This year, why not show scientists where they can shove their rules by smooching your elbow over and over again. Take that, science!
MOONWALK ACROSS AMERICA
Pay homage to the King of Pop by doing his signature move all the way across the country! Don't put this one off, though, because according to Google Maps it takes 909 hours to walk from New York to LA. I'd factor in a few extra hours, considering you'll be dance-walking backwards.
STOP TALKING ABOUT STAR WARS ALL THE TIME. GOSH!
I mean, really! I get it. You love Star Wars. But would it kill you to resolve to talk about it a little less? And please, no spoilers because I haven't seen the new one yet.
JOIN GARY BUSEY'S WEIRD MOON CULT*
Well, Gary's still stalking you. So, I guess, if you can't beat 'em, join 'em. And by join them, I mean put on a tinfoil spacesuit and start mumbling about the moon all of the time. And don't complain. Like I said before: you knew the risks involved when you resolved to meet Mr. Busey. So embrace your new life with your moon cult brethren. They have free food at all of their meetings, so that's pretty cool, right?
There's nothing wackier than getting cash back and great deals all year long! Yay shopping!
So there you have it, reader: thirteen wacky resolutions for 2019. Which ones are you going to try out? Let us know in the comments below.
Happy New Year!