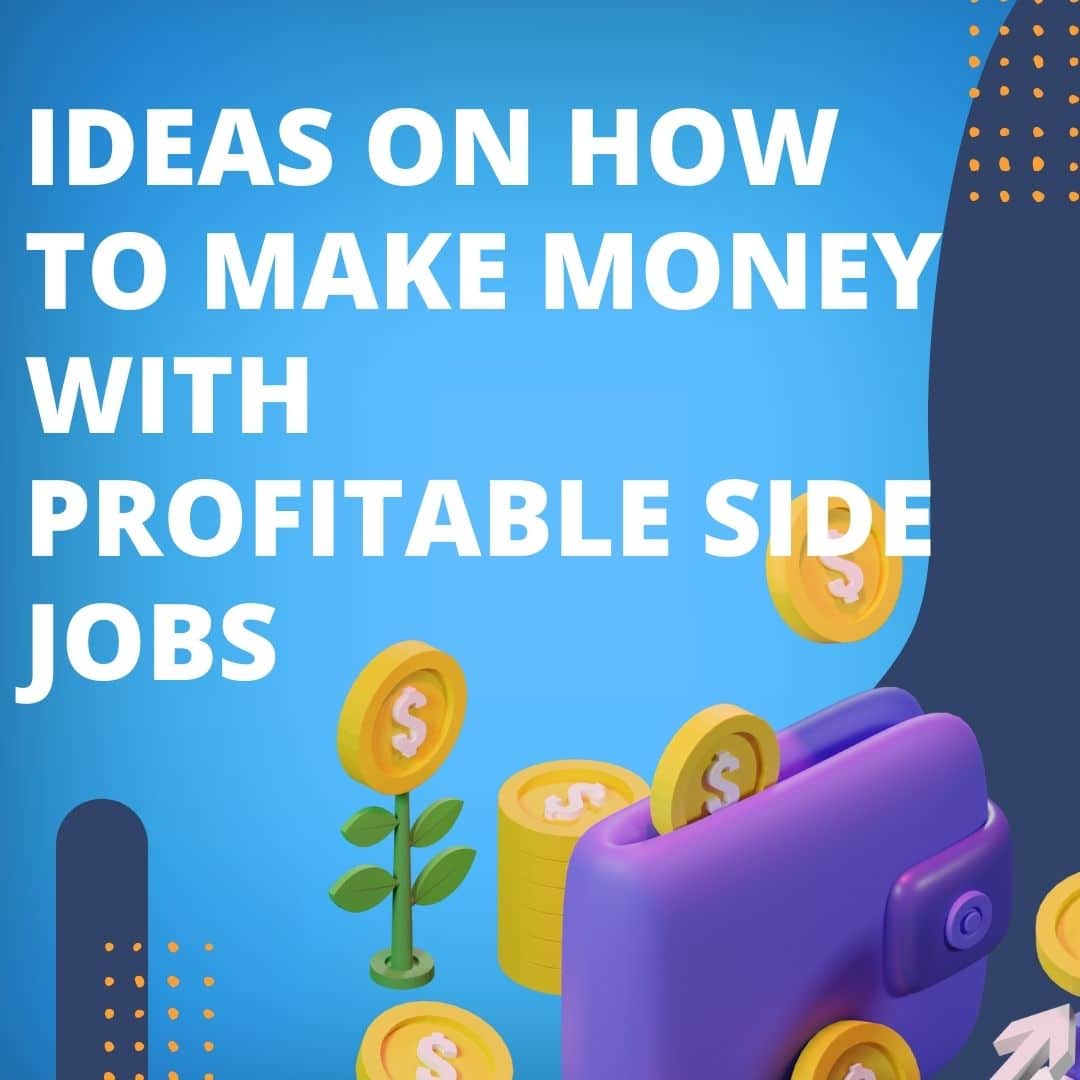 Ideas on How to Make Money with Profitable Side Jobs
by couponlab
Are you drowning in debt, living in a money mess that's keeping you awake at night? Whether you're trying to figure out how to dig yourself out of a hole, scrounge up the extra cash to send your kids to college, supplement your anaemic retirement fund, or make a down payment on your first home, a side hustle may be the perfect solution to make money.
We talk a lot on the FatWallet blog about ways to save money, but if you're extreme couponing like a superstar and cutting corners everywhere, you can. You are still not making it financially, and maybe frugality is only part of the solution. Let's explore dozens of ways to make extra money instead.
HOW TO MAKE MONEY QUICKLY & PAINLESSLY:
In a pickle and need immediate cash? We've all been in a place of being hard up to make quick cash at some points in our lives, although some are more desperate than others, I'm sure. But I saw a post a while ago on one of my favourite personal finance blogs.
What? She couldn't come up with any other better, less risky ideas? Sure, I know that sometimes desperate means call for desperate measures. Still, there are many other ways to make money quickly that don't require anyone to resort to prostitution or hit up a payday loan store (which is almost as scary!)
Here are some painless ways to put more cash in your pocket almost immediately:
If you got a large tax refund last year, adjust your tax withholding to give you more monthly money.
If you have a job, ask if there are any opportunities to work extra hours.
Become a temp, wait tables, mystery shopper or something of the sort.
Return anything you have purchased that you haven't used yet for a refund.
Ask anyone who owes you money to pay up.
Cash-out available balances on your accounts on sites like  PayPal, credit cards, etc.
DUMP YOUR STASH TO MAKE SOME CASH:
If you're still desperate, there are plenty more options! What do you have that you can sell for some quick money?
Cash in your gold and silver broken chains, bracelets, orphaned earrings, and outdated jewellery at a reputable jewellery shop.
Sell your book, movie, and music collections.
Sell or trade in any gift cards you have.
Sell your unneeded clothing, toys, music instruments, electronics, etc., at a yard sale, on Craigslist, eBay, or consignment.
Super desperate for immediate cash? Sell plasma, breast milk, sperm, or eggs.
IDEAS TO START A PROFITABLE SIDE HUSTLE
If your day job isn't cutting it, start a side business to ward off the no-money monster! It's not as hard to figure out how to earn an extra $500, $1,000, or $5,000 per month. I managed to make enough extra every month to stay home with my kids for 13 years, leveraging the skills, knowledge, and resources I had available. Here's how you can too…
IMPORTANT: Check with authorities to ensure you have the appropriate licenses, insurance, and what-not before starting any business. You don't want to end up with legal things to worry about on top of money!
MAKE A LIST OF THE KNOWLEDGE, SKILLS, AND RESOURCES YOU ALREADY HAVE.
Resources
Do you have a car?
Turn your car into a moving billboard.
Run errands/ or make deliveries for people, restaurants, newspapers, and businesses
Start a shuttle service, take neighbourhood kids to school and pick them up from practices, drive older people to appointments and shopping, etc.
Rent out your truck/van
Haul junk, scrap, recycling, donations, yard waste, or anything else you can think of
Be a tour guide if you live in a touristy area.
Offer to drive people to the airport in their car and return it home.
Offer to drive people's cars to their summer/winter homes for them.
Do you have a home?
Rent out storage space.
Get a roommate or border.
Rent large rooms as a meeting space.
Turn your home into a bed and breakfast.
Rent a room for travellers or students.
Do you have some land?
Rent it out for garden space to apartment dwellers.
Grow your fruits and veggies and set up a produce stand or table at a farmer's market.
Grow perennials (or Christmas trees-my grandparents did this!)
Let people camp, hunt, or fish on your property for a fee.
Lease out your land to the DNR for hunting
Knowledge
Start with what you have and know and think about the various ways it can be used to make money by providing a service or a product to a market that is looking for it. What do people frequently ask you for advice or help with?
Equipment:
"I have a nail gun and I'm not afraid to use it!"
Equipment can be the most expensive part of a small business start-up. If you have equipment that you already own, it's a great starting point for brainstorming a possible money-making opportunity.
Computer: virtual assistant, writer, web designer, transcriptionist, software engineer, web or app developer, graphic design, computer repair, home or small business network set-up
Camera/Video Camera: sell your photos or products you make from your photos, start a video blog, photograph events, people, pets, homes, businesses, and cars; offer videography services, or video editing
Power Washer: clean siding, driveways, sidewalks, wash cars, playgrounds
Sewing Machine: mending, tailoring, home decorating, embroidery, making costumes for dance & theatre productions, quilting, upholstery
Washer & Dryer: laundry services for small businesses and busy people
Stove/Oven: catering, baking, cake decorating, meal preparation, personal chef
Lawn Mower: mowing and trimming for businesses, municipalities and individuals
Plough: snow removal for people, businesses, and municipalities
ARE YOU AN EXPERT, GURU, OR TALENTED AT SOMETHING?
The Obvious: Doing whatever you're good at to earn money
The Not-So-Obvious: Teaching others how to do what you're good at! (Community colleges, online colleges and community centres are often looking for experts to teach.)
Put your thinking caps on and join me in a brain – dump of possibilities here!
Musician: teaching; performing; writing and selling your music; recording advertising jingles; use your musician network of friends to help organize performers for others: weddings, corporate events, local bars & night clubs, parties
Pets: walking; grooming; pet sitting; training; pet-proofing homes; pooper scooper; pet photography; baking home-made or organic pet treats; making pet outfits; taking people's pets to the vet, groomers, dog parks; teach your pet tricks and come up with a pet performance act; clean aquariums; start a doggie daycare; let pets out/feed them while owners are away/at work
Parent/Teacher: babysitting or being a nanny; tutoring; coaching sports; starting a preschool in your home; offering after school care; hosting kids workshops for crafts, lego, cooking, etc.; organising birthday parties; selling teaching resources; becoming a parenting coach teaching parents how to discipline their kids positively, organize their household
Crafts: making cards, scrapbooks, collages, etc.; all kinds of arts and crafts, such as jewellery, homemade soaps, pottery, paper crafts, book sculptures, cards, scrapbooks, collages, clothing, etc. can be sold on sites like Etsy & Crobbies
Tree Hugger: Organize or lead tours for hikers, campers, paddlers, bicyclists, hunters, people who love to fish, people who love to photograph the outdoors
Green Thumb offer to do yard clean-up, mowing, trim bushes, spread bark mulch, plant flowers, water plants for people on vacation, weed flower beds, landscape design, flower pot arrangements, floral arrangements
Honey-Do: handyman, putting in mailboxes, sealing driveways, putting up decks, and fences, assembling box furniture, putting up shelves, closet organizers, finishing basements, furniture repair or refinishing, painting, home staging, picking colours, mixing fabrics, accessorizing, party decorating, wedding decorating, restaurant and business interior design, furniture arranging, consulting with home sellers
Healthy Cooking: food & nutrition specialist, organic cooking, raw foods, healthy meal planning and preparation
Fitness Expert: personal trainer, coach, referee
Makeup & Fashion: hairdresser, personal shopper, help people clean out their closets & shop for clothing/accessories, makeup tips, work with photographers for senior photos, help women and men find their style
Foreign language: teaching, tutoring, translating
Web Savvy: blogging, building and flipping websites, domain/hosting reselling, getting paid to be a brand ambassador in social media, promoting referral programs and affiliate programs, writing/video product reviews, AdSense, online marketing consultant, website development
Good with Numbers: bookkeeping, accounting, and tax services helping people with budgeting, paying off debt, saving for goals
Reseller: shop at auctions, your basement, flea markets, garage sales, and estate sales for collectables, tools, etc. Buy low and sell high on Craigslist, eBay, and yard sales
HOME-BASED BUSINESSES
Start your direct sales or network marketing business; think Mary Kay-Arbonne-Pampered Chef-Tupperware, types of businesses here. Check out DSA.org to make sure it's not a home business scam before joining a company and, if possible, interview your potential up-line to ensure you are comfortable. You will get the leadership support you need to be successful.