IT'S REAL! GET THE STARBUCKS UNICORN FRAPPUCCINO APRIL 19-23
by couponlab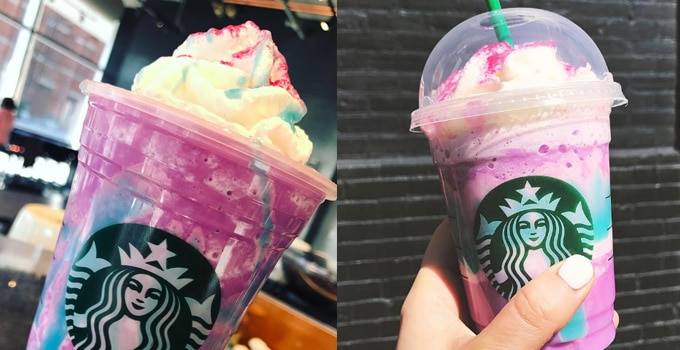 Featured image via Instagram users chloblow_to and 190queenstarbucks
Updated April 18 and April 15, 2017
Check this off your bucket list: Your magical Unicorn Frappuccino dreams are officially coming true! Starbucks released a statement today confirming that the Unicorn Frappuccino is, in fact, real. The catch? It'll only be available this week, April 19-23, at participating Starbucks locations ib the US, Canada and Mexico while supplies last.
Signage is already starting to pop up at various Starbucks locations, such as this one taken in Madison by Cris Council: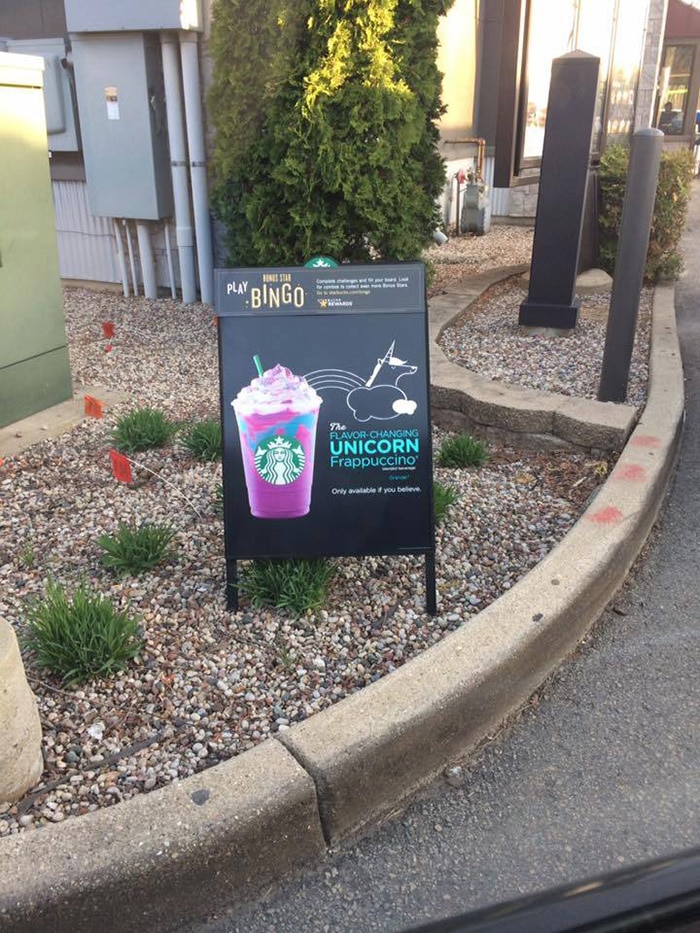 Up until now, we've only heard speculation as to what the flavor would be, with one Twitter user telling us the Unicorn Frapp is cotton candy flavored. Starbucks has dispelled these rumors, confirming our initial reports that the enchanting beverage is a blended crème with mango syrup, a sour blue drizzle, and a sweet dusting of pink powder.
According to the official statement, "Like its mythical namesake, the Unicorn Frappuccino blended crème comes with a bit of magic, starting as a purple beverage with swirls of blue and a first taste that is sweet and fruity. But give it a stir and its color changes to pink, and the flavor evolves to tangy and tart. The more swirl, the more the beverage's color and flavors transform."
Are you going to battle what we predict to be some epic crowds to get this legendary Frappuccino?
Article originally published April 14, 2017:
Your Starbucks experience might get a little more magical on Wednesday if rumors of the Unicorn Frappuccino turn out to be true. An intrepid writer for Cosmo did some digging on social media and discovered some Reddit and Instagram posts indicating that this enchanting beverage might be released on April 19.
Photos of the alleged Unicorn Frapp began popping up online on Wednesday, like this pic of "unicorn dust" posted by Reddit user hellabummed in the Starbucks subreddit: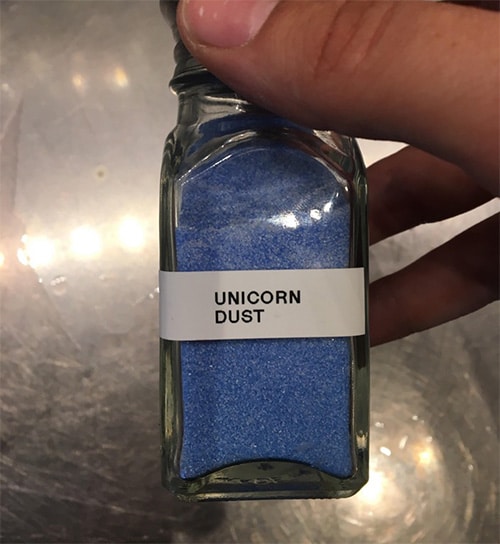 And this pic of Starbucks pink powder posted by reddit user outside_the_madness, also to the Starbucks subreddit. Note that the package says "do not open until April 17."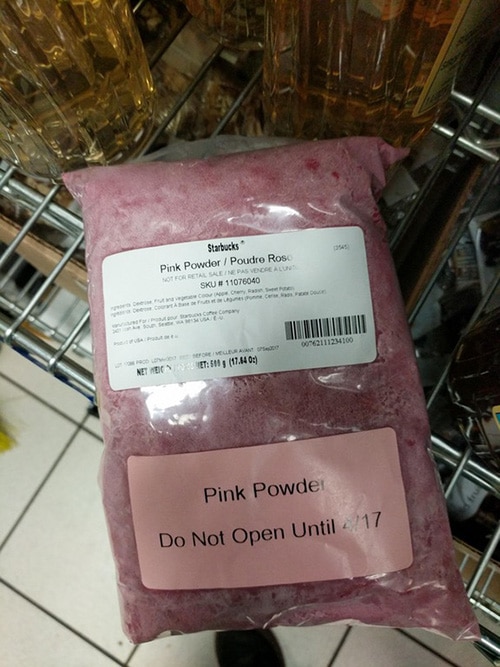 Reddit user hellabummed followed up the unicorn dust post with this pic of what looks to be the actual Unicorn Frapp: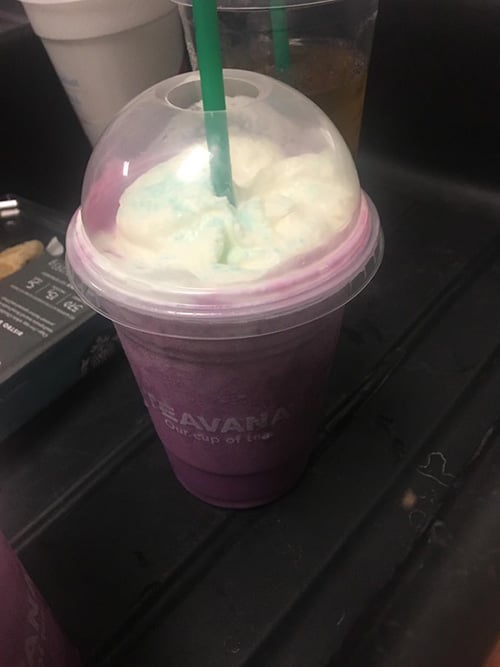 And posts are now popping up on Instagram stating the Unicorn Frapp will be available starting April 19.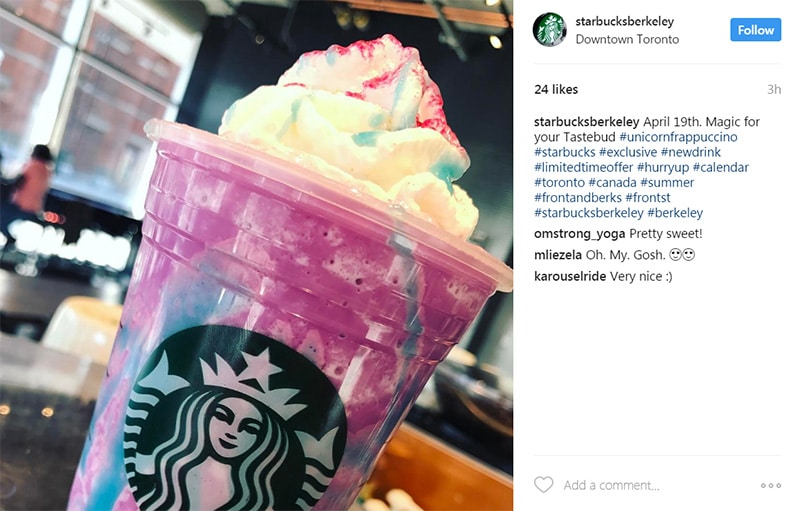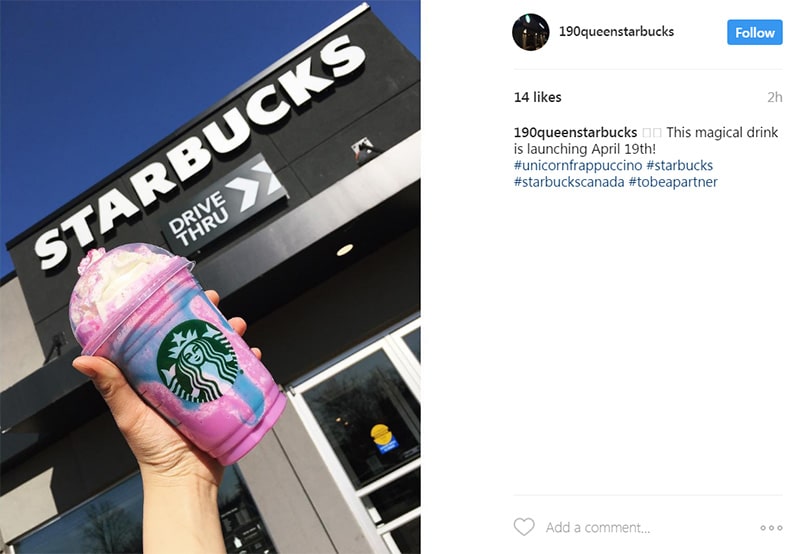 We originally heard through the Starbucks subreddit that the Unicorn Frapp is mango cream with pink powder, but Twitter user Julianne Perez (@YoungFitLove) got to try the new frapp early thanks to her friend, who's a manager at Starbucks, and she confirmed the flavor is actually cotton candy.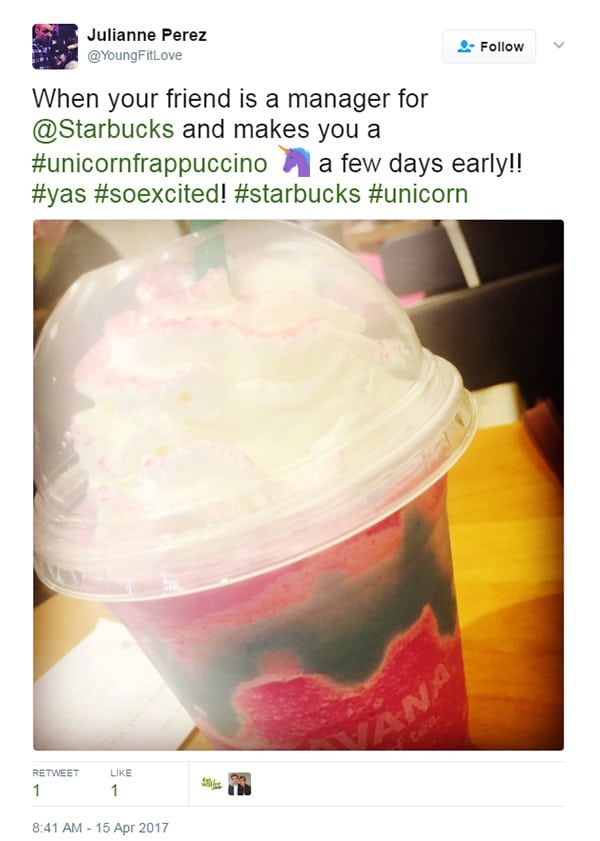 If the Unicorn Frapp doesn't excite your taste buds, some additions to Starbucks' rewards programsurely will. You can now submit receipts by text message, email, or online to collect Stars (rewards points) for qualifying products you pick up at the grocery store. This includes any size K-Cup product and ready-to-drink single serve or multi-serve beverages (excluding four-packs), such as bottled Frappuccino chilled drinks and Starbucks Doubleshot Energy Coffee. At this time, you can't submit receipts for whole bean or ground packaged coffee and Starbucks VIA Instant, but you can collect Stars for those products by entering the codes included on the packages. Here's a list of all of the products that currently qualify for receipt verification.