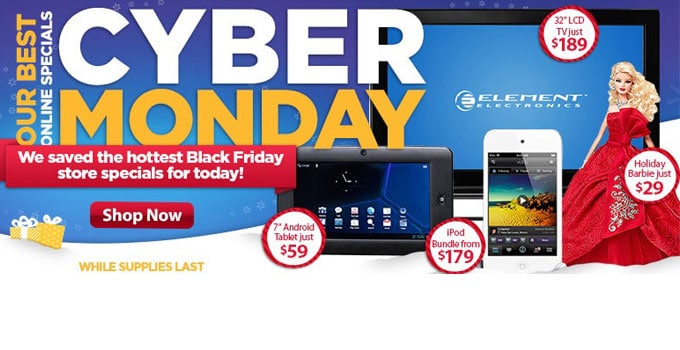 Cyber Sunday? Walmart Pushes Cyber Monday Sales
by couponlab
Walmart wants you to be able to catch a good night's sleep before Cyber Monday this year. For the second year running, the world's largest retailer has announced plans to kick off its online deals bonanza at 8 p.m. Eastern Time on Sunday, Nov. 29.
According to a Walmart press release, "It can be exhausting for working parents and millenials to stay up past midnight to shop online, only to wake up early the next day to get ready for work," said Fernando Madeira, President and CEO, Walmart.com. "By starting

'Cyber Monday' hours earlier on Sunday evening and quadrupling the number of Cyber Monday specials, we're making it easier for customers to get ahead of the busiest online shopping day of the year and save on the best gifts."
Similar to last year, Walmart's Cyber Monday deals will come in two waves, the first with an initial array of sales at kickoff followed by a second round the retailer likes to call the "evening edition" that will start on Monday evening. So, if customers are unable to shop on Sunday evening for any reason, they have another opportunity on Monday after work to grab the deals they want.
coupon for walmart grocery pick up
According to Walmart, Walmart.com merchants closely watched customer search and demand trends in the months leading up to the holidays and significantly expanded the assortment for Cyber Monday in the most sought-after categories.
For example, in the past week, searches for Star Wars, 4K TVs, drones, Beats by Dre headphones, Fitbit and 3D printers are all up more than 100 percent compared to the same time last year. Walmart.com has increased its assortment of these key items and will offer triple the number of Star Wars toys, three times as many 4K TVs, 15X more drones and 350 percent more 3D printers and accessories compared to last year.
As shoppers look to avoid bundling up and lining up in the cold, mobile shopping has only increased. Those looking to skip the brutal Black Friday sporting event are merely picking up their smartphones from the comfort of their couch to peruse deals. The rise of mobile shopping has only emboldened large retailers such as Walmart to push their Cyber Monday deals online and into Sunday evening. If you're looking to shop in your pajamas after eating turkey leftovers on Sunday evening,