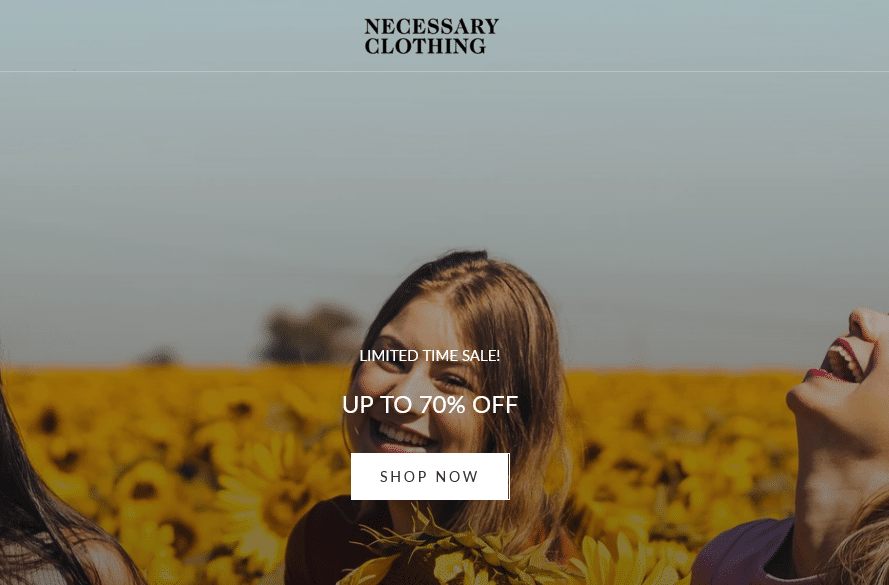 About Necessary Clothing
by couponlab
About Necessaryclothing.com
Necessary Clothing is a chain of fashion clothing stores around and in downtown New York City area. The store offers clothing, shoes, apparel and accessories of the latest and up to date fashion trends. They have an online website called Necessaryclothing.com which is an eCommerce website offering similar services as the stores. The website provides customers with the privilege of shopping for quality clothes and shoes and many other items at affordable prices. The website gives its customers the option of free shipping anywhere in the USA for purchases that are above $125. Let's look at some more services that Necessary Clothing has to offer.
https://www.instagram.com/necessaryclothing/?hl=en
https://twitter.com/necessarysoho
Services offered
The website offers clothing, footwear and accessories in the latest trends and fashion.
The website has few major categories: clothing, accessories, shoes and new arrivals.
Each of these categories is further divided and classified into other options from which the customer can easily choose. For instance, under clothing the subcategories are tops, bottoms, dresses, outerwear, etc. Under the category of shoes, the subcategories are pumps, wedges, boots, sandals, etc.
If the customer wants to buy a dress she has to select dresses under the clothing category, but if the customer wants to buy a particular kind of a dress like a maxi, mini, party dress or a little black dress, then the website has that provision as well. So the customer doesn't have to scroll down looking for what she wants; she can select exactly the kind of dress that she is looking for and purchase it.
So the customer doesn't have to scroll down looking for what she wants. She can select exactly the kind of dress that she is looking for and purchase it.
Necessaryclothing.com also gives the option to choose size or price range for items. They can also specify the desired color.
Shopping experience at Necessary Clothing
Everybody knows that a store located in New York with a popular name will have something that is truly amazing, since New York is one of the most fashionable cities across the globe. Buying from Necessary Clothing gives you that experience. They have some of the trendiest and most fashionable items at low and affordable prices. The website is well designed for the customer to pick out exactly what he/she is looking for and the options are many. Besides, the website offers its customers $5 ground shipping and free shipping for purchases over $125. When a customer likes a particular item they can add it to their bag where the product details will be saved and the customer can decide later on whether or not to buy the item.
Sales and deals at Necessary Clothing
The website provides its items at affordable prices; nevertheless, they also give their customers the privilege of using Necessary Clothing coupons and coupon codes to get products at lower and discounted costs. They give offers not just to their frequent customers but also to their new customers. For instance, they give 10% off to first time customers by using a Necessary Clothing promo code. You may even try out the coupon codes if you are a constant customer with the store. The website also has sales where the customer can buy the same item at a lower price than usual.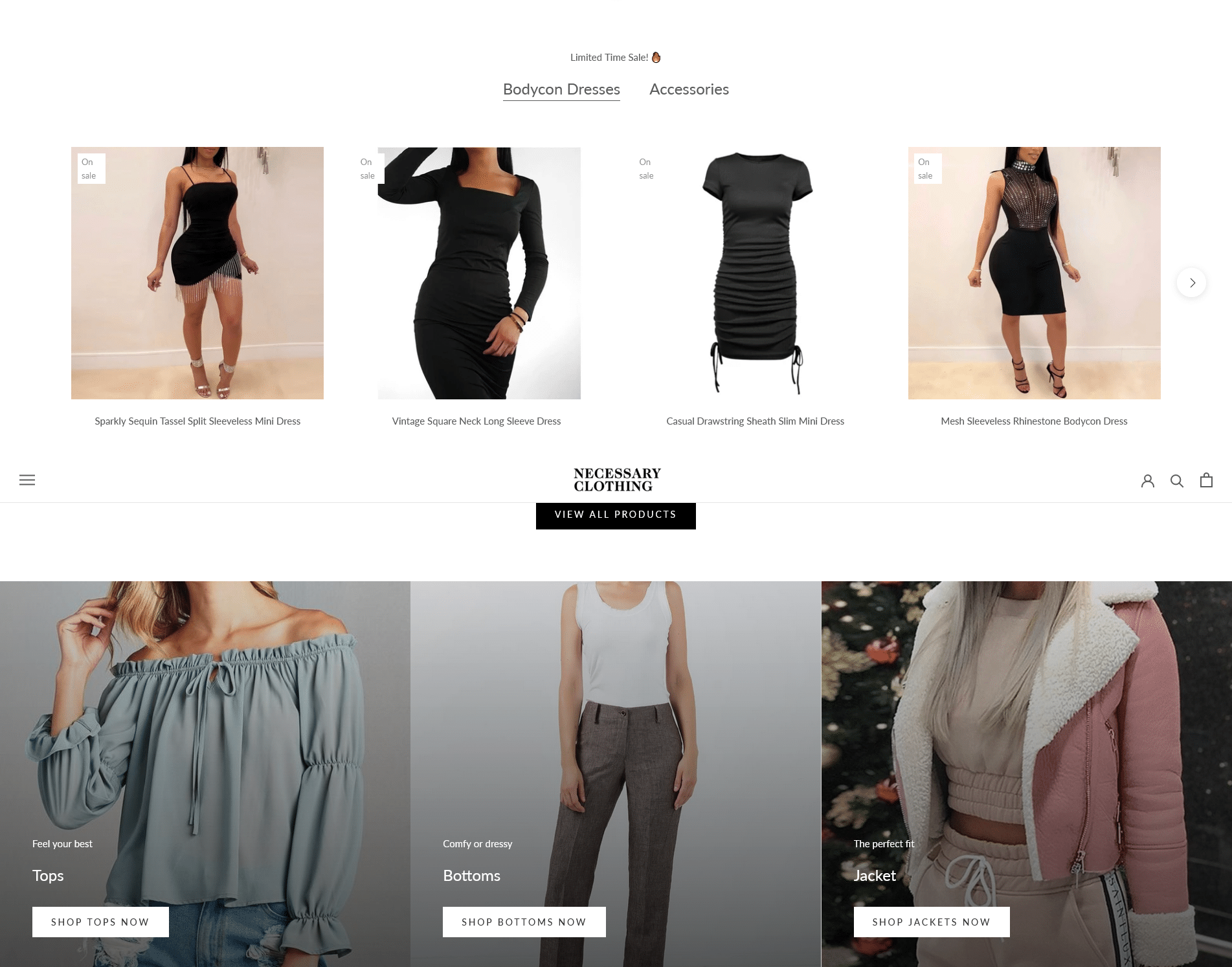 Enjoy Free Shipping on $125+ order
Get free shipping when you make an $125+ order. Get the best deals and the latest Necessary Clothing promo codes at Couponlab.com. Take adavntage of the offer now before it expires.
Get Free Shipping On $75+ Orders
Enjoy shopping at Necessaryclothing.com and receive free shipping on orders $75+. Do not miss this amazing opportunity to maximze your savings. Take adavntage of the offer now before it expires.
Buy AUDREY MUG for $14.99
This fun graphic mug will be an awesome gift for your family or friends. With a classic print of Audrey Hepburn, you can always enjoy her unique face while drinking your coffee. This mug is a must for every fan of Audrey and a true connoisseur of beauty. NecesaryClothing.com has discounted the price of this mug, so every fan around the world can have his or her own personal portrait of Audrey. …
Save 50% on SHINE BRIGHT CULLOTES
Prepare your wardrobe for the upcoming summer with a pair of these awesome capri pants. These bright colored pants will automatically make your mood lighten up. Their interesting design will make you stand out, as sometimes you can't tell for sure if they are a skirt or a pair of pants thanks to the wide leg openings. You can get them at Necessaryclothing.com at a discounted price of $16.99 ins…
Get STRUT THIS HUDSON PRINT FITNESS YOGA PANTS for only $44.99
Looking for stylish yoga pants but can't find any interesting design? Necessaryclothing has a solution for you! Get these awesome brand yoga pants and look stylish even while you exercise. The special belt is a chic detail that will keep the pants in one place, preventing them from slipping off. Those pants are ideal for any kind of workout. Yoga pants will highlight your silhouette and make it…
Have SIXTY SEVEN LEAH BOOTIE for only $85
Become stylish and chic for this summer! Necessaryclothing.com gives you an opporunity to buy a lot of fashionable items at a discounted price. Look at these shoes and imagine wearing them. They will go well with any outfit you choose to wear. Their classic design with a little edge will spice up your look. The stability will be provided by the strap clasped around the ankle. They were made fro…
Get JOA Sailor Tee for $39.99
Planning to spend the summer at the beach? Problems with the outfit? Necessary Clothing has just the perfect item for you to wear during the hot, sunny days. Pair this awesome t-shirt with your favorite pair of jeans and you are all done. This shirt might also be worn as a casual outfit, as well as to the beach with your swimming suit underneath. Get it now for $39.99 (was $60) and save money f…
How to redeem Necessary Clothing codes
Choose a Necessary Clothing coupon you want on our site Couponlab.com. Click the use coupon button. It is placed under the code you have chosen. The next thing you have to do is to copy the code. Most often it is done by your browser but to make sure that the code was copied you can also do it yourself. The Necessary Clothing website should now open. To save your time it is automatically opened in a new window. At the checkout enter the Necessary Clothing coupon code in the box called coupon code. Then, click apply. Please make sure that the discount was applied to your purchase.
About Necessary Clothing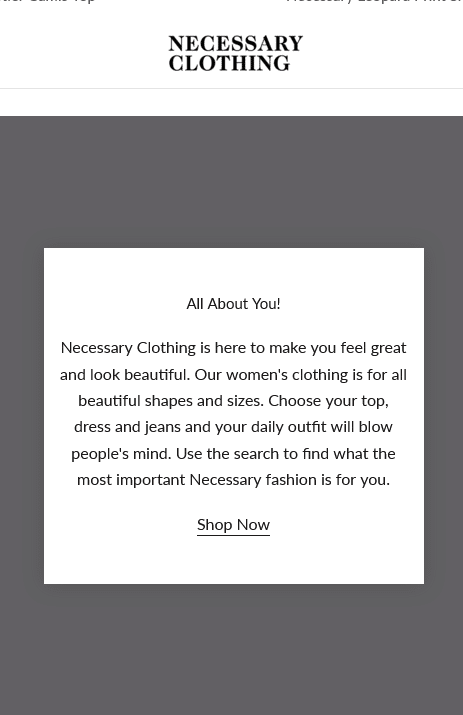 What is Necessary Clothing?
Necessary Clothing is an online store which provides a beautiful collection of branded clothes to make women look fashionable. They happen to have a long list of collections starting from causal to party wear and have all types of accessories to make a woman look pretty. Necessary Clothing is a chain of retail stores in New York City that provides fashionable clothes. They have products that come in an affordable price range. When shopping online you can follow the new trends and get some deals on the products to have a beautiful look.
How to use a Necessary Clothing coupon?
The store's website offers a variety of Necessary Clothing coupon codes quite often on festive occasions. One can use these coupons to get 15% to 30% discounts on different types of products.
How to save at Necessary Clothing?
Online Necessary Clothing coupons can help you to get maximum savings. The Last Chance link in the website provides details on the discontinued items or items under $50 or so. The website home page has a rewards pop-up to help you to gain 20 points on shopping for any products. By joining the email list one can automatically get 10% off on their next purchase. To get more updates on celebrity fashion and get better fashion tips one can join the Fashion Blog.
Necessary Clothing free shipping policy
On every order of $125 or more you can receive the free shipping option anywhere within the USA. On international orders of $225 or above you can receive free shipping. Exchange or returns can be done within 14 days of purchase. They do not charge any replacing fees within 14 days of purchase, but after that a 20% fee will be deducted from the refund amount.