'Cheers' Looking At You: A Toast to New Year's Eve Style
by couponlab
We're just gonna say it — 2021 has been a real kick in the high-waisted pants, so this New Year's Eve seems even more like a well-deserved celebration. Let's get to it then! Time for your personality to shine brightest and your outfit to pop like the bottles of champagne your friend just arrived with. (Oh, thank god she brought the champagne.)
Below, we've served up four looks that'll guarantee you're serving looks well into the new year. These outfits are inspired by some of our favorite styles and personalities. We hope they inspire you, too, because nothing says "I'm ready for you,  2017" quite like an outfit that captivates, while complementing your unique, personal style.
Let's toast to a new year, and look our absolute finest as we throw escort 2016 out the door. In the words of Bey, "Boy, Bye."
"Four, Three, Two, Fun!"
Hey, it's New Year's Eve — make it a fun countdown! Patterns are packed with personality, especially when they're as joyous as the stars and moon shining on this tulle skirt. Donning separates offers an opportunity for exciting combinations and alluring layers — the marled pink cardi says it all! Keep up with pep with playful accessories, like collar pins, bright bags, ruffled socks, and bold footwear.
There Chic Goes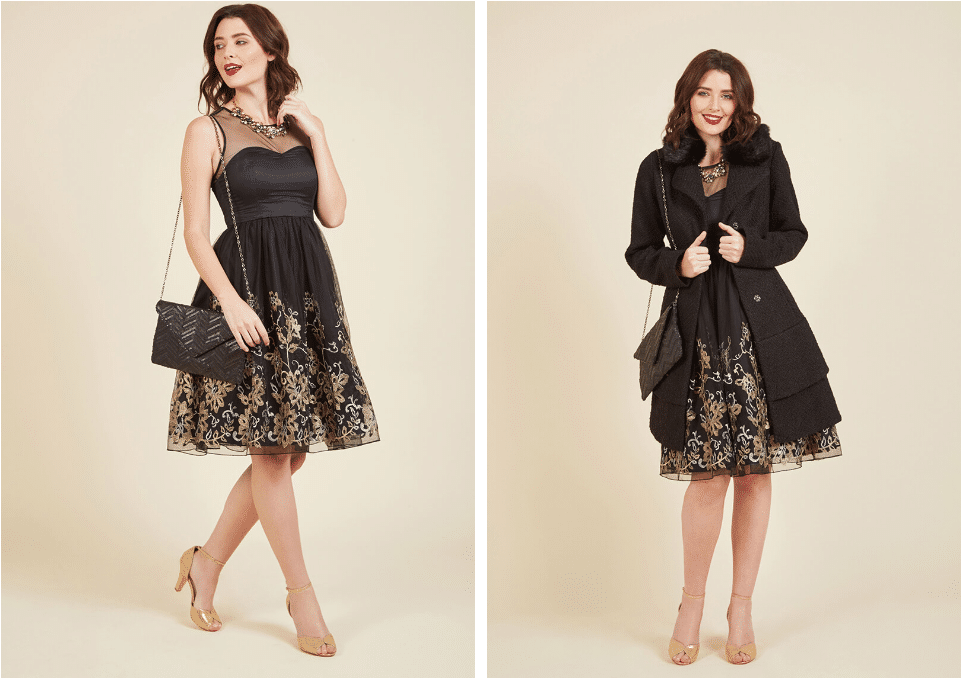 An A-line dress is utterly classic, and this one's embellishments bring festive cheer to an elegant New Year's Eve look. Accentuate the gold embroidery with a statement necklace, matching heels, and a sparkling clutch. Stay cozy on your walk to the door in a chic peacoat that creates a look so glamorous, you'll be happy to bundle up.
Panache from the Past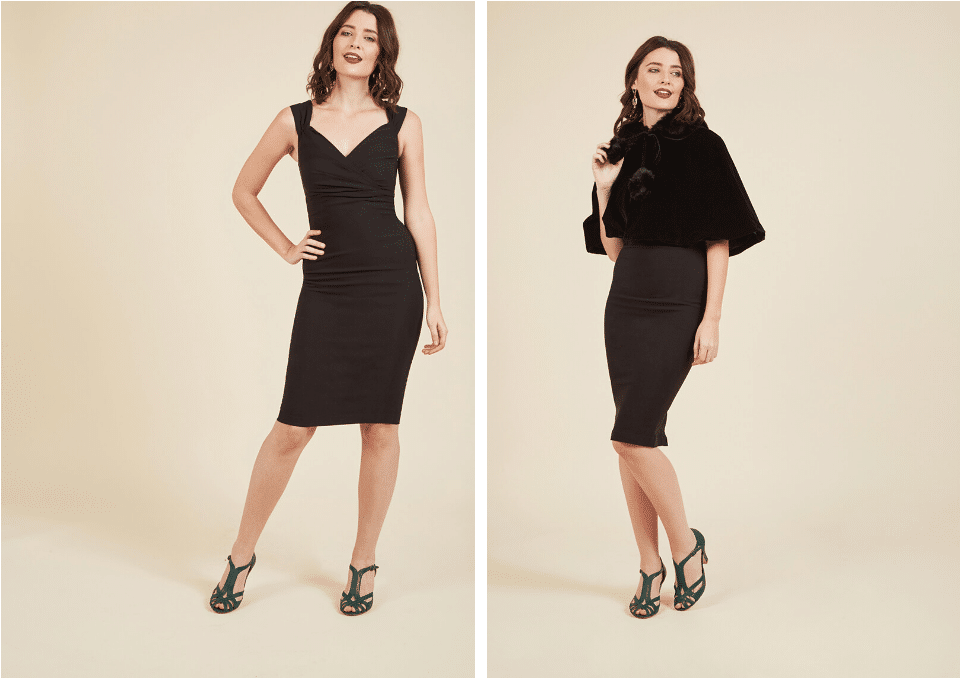 We're bringing the sultry, sleek style of the 1940s to a retro, NYE-ready  look. Beaded and sequined, '20s-inspired dresses? Been there, worn that. Take cues from the mystery and moxie of film noir's leading ladies in a dark, mid-length sheath dress — divine for the dame who loves vintage-inspired style! Pair with a luxe, velvet cape and jewel-toned accessories for an outfit perfect for a party so posh it may as well be in a movie.
Mastering the Mix
Talk about a mix master — this NYE look mixes things the whole way up! Borrowing style from the '80s and '90s, this outfit is rich in charisma and edgy flair. Combine textures like allover sequins, plush faux fur, and smooth velvet for a look as interesting as the rooftop party you're attending.
Still not sure what to rock when the clock strikes midnight? Check out our party-perfect styles here!
Now, a toast: May we boldly and bravely bid this year adieu, taking care of ourselves and one another every fierce step of the way. Cheers, friends.