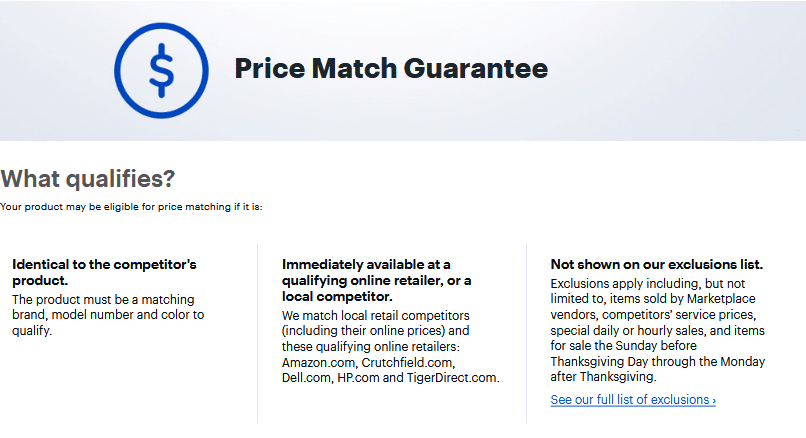 1.) Perfect Match Promise - Appliances purchased via Bestbuy.com come equipped with the Perfect Match Promise. This program ensures that consumers will receive exactly what they're looking for. If your new appliance is delivered and it's not exactly what you were looking for, Best Buy will take it back for free. The Perfect Match Promise also allows consumers to purchase an item when they need it, not when it goes on sale. If the price of an appliance drops within 60 days after your purchase, Bestbuy.com will refund you the difference.
2.) Financing - Bestbuy.com offers financing for most purchases. Customers will also have the ability to take advantage of special financing promotions, such as 6 months same as cash. The financing application and approval process is handled online, making it easy for consumers to get approved quickly and start shopping.
3.) Video Game System Bundles - When it's time to purchase a new gaming system, a bundle package makes the most sense. These bundles generally include the system, a controller and at least one game, and they often sell for prices that are significantly less than the total cost would be to purchase each item separately. While bundle packages are sold in stores, Bestbuy.com has the ability to stock a wider selection, ensuring that you'll be able to find the perfect bundle to get you started.
4.) Appliance Installation - Rather than rent a truck and go through the physically arduous task of unloading the appliance, Bestbuy.com will deliver appliances to your door. Appliances can also be installed by skilled service technicians at the time of delivery. The time saved and the peace of mind that comes with professional installation makes Bestbuy.com an extremely desirable option for appliance purchases. When combined with the Perfect Match Promise, Bestbuy.com easily becomes the best option for consumers who find themselves in need of a new appliance.
5.) TV and Appliance Recycling Program - When you purchase your new TV or appliance via Bestbuy.com, you may be eligible to participate in a free recycling program. The truck which delivers your new TV or appliance will also remove your old appliance or TV at no extra charge to you. These items will be safely recycled in accordance with all local, state and federal guidelines. Taking advantage of this free service will allow consumers to save time, money and energy on the proper disposal of their outdated items.