18 Ways to Get Designer Living Rooms on a Budget
by couponlab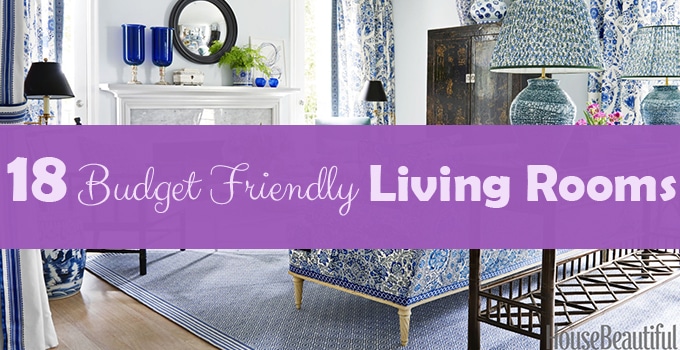 The living room, den, lounge or parlor of a home is its heart; it's where the family gathers after dinner to chat, where guests mingle at house parties, where family movie nights are held. You can curl up with a good book in a big, comfortable chair or host a board game night, but if your living room doesn't represent you, it can be hard to want to spend time in it at all. If it's time for a change in your house, you're probably looking for inspiration to get in the furniture shopping mood. We've got a ton of living rooms for you to look through, plus ways for you to get the look without breaking the bank!
COZY AND RUSTIC LIVING ROOMS
This comfy, light gray-blue-and-brown living room is perfect for the lounger who enjoys a good book on a sunny (or rainy) day. It's a bit beachy, but also sophisticated and definitely the kind of place you want to leave all the windows open and relax. Airy fabrics, soft throw blankets and rustic wood and wicker furniture give this tiled paradise a calm, soothing atmosphere.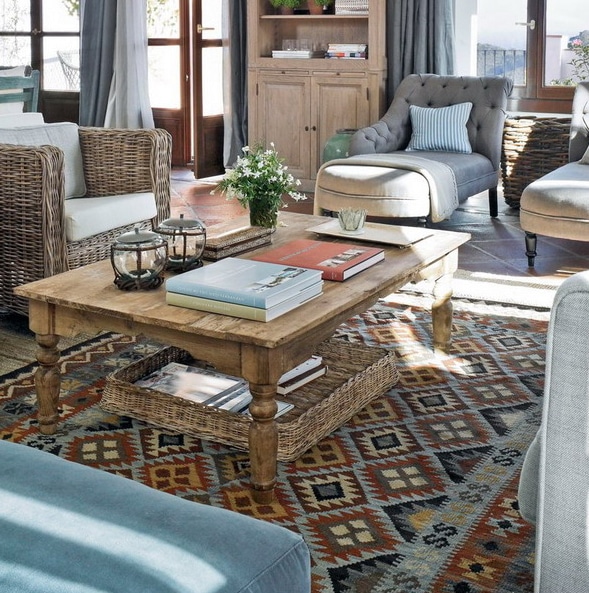 White walls and furniture allow for so much freedom with accent colors and decor, and that's evident in this English country-style sitting room, complete with pink Union Jack pillows. If you're more into florals and the clean crispness of a mostly white color palette, this is the look for you.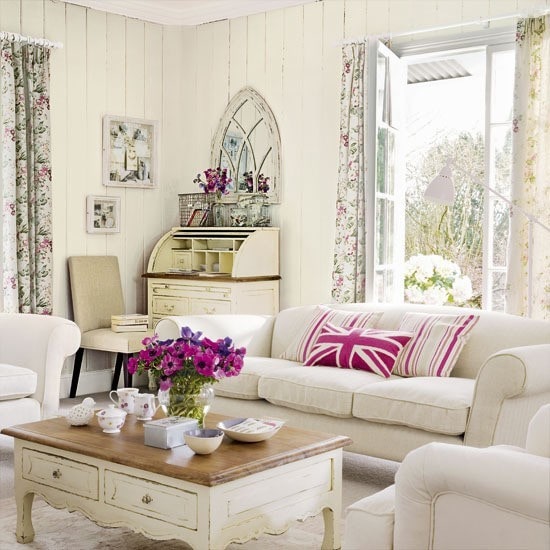 Cozy cave meets cabin in this rustic living room, with exposed ceiling beams and stonework fireplace. Dark browns and leather give it a mature vibe, creating a space great for long, late-night chats over beer or relaxing with a cigar after a long day of work.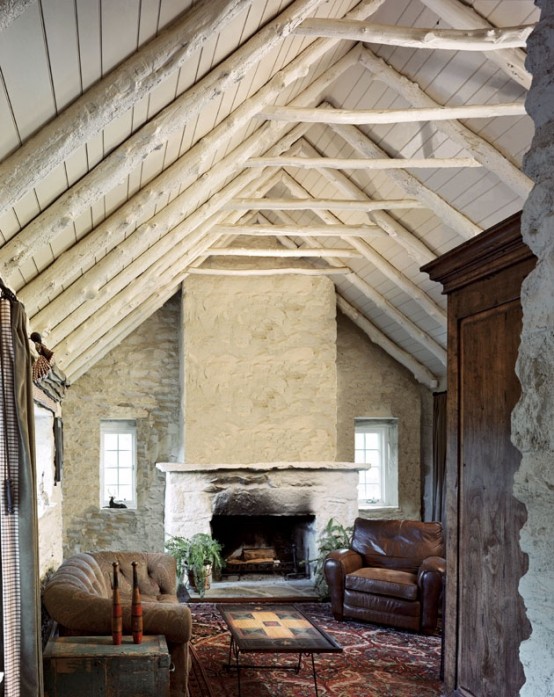 Woodsy, rustic and open, this living room is bright and comfortable, yet full of character. Wood accents and organic decor, like fur and leather pillows or chair covers, define this style, which is perfect for the outdoorsman or anyone who wants to bring a little of the outdoors inside.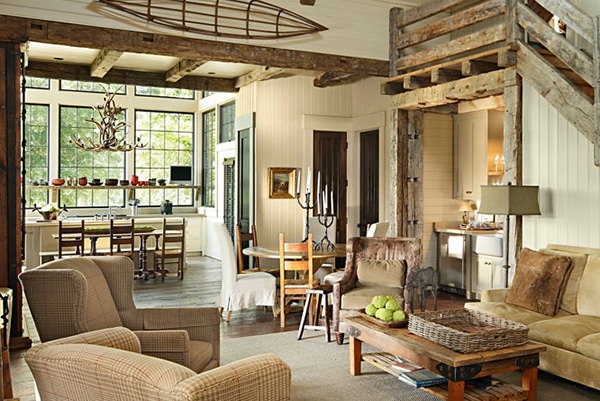 This room is playfully designed and sticks to a strict color palette, perfect for someone who wants some control in their living room but still wants it comfortable. Classic furniture blends well with whimsical accents for a high energy room great for families with young kids.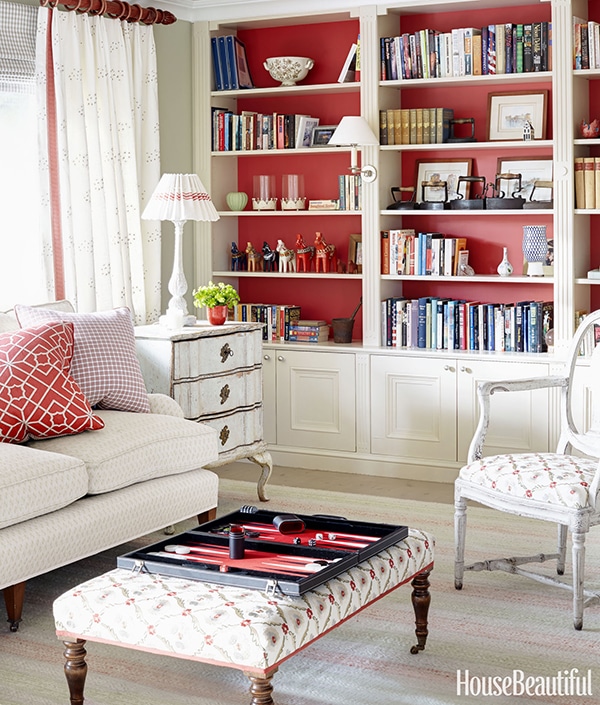 BRIGHT, ECLECTIC LIVING ROOMS
Bold colors are in, so let your creativity fly. This blue and orange accented living room is perfect for anyone who wants to show their love of color without being overwhelmed by it. Soft, white and off-white furniture compliments the saturated deep blue and bright orange by allowing the eye a reprieve, while creating a welcoming atmosphere that anyone would want to spend time in.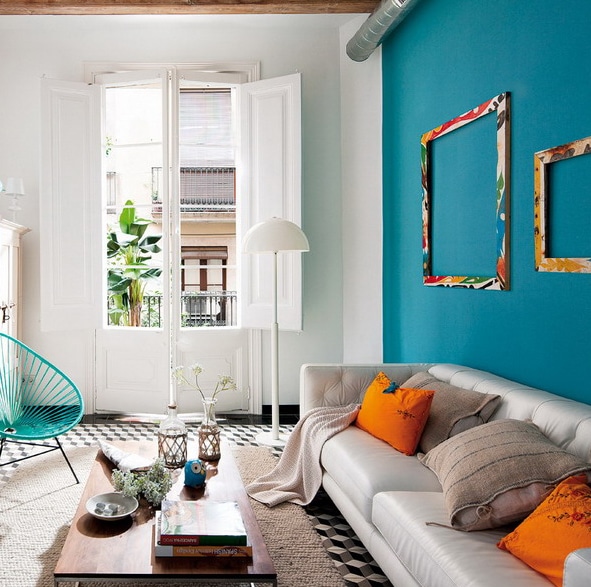 Mix and match your favorite patterns and keep one dominant color if you're trying to emulate this eclectic room. Somehow, it all comes together, and it's a bold, confident example of expressing your personality successfully through interior design.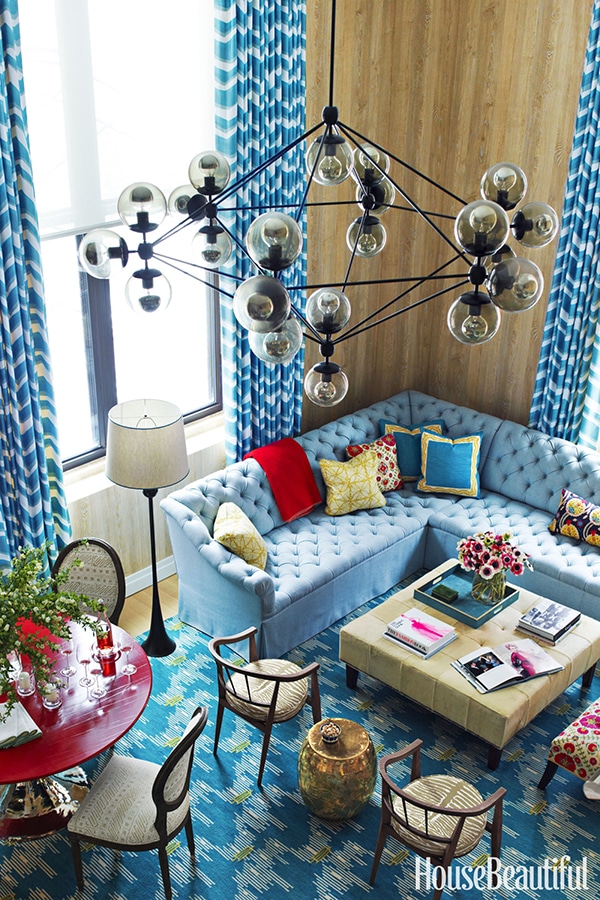 This is a true party space, replete with armchairs and sofas to lounge on while chatting and drinking. It's not concerned with perfectly matched furniture and decor, showing instead a taste for bright colors and unique furniture.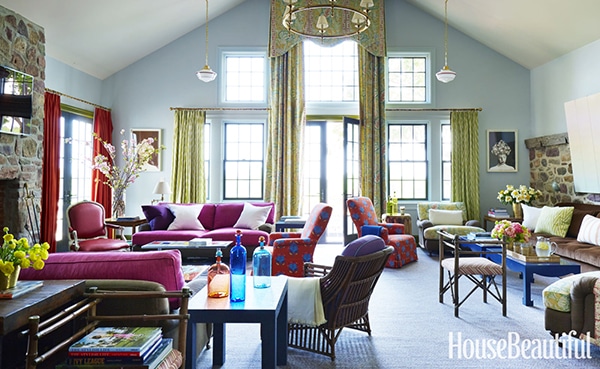 Cozy, yet eye-catching, this living room is a small space for big ideas. Don't feel overwhelmed by color when designing your new room; embrace it! You'll make a great impression on visitors and put your personality on display. Your house should represent you, so don't be afraid to play with the colors you like best.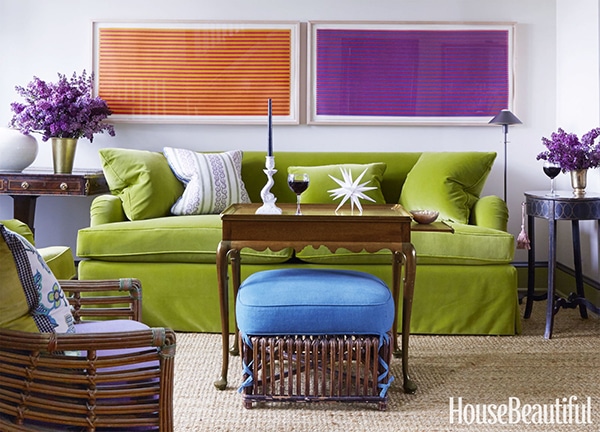 Simple and mod, this orange-accented room is cozy enough for curling up with a book or tablet for the night and open enough to accommodate guests and family. This room is a great example of off-balance design, favoring organic organization rather than a grid structure.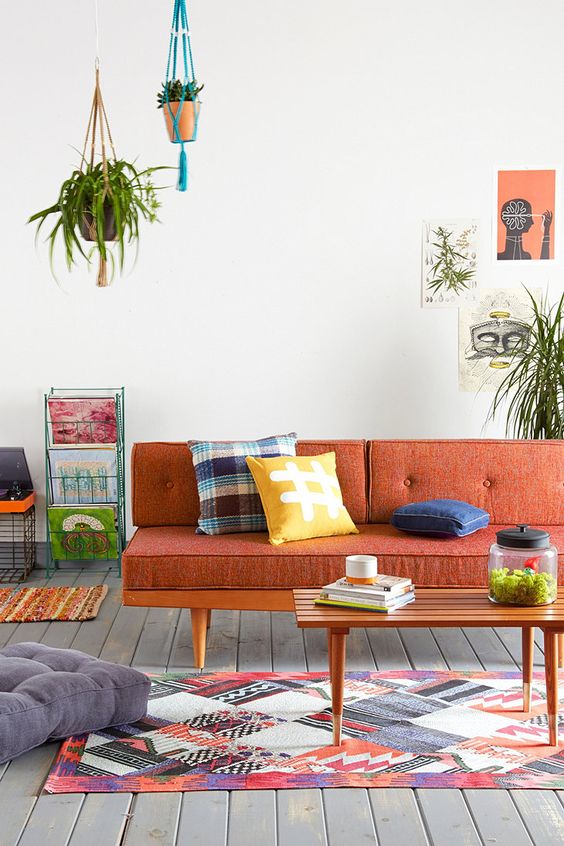 LUXURIOUS LIVING ROOMS
Ever wanted to live like Zsa Zsa Gabor? Take some inspiration from this lavish pink room and make your space fit for a movie star. Fashion printed pillows and fuzzy throws add character to this room, so get in touch with your femininity when you're planning your new space!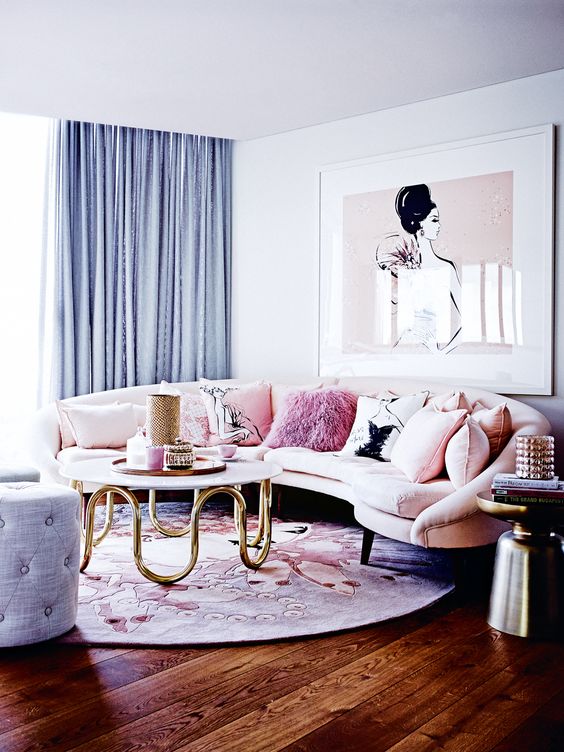 This style speaks to simple, yet opulent elegance, which can be achieved without destroying your wallet. (We promise!) Neutral tones and patterns allow unique decor to shine, giving your guests talking points when they're mingling at a party or just giving you somewhere to display your most prized possessions.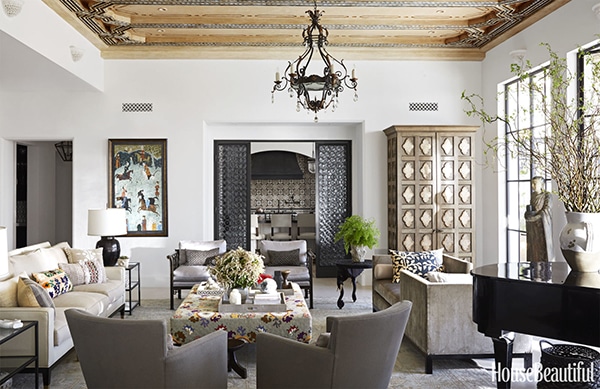 This room may be pink, but you could replace that with any color you prefer. It's a master class in monochromatic decorating that offers inspiration for a comfortable room arranged for chats over coffee or relaxing with your favorite book.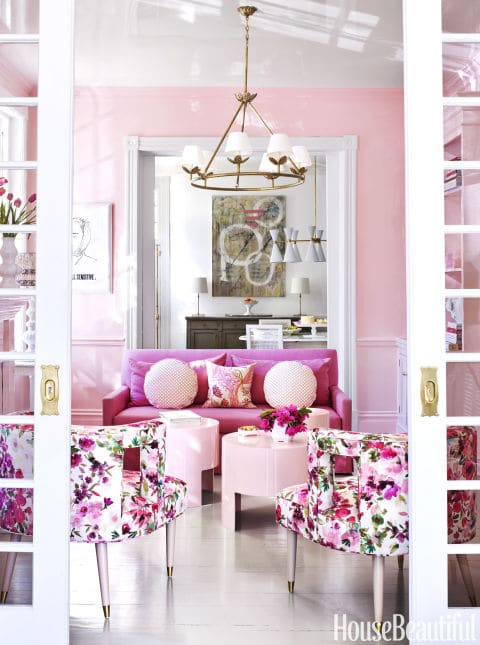 We're sure the decorators of this room sprung for custom upholstery, but you can make a match of similar patterns and colors without adding the extra cost (slip covers are your friend). Keep the walls painted a light color so your decor stands out, and you'll really open up the room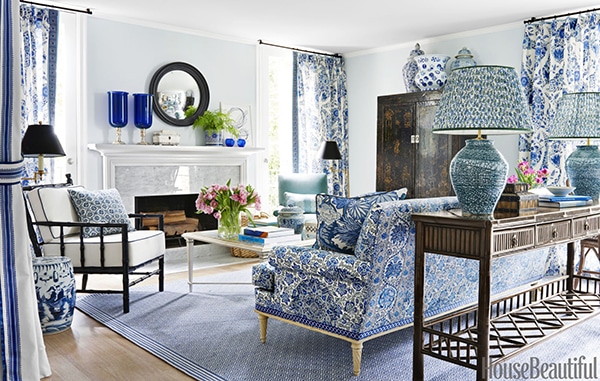 MINIMALIST AND SCANDINAVIAN LIVING ROOMS
Simple, calm and bright, this wood and rose-colored room is great for people who want to do away with clutter. You may need to hold a garage sale, but you can achieve this minimal look without sacrificing your personality.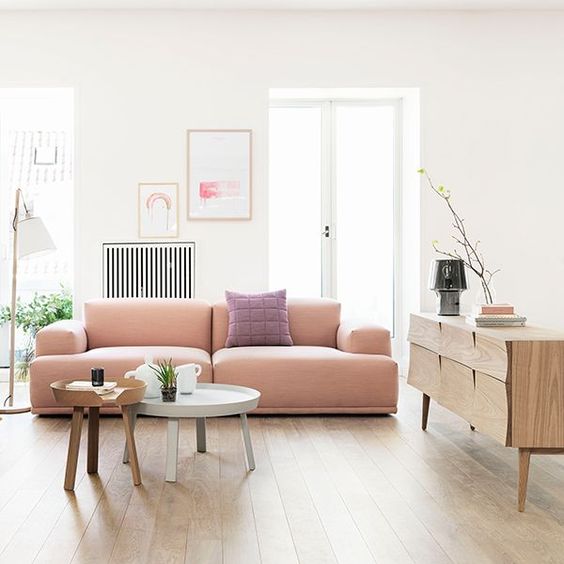 Instead of painting, substitute plants for a fresh, green accent to a muted color palette. This look is perfect for the studio apartment-dweller who needs to do a lot with only a little space.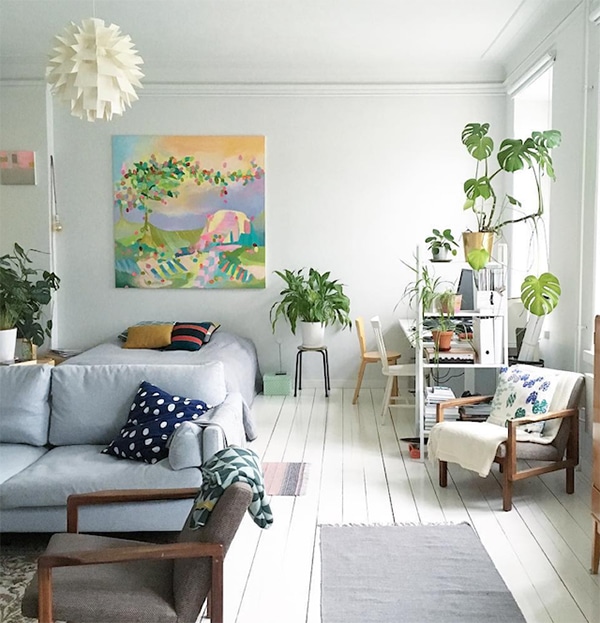 A bed-like couch creates a soft, comforting atmosphere, which is perfect after long days at work when you just wanna veg out at home. It's the perfect setup for movie nights and cuddle sessions, so get shopping so you can break out the popcorn and chill.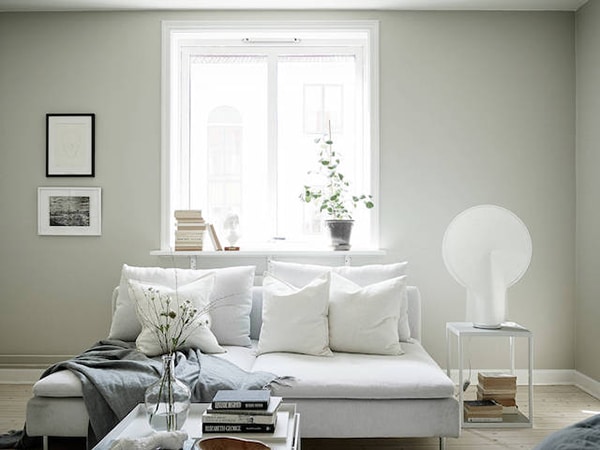 Sleek and modern, perfect for artsy types who like their furniture simple and their unique decor to stand out. Keep it minimal with only a few cushions, a simple throw blanket and a muted color palette. Grey is very, very in, pretty much all the time, so don't worry about being unstylish.