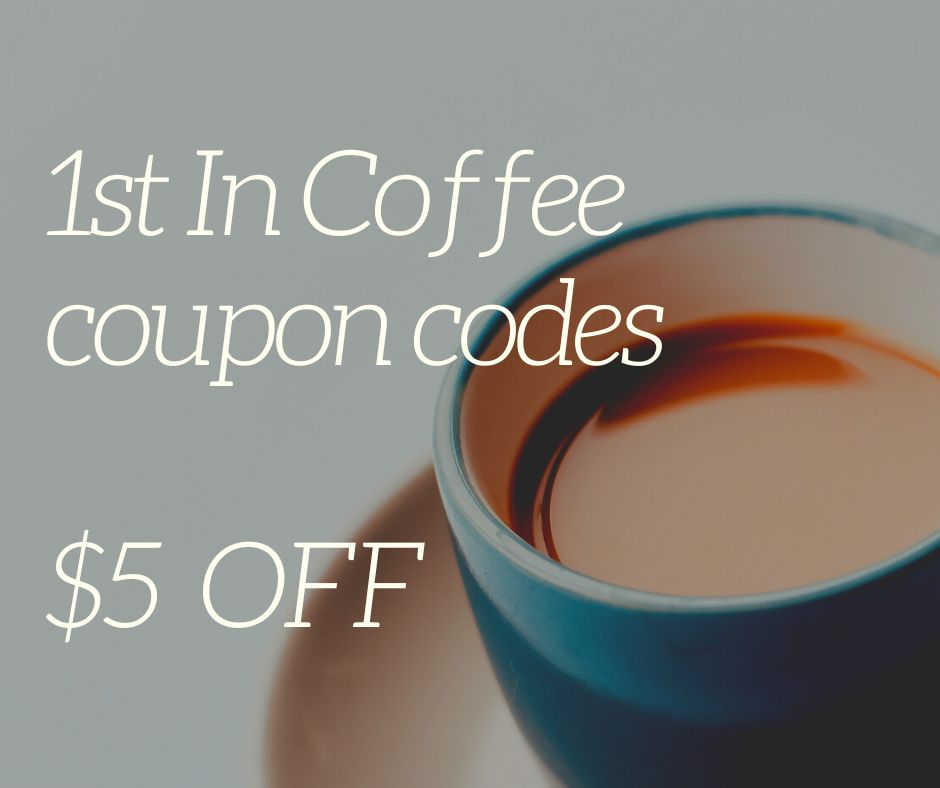 1st in Coffee Coupon Codes
by couponlab
Get the best coffee experience with 1st in Coffee coupon codes from Couponlab that can save you up to 20% at the store! 1st in Coffee is one of the world's leading retailers of good value espresso machines and coffee makers (from brands such as Juro, Nespresso, etc.), and offers you the best prices on a wide selection of the finest gourmet coffee beans from the world's top coffee brands (including illy, Segafredo and Lavazza).
| | |
| --- | --- |
| 10% off | coupon code : 10BUCKS |
| $5 off $100 + | coupon code : 5BUCKS |
| Free Coffee Bag | coupon code : BRANDREWARD5 |
| 10% off | coupon code : WELCOME10 |
| Free Shipping on $50 | coupon code : PERU |
| 10 off | coupon code : NP10 |
| Free Shipping | coupon code : COFFEE |
| 15% off | coupon code : KEEPUPWITHLIV |
| 30% Off Brewer Cleaning | coupon code : BREWLIKENEW30 |
| 25% off | coupon code : COZY |
To get amazing price reductions at the store, all you have to do is use the latest 1st in Coffee discount vouchers and promo codes from Couponlab! 1st in Coffee offer free shipping on orders over $50 within the U.S., so take advantage of this great deal and get your coffee hardware and beans at the best prices with 1st in Coffee coupons!
How to redeem 1st In Coffee codes
Pick one of many attractive 1st In Coffee coupons available at Couponlab and press Use Coupon to copy the desired code. To make sure if the code was activated by your computer, you can also do it manually. Your computer will open the store website automatically to save your time. In order to use the 1st In Coffee promo code, you will have to register as a new customer or log in if you already have an account. After that, enter your 1st In Coffee coupon code into an appropriate blank box. Press the button, which will apply your discount. Please, check if the 1st In Coffee coupon lowered the price before you pay.

About 1st In Coffee
1st In Coffee is known for their quality coffee and coffee makers and espresso machines and also coffee grinders. The website features brands of coffee and all the items that are important for quality coffee making. If you want an even bigger selection of coffee machines and other products go to Coffee.org. You can order for whatever you need from 1st In Coffee itself and get it delivered to your address. The site offers free shipping above $50 and they have some of the best brands all in one website. In case of any dispute or problem with their products you can contact their customer service at working hours and they will provide you the solution help you enjoy uninterrupted shopping experience.
Products and services of 1st In Coffee
1st In Coffee have some very good quality coffee related products and equipments featured in their website and one can easily shop according to the preferred brand or the preferred product. The brands like Jura, Bodum, Bonavita, Delonghi, and many more are featured in the website. You can shop for coffee according to the type that is gourmet, roasted, whole bean and even get samplers for different types. If you can't find what you are looking for then visit Coffee Bean & Tea Leaf for more coffee products. The shipping policies and fee structures are very clear on 1st In Coffee and you can get the best out of the featured offers. The equipments that you ordered are safely packed and there is almost no chance that they will get damaged while being shipped.
Why choose 1st In Coffee?
The website has everything that one can need for good coffee making and hence it is very easy to shop for all your requirements in one place at this website. The brands that you can get here is also an advantage as you would not be getting so many different yet quality brands all in one place at any conventional store or other website. The unique idea of dedicating the whole website for only coffee and related items is another added advantage. The experience of shopping with them is also smooth given they have a very clear transaction and shipping method and their return policies are also in favor of the customer. Check out Keurig to find even more coffee products, that you can choose from.
1st In Coffee discounts and coupons
The website provides variety of discounts and coupons at select time and so you can subscribe to their newsletter in order to get the best deals first hand. They conduct clearance sale and deals of the day where you can always find something that is a really affordable deal. The products are already priced at the marginal price possible and with the help of the discounts and offers you can get some attractive saving and hence save a lot of your money and shop for more items at a lower price. The site is frequently updates so stay tuned for the best offers.
About 1st In Coffee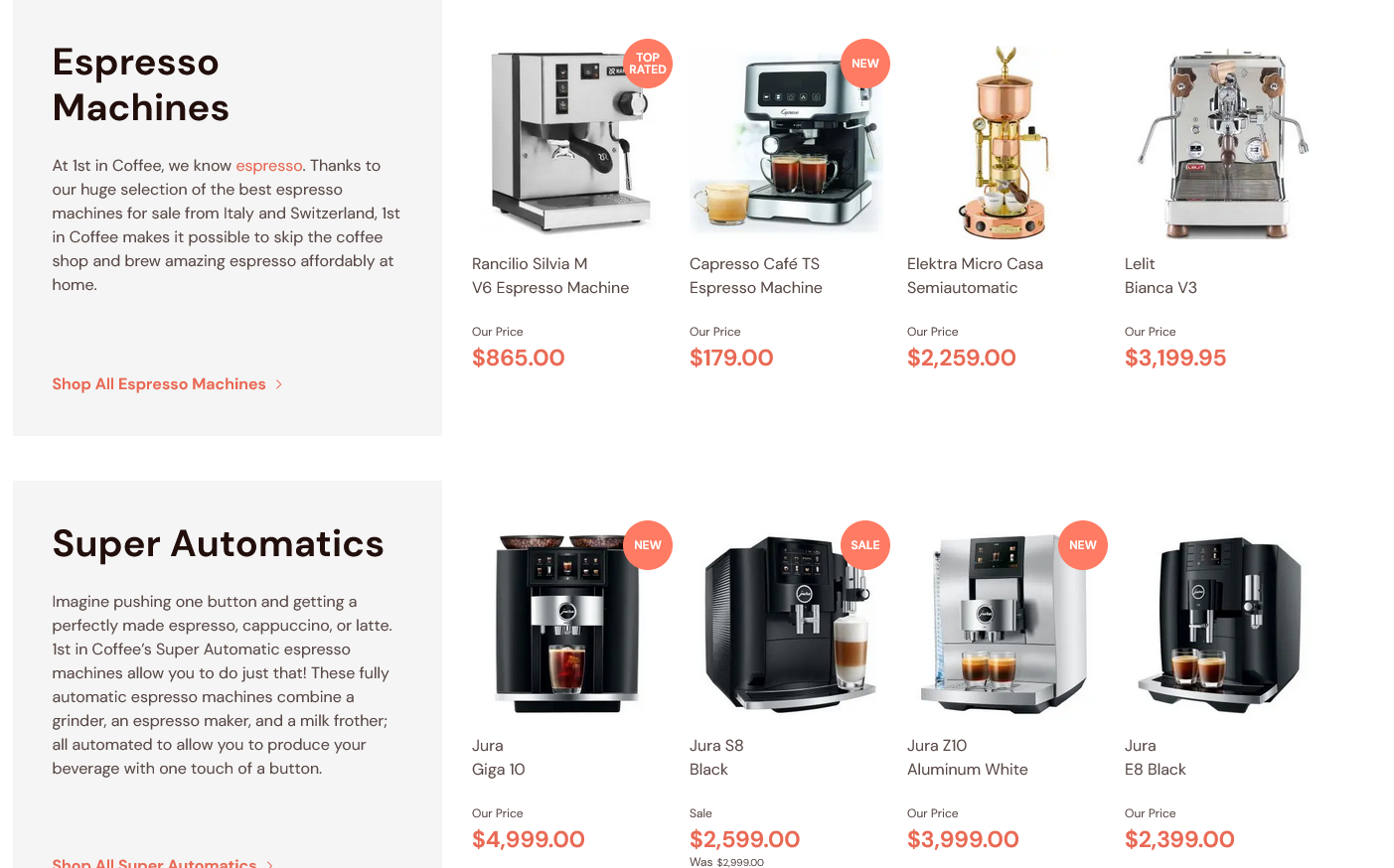 What is 1st In Coffee?
If you are looking for the best coffee products supplier then go to 1st In Coffee, an online emporium of espresso machines, coffee makers, grinders, and accessories. Products featured on this site are from big name brands such as Antica, Marley, La pavoni, Nespresso, Rancilio, Cuisinart, Segafredo, and Vibiemme. This coffee giant also offers a great selection of coffee, including espresso, gourmet, and decaf. A feather in its cap is the A+ rating that 1st In Coffee has received from the Better Business Bureau.
How to use a 1st In Coffee coupon?
There are many exclusive offers that you can get through 1st In Coffee. Some coupons can give you excellent discount from about 20 – 35%. Also, if you look at other websites on the Internet you will come across many more interesting websites that offer great discount and promo codes that can be used at 1st In Coffee. However, some of these coupons may require you to ensure a minimum purchase amount. Some coupons may also be valid for a limited time period but such offers are often of the recurring type. So, keep looking!
How to save at 1st In Coffee?
You can save up to as much as 60% when you shop at the 1st In Coffee's Refurbished section. Take advantage of 1st In Coffee's Lowest Price Guarantee. According to this if you find a similar item with a lower price at any other shop, this coffee company promises to either beat or meet its competitor's offer. Watch out for the featured items on the homepage of 1st In Coffee's website because here you can save up to 20% on some select products. Follow 1st In Coffee on Twitter, or like them on Facebook, and receive up to the minute news about sales and new products.
1st In Coffee free shipping policy
Shipping is free within the contiguous states for orders that are over $50 in value. This offer appears ongoing but may change at any time. If you are not satisfied with the products you ordered, you may return them within 30 days and get a full refund. Some restrictions may apply, which is why you need to carefully read their Return Policy.