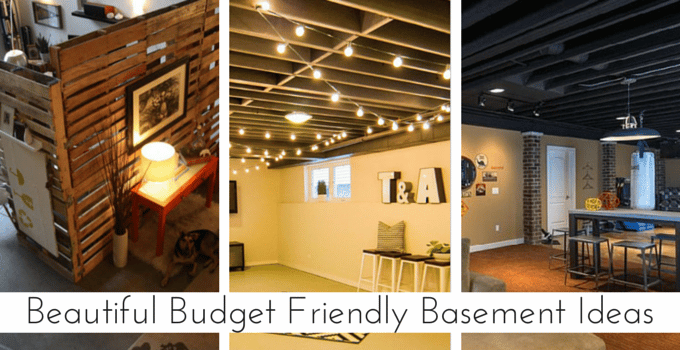 20 Budget Friendly But Super Cool Basement Ideas
by couponlab
Are you sitting on top of a gold mine when it comes to additional living space? If you're lucky enough to have an unfinished dry basement you are. The basement doesn't have to be a dungeon for your home's utilities and storage boxes. With some creativity and a little time you can tap into that extra square footage and create a beautiful addition to your home.
A full fledged basement remodel will bring with it headaches and expenses. Depending on where you live, you can expect to recoup 77.6% of your remodeling costs in resale value. (Source) If you're doing it for your own benefit and joy of living in your home then the cost may be worth it, but if you're looking to increase your livable square footage without increasing your budget, here are some tips!
STEP 1: GET ORGANIZED AND PARE DOWN!
For many, the basement becomes a purgatory for things we can't decide what to do with. Outgrown kids toys and clothes, overflow from our own closets, gadgets and old TV's…they clutter the space that might otherwise be space to enjoy. Donate and pitch as much as you can. Sell some of it on eBay to make some extra money to upgrade your space. If you haven't used it in a year or more, you probably don't need it!
Go through what's left and decide how much storage and utility space you're going to need in your basement and how much living space you can claim.
STEP 2: PLAN OUT YOUR SPACE
What do you want to use your basement for? Are there trouble spots in your home that tend to collect clutter, take up too much space, or need t0 be relocated to a new area? Or is there a hobby like wine, crafts, or working out that you'd love to have space to grow?
Top Uses for Basement Rooms:
Home Gym
Home Office
Kids Playroom
Laundry Room
Game Room
Home Theater
Craft Room / Art Studio
Man Cave
Music Room / Band Room
Wine Cellar / Brewery
Storage
Pay attention to the placement of various basement activities when you're laying out your space. If you love to sew and will be washing and ironing fabrics on a regular basis, putting your sewing room next to the laundry space in your basement might make sense. If you want to create a home gym, placing it next to a basement bathroom with a shower would be a great idea. A home theater doesn't need a window, but your home office would love one!
STEP 3: GET CREATIVE WITH WAYS TO DECORATE YOUR UNFINISHED BASEMENT:
If you don't have the money full basement remodel, there are lots of ways to create a space that "feels" finished without drywall and carpeting! Shop the home improvement stores and department stores for bargains and think about alternative uses for items you find there. Check out these DIY basement flooring, walls, and ceiling ideas to spruce up your unfinished basement space!
DIY BASEMENT FLOORING IDEAS:
STAINED CONCRETE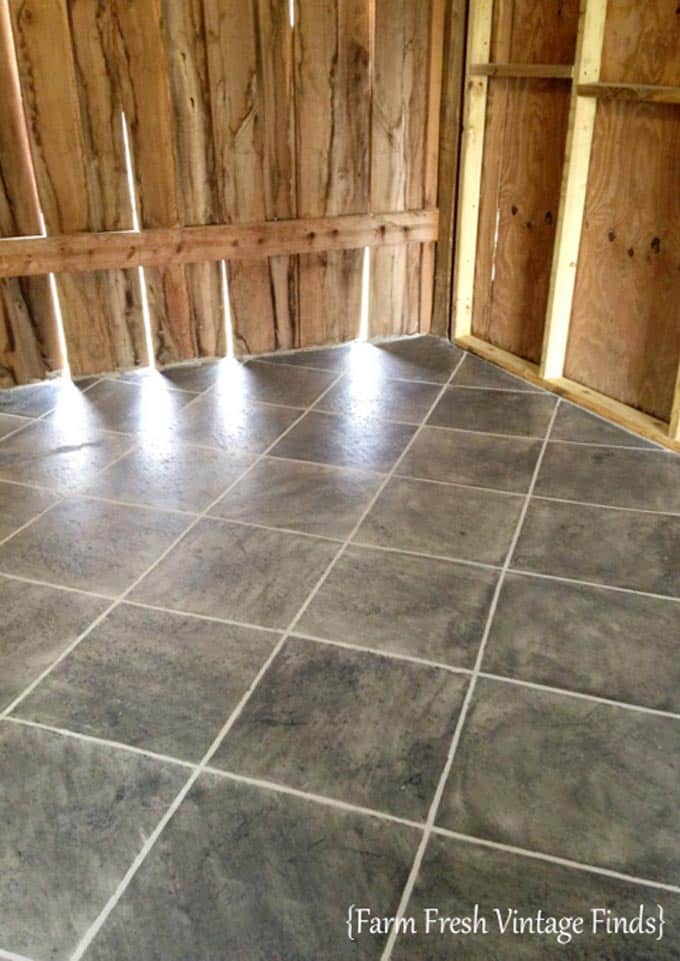 How does a $9 can of "00ps" concrete stain turn into this gorgeous faux tile floor? FarmFreshVintageFinds will show you how. While the instructions are for a barn floor, it would look just as lovely on a concrete basement floor. (I think I'll be checking out the Home Depot bargain paint/stain section more frequently from now on!)
PAINTED CONCRETE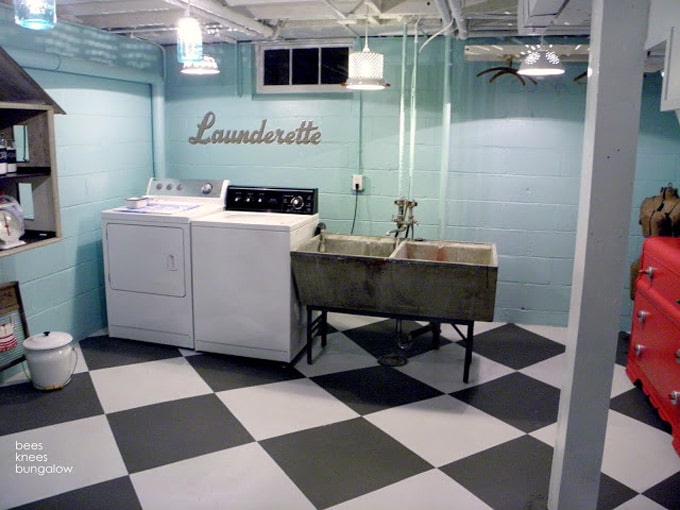 STENCILED FLOORING
If you're tight on budget and purchasing flooring is out of the question, you're not out of luck. Painted has the ability to add warmth, contrast, and transform any basement space for very little cost. You could either paint the floor a solid color or do a checkered design like Jeanne from BeesKneesBungalow.com did in her beautiful basement laundry room.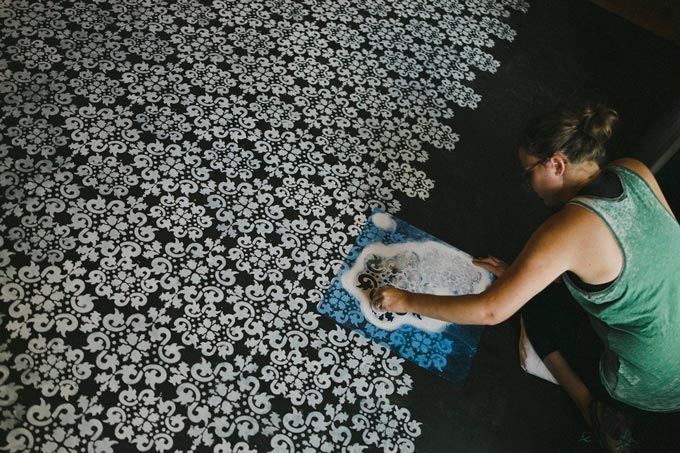 Add a stencil to your solid painted concrete flooring to dress it up a bit. I saw this on a Tumblr blog called TheMadeShop. They painted their shop floor over a weekend and the results are absolutely amazing.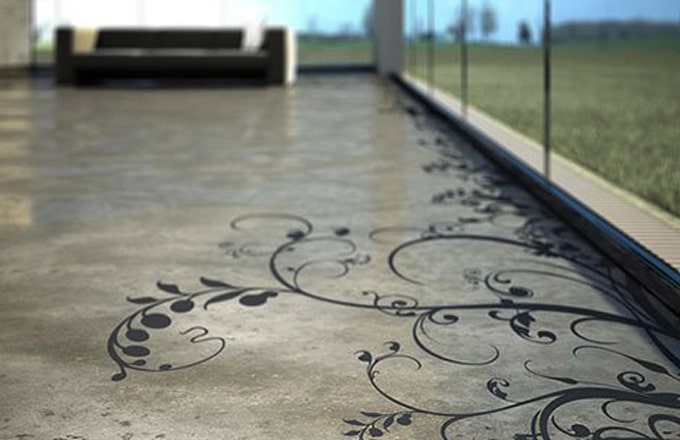 If you like the idea of stenciling, but don't have the time to do the whole floor, here's another artistic idea. ApartmentTherapy shared a wandering vine design around the perimeter of a floor.
OTHER UNIQUE BASEMENT FLOORING IDEAS:
If painting is not your style try one of these other interesting flooring ideas:
PENNY FLOORING: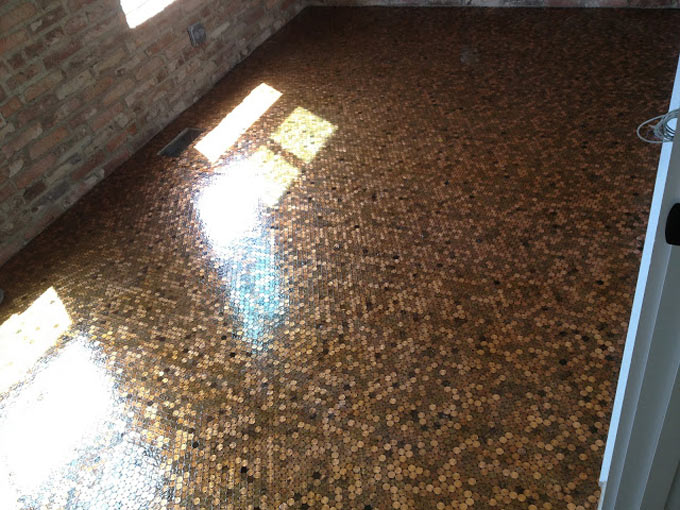 Penny for your thoughts on this floor? Thousands of pennies, a couple of days worth of labor, and you could have a floor that glows, sparkles, and impresses everyone who sees it. This step by step DIY Penny Floor Tutorial at livingeast.blogspot will help you make heads or tails out of the process!
LEATHER FLOORING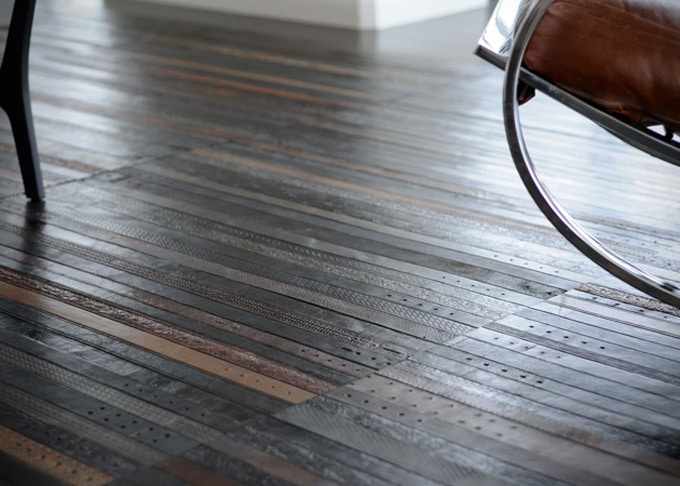 This just screams luxury to me! Recycled leather belts turned into flooring is a twist I never would have thought of before searching the web for interesting flooring ideas. I love the idea so much, I think I may have to hit a couple of thrift stores this weekend to to start my collection. Doing a whole floor may be expensive, but if you have a small basement bathroom or area behind a bar it could be do-able. Otherwise check out this gorgeous leather belt rug on lilyshop.com and her DIY instructions to make one to dress up any floor.
PAPER BAG FLOORING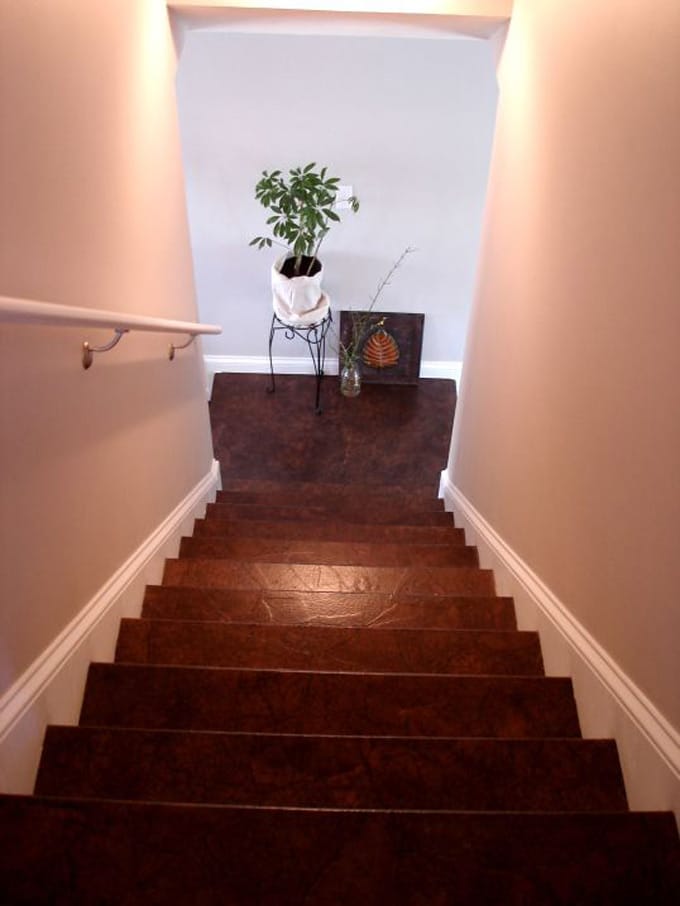 Torn crumpled paper bags turned into flooring? I wouldn't have thought it possible, before looking at these gorgeous floors on the blog LovelyCraftyHome. She has a tutorial for doing a paper floor on a subfloor as well as concrete, and shows flooring with and without stain. Both are lovely, but my favorite is the one with the walnut stain I've shared here.
BOTTLE CAP FLOORING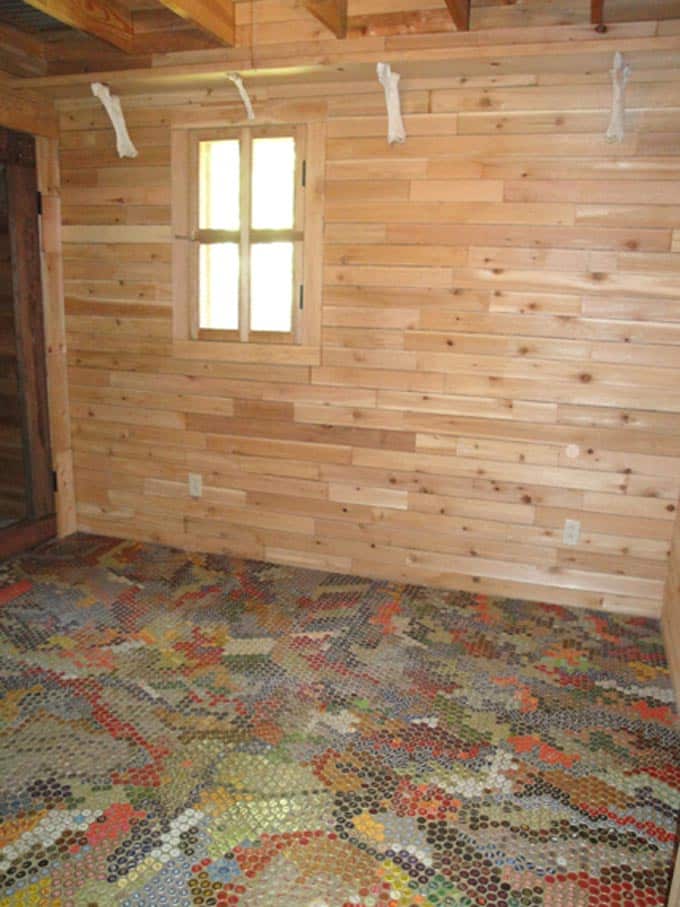 A mosaic floor made of beer bottle caps? This has to be the most ultimate flooring for a man cave imagined! How many rounds of the song, 99 Bottles of Beer on the "Floor" do you think they sang while installing this? Image can be found at phoenixcommotion.com as part of their Bone House project.
DECK THE BASEMENT WALLS CREATIVELY AND FRUGALLY: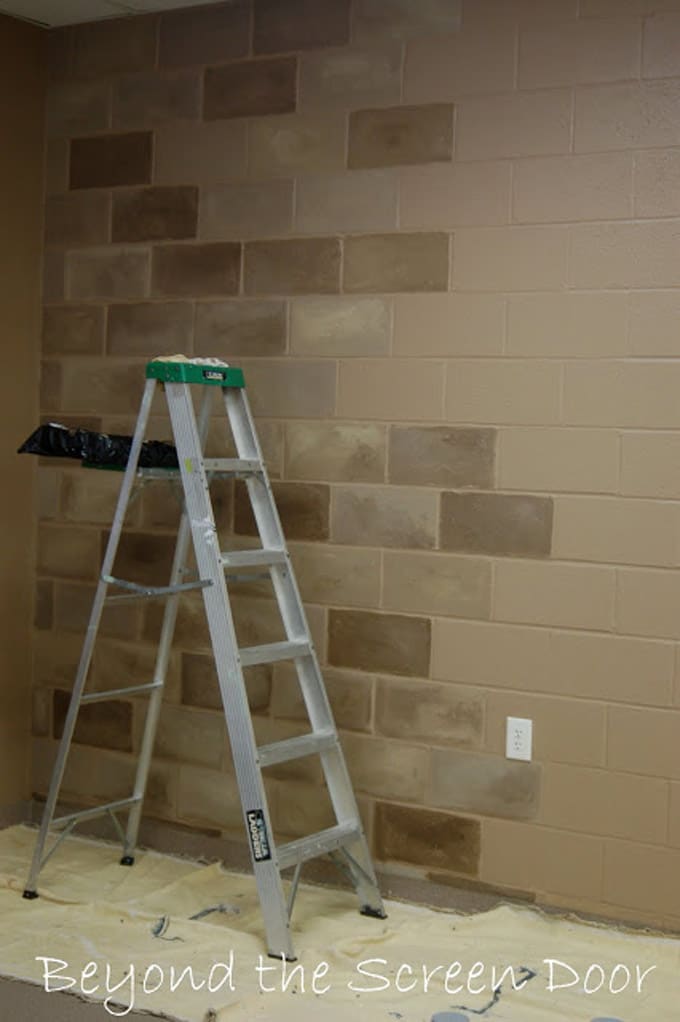 Concrete Block walls don't have to feel institutional. Paint them with several shades of paint to make them feel like limestone or brick! There is a nice example of both shown on on BeyondTheScreenDoor.com.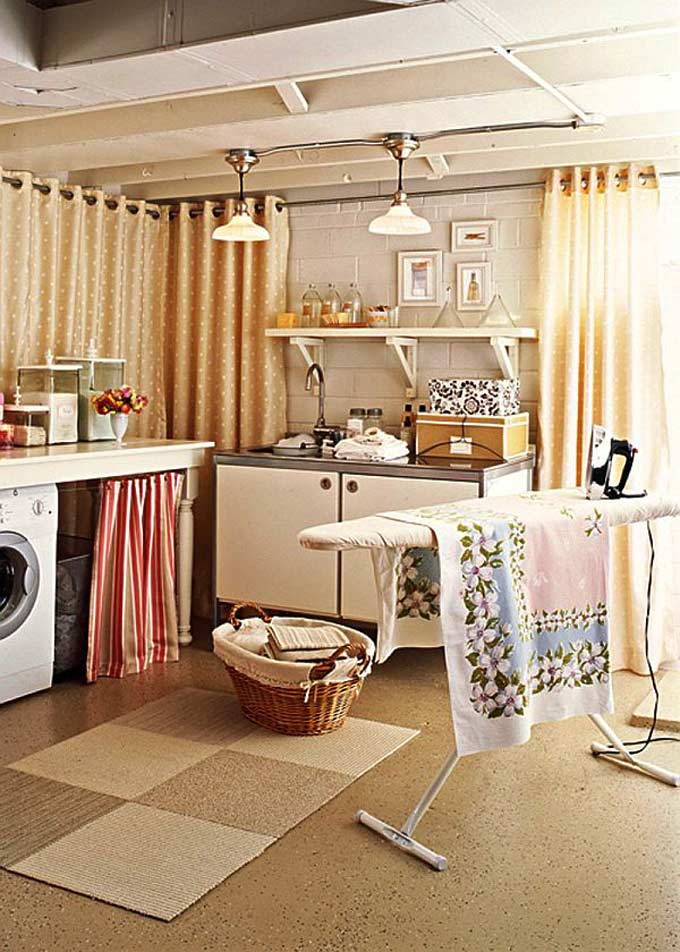 Cover up ugly basement walls with beautiful curtains. Image found on Pinterest.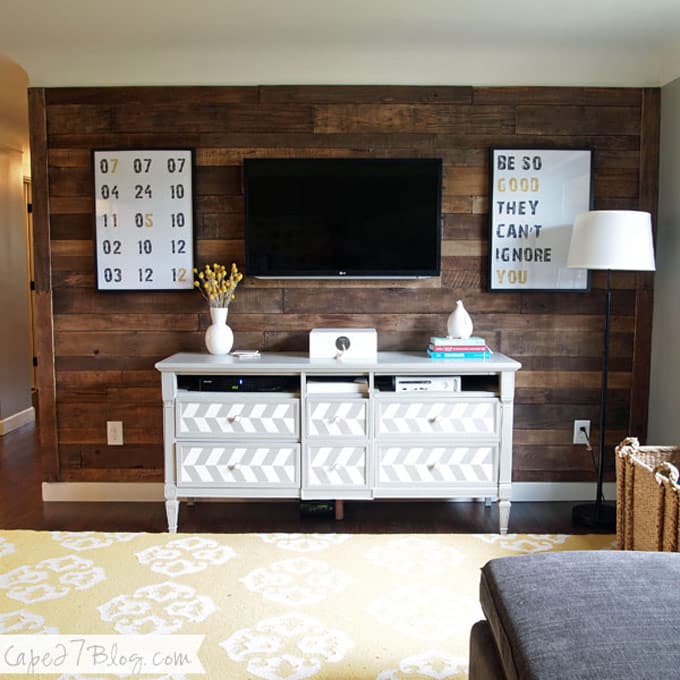 Create a pallet wall similar to this one shown on Cape27Blog. Can you believe it was completed for only $20? Liquid nails would work great on concrete walls.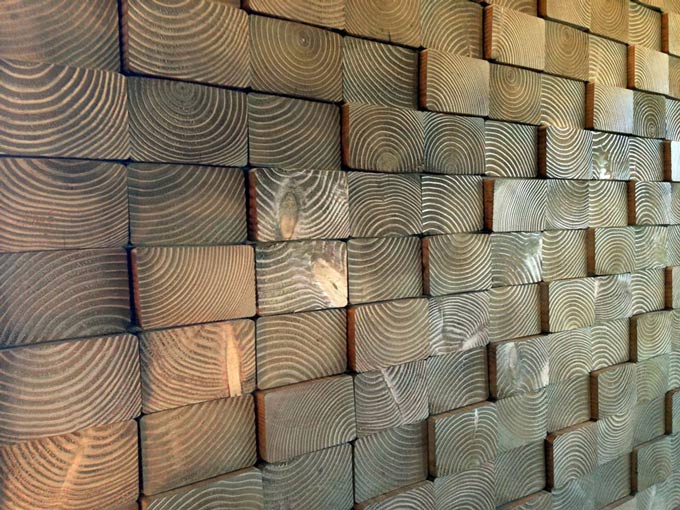 Another wonderful woodsy wall idea is to slice boards into 1-2″ sections and glue them on so the textured grain can make a design on the wall. I love how this one is cut at various lengths!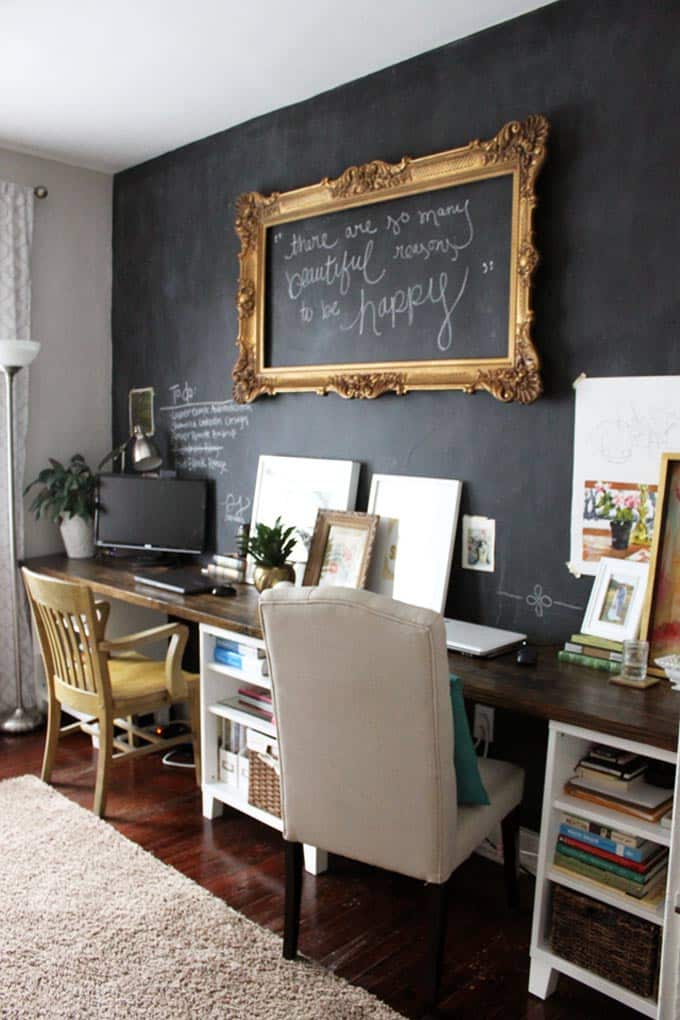 Paint one of the basement walls with chalkboard paint like the one in this home office on IcingOnTheCakeBlog. It would be fantastic in a playroom as well! Looks beautiful and is the perfect backdrop for kids' artwork, inspirational messages, or the trusty old to-do list!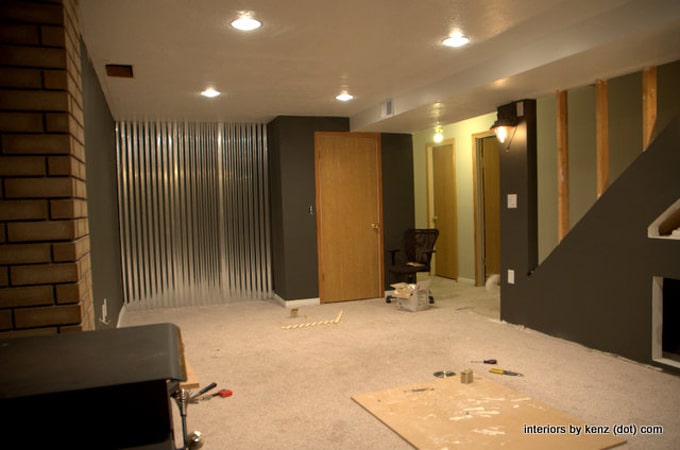 Add an industrial look that will bring some brightness and reflection to your basement walls with corrugated metal paneling. See the installation process here on interiorsbykenz.com.
TEMPORARY WALLS AND ROOM DIVIDERS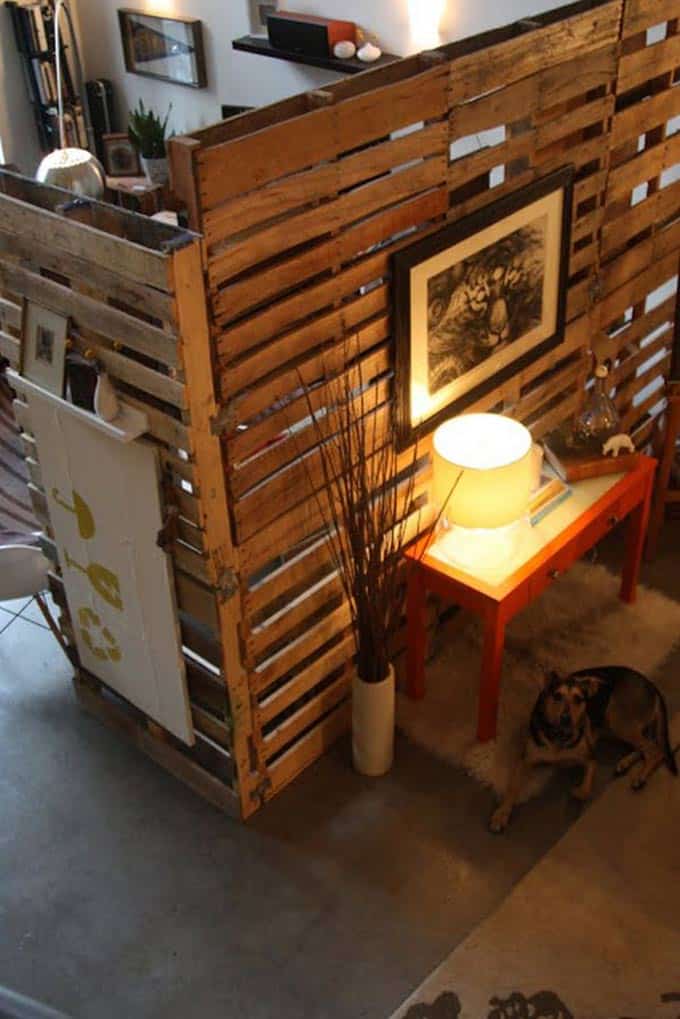 Create a room divider with pallets. Putting up permanent walls will require building permits, inspections, tax assessments and more. Temporary room dividers don't come with all that bureaucratic baggage, but will give visual separation between basement rooms. This one as seen on homedit looks great!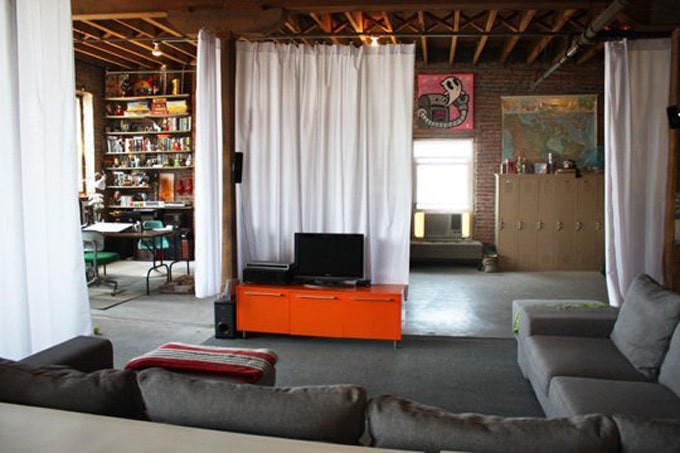 Or steal this idea for a budget room divider. String bargain bedsheets on cables to divide up your space. No sewing required for this airy beautiful look! In this post on apartmenttherapy they hung 30′ of curtains for only $40!
BASEMENT CEILING IDEAS: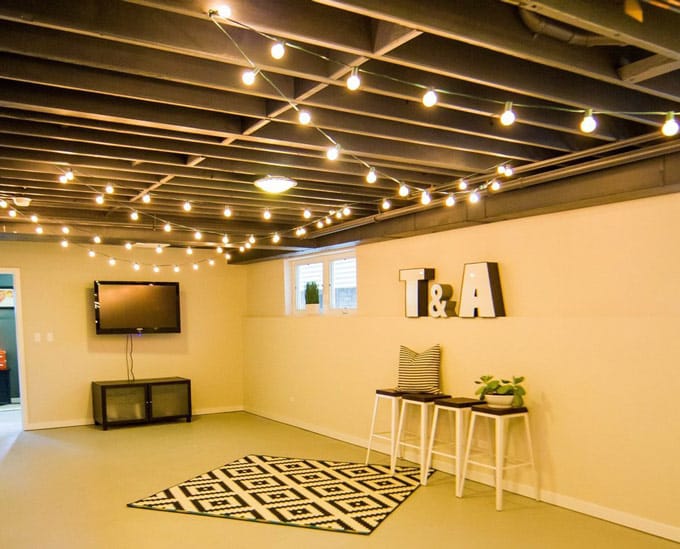 Basements are typically dark with a single pull chain light in the corner. (No wonder they scared us all as kids!) Brighten them up with some garden lighting like Amy & Todd's Chicago Home seen on Apartment Therapy! (Can you tell I love this site?)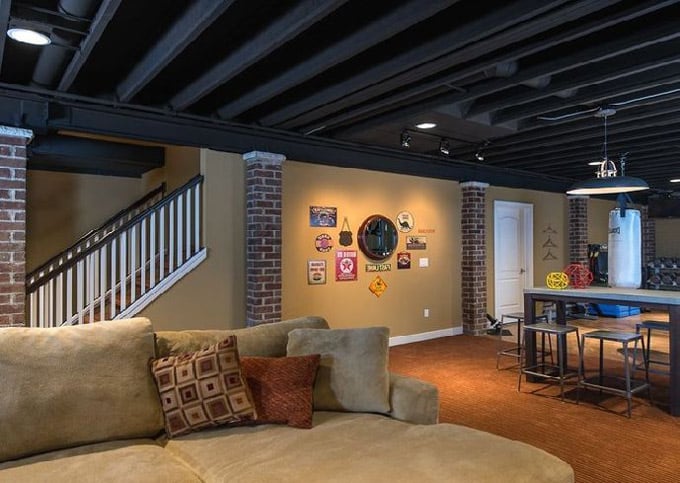 Leave the pipes and ductwork exposed and create a loft-like feeling by painting the ceiling an accent color or black! It will definitely be a process and require some sweat equity, but the results are gorgeous, don't you think?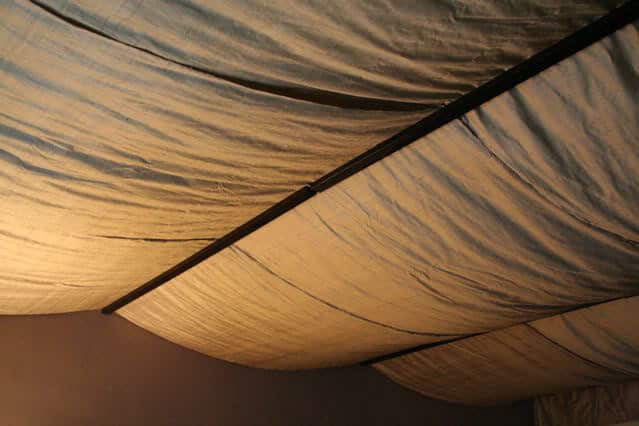 Hide unsightly pipes behind some gorgeous fabrics draped on your basement ceiling. The success of this ceiling might depend on the height of your basement. It definitely wouldn't have worked in the basement of an 80-year old house I owned, but it would work fine in the more modern home we live in now.
WHAT'S YOUR FAVORITE BASEMENT DECORATING IDEA? DO YOU HAVE ANY TIPS OR SUGGESTIONS I HAVEN'T MENTIONED? PLEASE SHARE THEM IN THE COMMENTS BELOW!