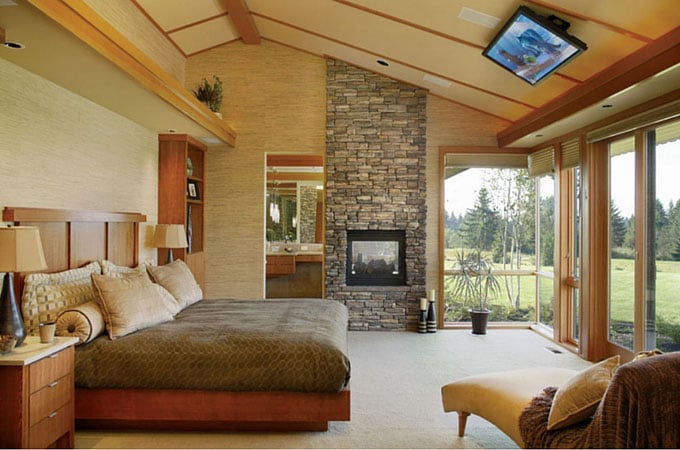 22 Awesome TV Wall Mount Jobs that Will Blow Your Mind
by couponlab
Wall mounting a TV is a task that should not be taken lightly. There's an art to getting that perfect spot, that perfect type of mount and that perfect angle. And, as with any art, there are those out there who are masters of the craft and those who sadly fall short of the high glorious standard set by those masters. Today we celebrate the Rembrandts and the Picassos of the TV wall mounting world, those fine folks who understand that hanging a television on a wall is as delicate a process as hanging the Mona Lisa in the Louvre…well maybe it's not that delicate a process, but you get the idea.
Here are some of the kick awesomest TV mount jobs that we've collected from around the Internet:
1. THIS CLEVER FLIP OUT TV MOUNT LOOKS QUITE COZY:
Just make sure that the mount is secure before you get tucked in!
2. WHY NOT MOUNT THE SHELVES, TOO?
Ooh, it looks like they're floating…
3. OR JUST STAND THE TV ON THE MOUNTED SHELVES:
Cut your work in half!
4. ADMIRE THIS ONE FOR ITS SYMMETRY:
Goes great with the orange carpet!
5. THIS ONE IS HIDDEN IN THE BEDROOM FURNITURE:
Can't beat the view behind it either.
6. HIDE THIS ONE WHEN YOU'RE NOT USING IT:
Just don't forget where you put it!
7. THIS ONE FLIPS DOWN FROM THE CEILING:
And we're flipping out over it.
8. SO DOES THIS ONE:
Watch it in action here. Isn't it glorious?
9. THIS ONE CAN SWIVEL:
Swivel mounts: the movement that's sweeping the nation.
10. THOUGH THIS ONE DOESN'T SWIVEL, IT STILL LOOKS GREAT:
Here's looking at you, classy TV room.
11. THIS OVER-THE-FIREPLACE SETUP LOOKS NICE:
Look, we know the over-the-fireplace debate is a hot button issue in TV land, but you've gotta admit, this one looks pretty good.
12. AND THIS ONE IS QUITE PICTURESQUE:
Still, is it mounted too high to watch it comfortably? The debate rages on.
13. THIS ONE'S AN ACCEPTABLE FIREPLACE COMPROMISE:
Okay, sure it's technically not above the fireplace, but at least they're in close proximity to one another.
14. OR WHAT ABOUT THIS ONE?
Pull it down when you want to watch TV, put it up when you want to use the fireplace! Gotta love dynamic mounts.
15. OR WHAT ABOUT MOUNTING IT INSIDE THE FIREPLACE?
Turn on Fireplace for Your Home and just imagine the warmth!
16. ALRIGHT, ENOUGH FIREPLACES! HERE'S A NICE ONE:
Ah, yes. No fireplaces in sight.
17. YOU CAN'T HAVE A MAN CAVE WITHOUT MOUNTED TVS:
And nachos. Don't forget the nachos.
18. IT'S SAFE TO SAY THAT THIS ONE'S IN ITS NATURAL HABITAT:
It's almost like it's camouflaged!
19. NO ONE PUTS TV IN A CORNER…
… except for you, if you decide to mount your TV like this.
20. FOR THE ULTIMATE WATCHING-TV-IN-BED EXPERIENCE:
Bonus perk: Burglars are going to have to work really hard to get it down.
21. THIS ONE MIGHT BE TOO FANCY FOR ITS OWN GOOD:
Elegance, thy name is classily mounted flat screens.
22. BUT THIS ONE'S JUST RIGHT:
Simple. Straightforward. Warm. Hidden wires. We could go on, but you get the idea.