6 WORST AND OUTRAGEOUS JEAN TRENDS OF 2017
by couponlab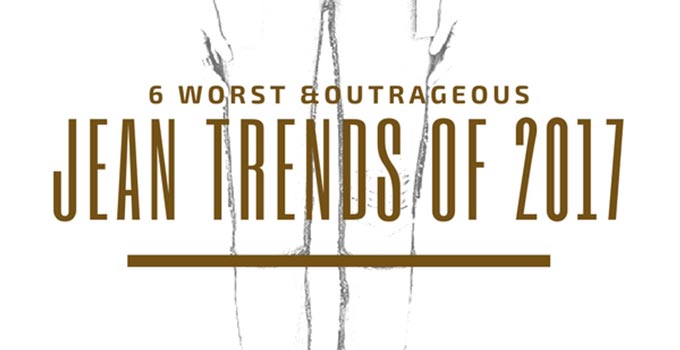 Fashion is totally subjective. You either love new trends and bold styles or you don't. Because it's spring the new trends are coming out in full force. Sometimes what is in style tends to be questionable to the average person. We recently wrote an article on the "Clear Knee Mom Jeans" and the reviews were brutal. Fashion is constantly changing, and change isn't always a good thing.
Do you ever think "I can do that!" and make your style look effortless? Whatever you do, think about your style choices so that when you look back you don't think, "Why did I ever wear that?" Here are a couple examples of the worst denim pants fashion choices of 2017:
BARRACUDA STRAIGHT LEG JEANS $425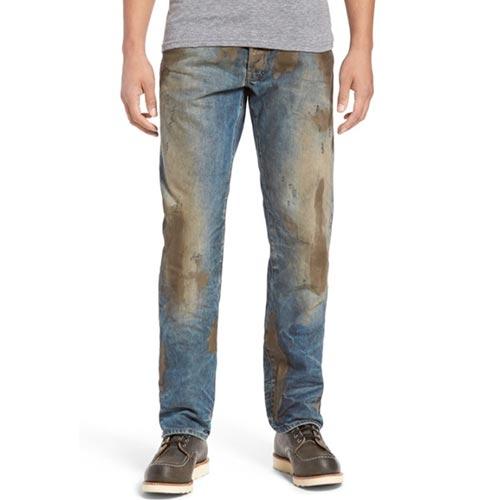 Apparently, it's now a thing to wear clothes caked in much for that rugged "rugged, Americana workwear that's seen some hard-working action with a crackled, caked-on muddy coating that shows you're not afraid to get down and dirty." So if you work in an office or other jobs where you never get outside and travel in tubes, you too can look like you did manual labor. What in the world is going on here? Why would you want to pay so much for dirty jeans? I guess we can't wrap my head around not just going outside on a rainy or muddy day. I guess that's fashion?
MOTO MESH INSERT LUCAN JEANS $90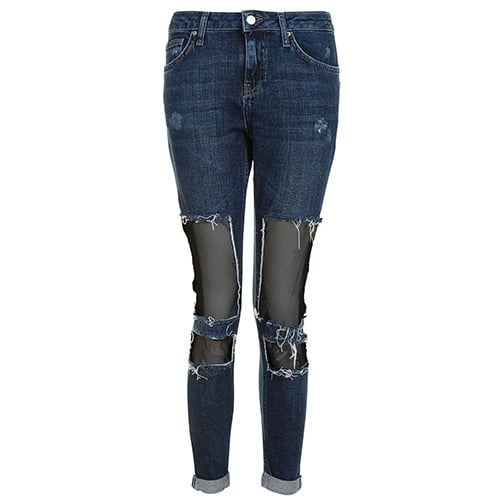 While we love a good dark denim and some deconstructed details, this one is taking it a step too far. These pants are like when you find two things that you love, but when you put them together they are terrible! Mesh is great in small doses and this color denim is amazing, but these are tragic. First, the cut outs are too extreme. You can really only wear these in spring and autumn. Can you imagine how sweaty they can be in the summer? And forget about dusting the snow off your car! While these can possibly (highly unlikely) be pulled off at the right even like a rock concert or a Halloween costume, they just remind us of our Good Charlotte and Blink 182 days in the early 2000s.
THE PATCHWORK WIDE LEG $98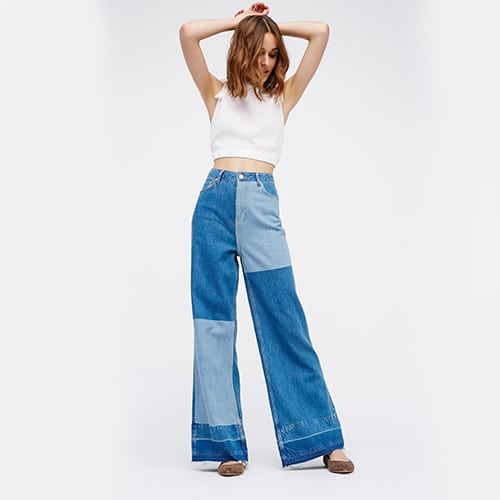 Where do we even start with these pants? Yeah, some girls are adorably cute in their natural hippy boho vibe, but not many girls can actually pull the look off. The mix and match of these wide leg denim is a bad homemade sewing project at best. These pants are exactly like the first pair of jeans that I made in 7th grade in an attempt to make Jnco's for my friend. They look like they are made with scrap fabric or a redesign of jeans that didn't quite fit my mom. It's a remarkable thing to have these jeans sell for this price because, come on, this fabric isn't even worth it.
Get the look:
BEN TAVERNITI UNRAVEL PROJECT INSIDE-OUT CROP JEANS $975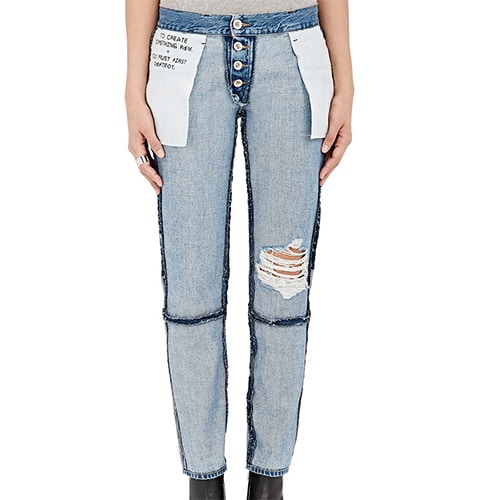 As a kid, I use to love Criss Cross: the music, the fashion, the youth! I use to wish that I could be as cool as them and always tried to sneak out to school with backward overalls, but my parents would always catch me. Now as an adult I can see why because when I see my daughter come home from school with her shirt accidentally inside out I feel like "What do people think?" These are the adult version of a really bad hangover run to the store. The pockets on the outside don't serve a function, and women's jeans already have pocket problems. The seam on the knees just look uncomfortable with the extra bulk in the wrong spots. If I'm going to pay $975 for pants, I at least want them to have something more than being inside out.
MOTO TULLE HEM STRAIGHT LEG JEANS $85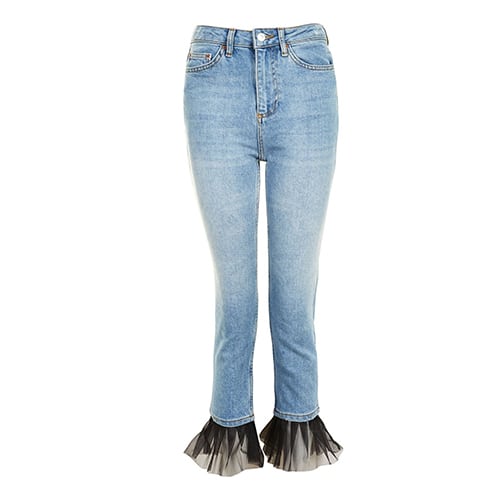 The cut and color of these jeans are pretty fantastic. The thing that bothers me most about these pants is that they look like children's pants. I've seen so many grandmothers sewing cute flowery ruffles on the bottom of their granddaughters' pants to extend the life of their pants. I'm all for cute, but save the cutesy for those under 12. We say skip the ruffles and just stick with the ankle length jeans.
TULAROSA 

TAYLOR FLORAL-PRINT BOYFRIEND JEANS, BLUE $119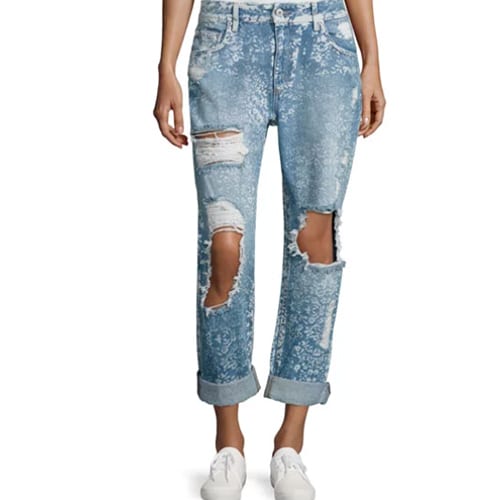 Depending on your body type boyfriend jeans are amazing looking jeans because they are comfy and great on the go. One thing that I can't understand is the acid wash print, especially in the crotch and butt of the pant. Like, why draw attention to the worst fitting part on everyone. Amirite? I also am not a fan of pants that aren't really functional; I want and need my pants to last more than a couple wears. I'm all for distressing, but huge cutouts are meh. If I needed holes this big, I'd give them to my nephew and have him play outside then do laundry. That about sums up how these pants were designed.
We aren't saying that these are all tragic. On the right person and at the right event some of these could be cute, I guess. If you know you could pull any of these looks off maybe prove us wrong. Send us your pics of your style and where you're going. Do you think you can make these trends yourself?  Maybe our style guide is off, but what's the worst that could happen? Worst dress list and regrettable photos? I mean, we all have a few of those in our photo albums.