9 Best Wii U Games for Family Fun
by couponlab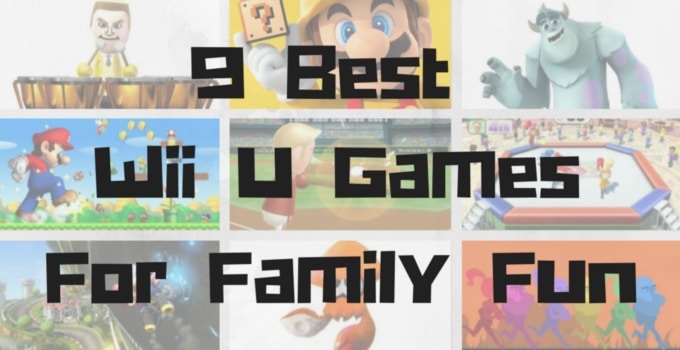 Playing video games with your kids is a great way to bond with them, but how do you choose which games are the best for your family? The Wii U offers many games that are terrific to play as a family. We've compiled a list of nine great Wii U games that cater to the needs of many different types of families. Whether you have younger kids who are less interested in competing and more interested in playing or older kids who love gaming thrills, this list has something for you.
Laid Back for Beginners: "Wii Music"
Undoubtedly the simplest entry on this list, "Wii Music" is perfect for families with very young kids who aren't necessarily interested in competing or strategizing yet. The game allows you to play all sorts of instruments, conduct orchestras and listen to the many classic children's songs it features. Let's be honest; younger kids tend to be hyper kids, so it's nice to have a more mellow game like "Wii Music" to share with them and keep them from getting too out of control.
Constructive Family Fun: "Super Mario Maker"
If you grew up loving Mario and want to pass that love down to your kids, then this is the game for you. Super Mario Maker allows you to design your own levels and then play in them. Just imagine the hours of fun you could have with your kids as you work together to come up with the silliest, most outrageous levels you can think of and then admire your handiwork as you try to make it through them unscathed. You may even discover that you and your kids are too good at designing levels when you just can't make it over that wall or past that level. That's the fun of it.
Play Time Made Simple: "Disney Infinity"
If you're like most parents, you've taken your kids to countless Disney movies over the years, and your kids just can't get enough Disney toys. The beauty of "Disney Infinity" is that it allows you to play with tons of Disney toys all in one place. The game features toys from popular Disney movies, such as "Pirates of the Caribbean," "Toy Story," "The Incredibles" and many, many more. This is a great way to play with your kids without having to worry about picking up your toys afterward.
The Joy of Cooperation: "New Super Mario Bros. U"
"New Super Mario Bros. U" is a more sophisticated and strategic game than the first three entries on this list. It is a great game for fostering family unity, as it requires its players to work together to beat its levels. What is unique about this game compared to other Super Mario games is the novel way it uses the Wii U Gamepad. One member of your family will be tasked with using the Gamepad to help the other family members as they use their regular Wii remotes to compete in the levels. So, for example, let's say dad is about to fall off a ledge into a lava pit. That's when daughter, using the gamepad, could swoop in and save him by drawing in a ledge to prevent his fall. Now, dad and daughter have something to joke about for the rest of the night. That's a special type of family bonding only this game can offer.
The Classic Competition: "Wii Sports Club"
Playing sports on Wii never gets old. What better way to spend a night in with the family than by playing tennis, bowling and baseball all from the comfort of your own Wii? It goes without saying that these games are beloved by both kids and parents alike. And, of course, there's the added perk of getting some exercise while you bond.
Variety, Variety, Variety: "Wii Party U"
Perhaps your family wants a bit more variety in its choice of mini-games. Maybe soccer and golf just sound too mundane to your adventurous clan. "Wii Party U" has loads of interesting mini-games that are bound to keep your family entertained for hours on end. Many of the mini-games make novel use of the Wii Remotes and the Wii Gamepad. For example, a game called "Button Mashers" essentially transforms the controllers into a Twister mat for your fingers. And a game called "Water Runners" turns them into a water-themed relay race. With so many novel games, your family is sure to love partying with "Wii Party U."
The Need for Speed: "Mario Kart 8"
If your family is full of adrenaline junkies who just can't stand casual party games, then you will probably enjoy "Mario Kart 8." Your kids will love competing against you as you drive around the game's many crazy race tracks and shoot turtle shells at each other. If you grew up loving the original Mario Kart like I did, this game is a great opportunity to pass down your passion for this game to the next generation. It's also always nice to have a game to play with your kids that you love playing yourself.
Messy Rivalry Mayhem: "Splatoon"
Got kids who love to make a mess? Here's a way you can make a mess as a family without actually making a mess! "Splatoon" is a game that pits two teams of four against each other in order to see who can achieve painting supremacy. The goal of the game is to get your team's paint on more stuff than your opponent's team. Great for fostering good-natured family rivalries, "Splatoon" is sure to keep your family coming back for more competitive fun again and again.
A Tricky, Colorful Footrace: "Runbow"
Arguably the most difficult game on this list, "Runbow" is a fast-paced racing game with a crazy twist. Up to nine players can play at once as they run through levels trying to be the first one to reach the end. However, the twist is that, as the colorful background changes, platforms that are the same color as the background vanish. Meaning, at one moment you could be about to land on an orange platform, and the next it could be gone. This makes the game very tricky to pick up. This is why you should probably only play it if you have older kids who have the patience to learn new things. But once you do get the hang of it, this game is a blast!