Bebe is Closing All Their Brick-and-Morter Stores By the End of May
by couponlab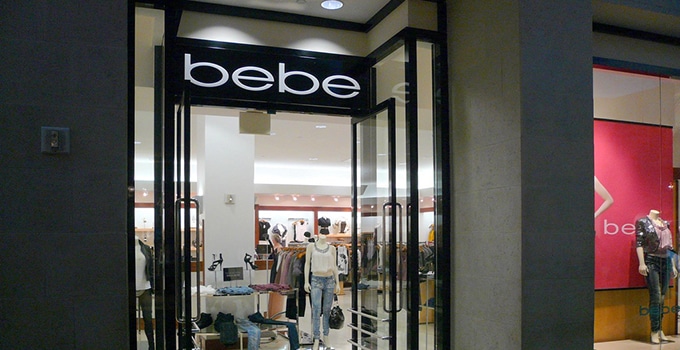 UPDATED 6/8/17
In accordance with their announcement in April to close all their brick-and-mortar stores, bebe has paid $65 million to end all their current leases, leaving them with no physical locations. As of May 31, all locations are closed and all store employees are laid off. Whether or not the apparel retailer will be safe from bankruptcy is still up in the air, and their tenability as an online-only retailer is unclear. Bebe will continue its restructuring plan under the guidance of B. Riley & Co.
ORIGINAL ARTICLE:
After announcing plans earlier this year to close as many as 25 stores, women's clothing retailer bebe will be shuttering all their stores after declining sales. The closures will affect retail and outlet locations alike, and the stores will be closed by the end of May. The company has not filed for bankruptcy, and it is intending to use these closures as an opportunity to reorganize the business. If you have a local bebe store, now may be the time to check them out, as they'll be liquidating their merchandise and all store furnishings and fixtures, as per the SEC filing released today.
This is a story we're hearing more and more frequently these days as the retail economy shifts from mall landscapes to digital ones, and it feels incredibly bleak for many people. Since last October, department stores have laid off nearly 89,000 retail workers, cutting positions at locations as they close hundreds of stores. All is not hopeless, however, as the retail climate shifts away from brick-and-mortar stores to fulfillment centers, which pay 26% better than in-store general retail employee positions do. The e-commerce industry has also added 97,000 jobs over the last year, showing growth in a sector that is being blamed heavily for the "retail apocalypse."
While we'll agree that e-commerce positions aren't opening fast enough to make up for the staggering losses in physical retail positions, there is no stopping this shift. If companies like bebe and rue21 want to stay afloat, they need to roll with the changes. Many major department store retailers are scrambling to catch up, like Kohl's, which is revamping its storefronts to cater more to the individual communities it serves. Companies like Target are adding more digital integration to their stores, utilizing mobile cash register technology to provide smoother customer experiences. With strategies like these, we may see traditional retail pull itself up and out of this slump, and slinging blame at fast fashion companies, like H&M and Forever21, and marketplaces like Amazon doesn't solve the problem.
In any case, bebe isn't going anywhere as a company. Its products will still be available online and in department stores like Macy's and Nordstrom, so if you're the kind of person who needs to try clothes on before buying, you still have options. If you're a bebe fanatic, rest assured you'll still be able to shop your favorite brand for the foreseeable future.