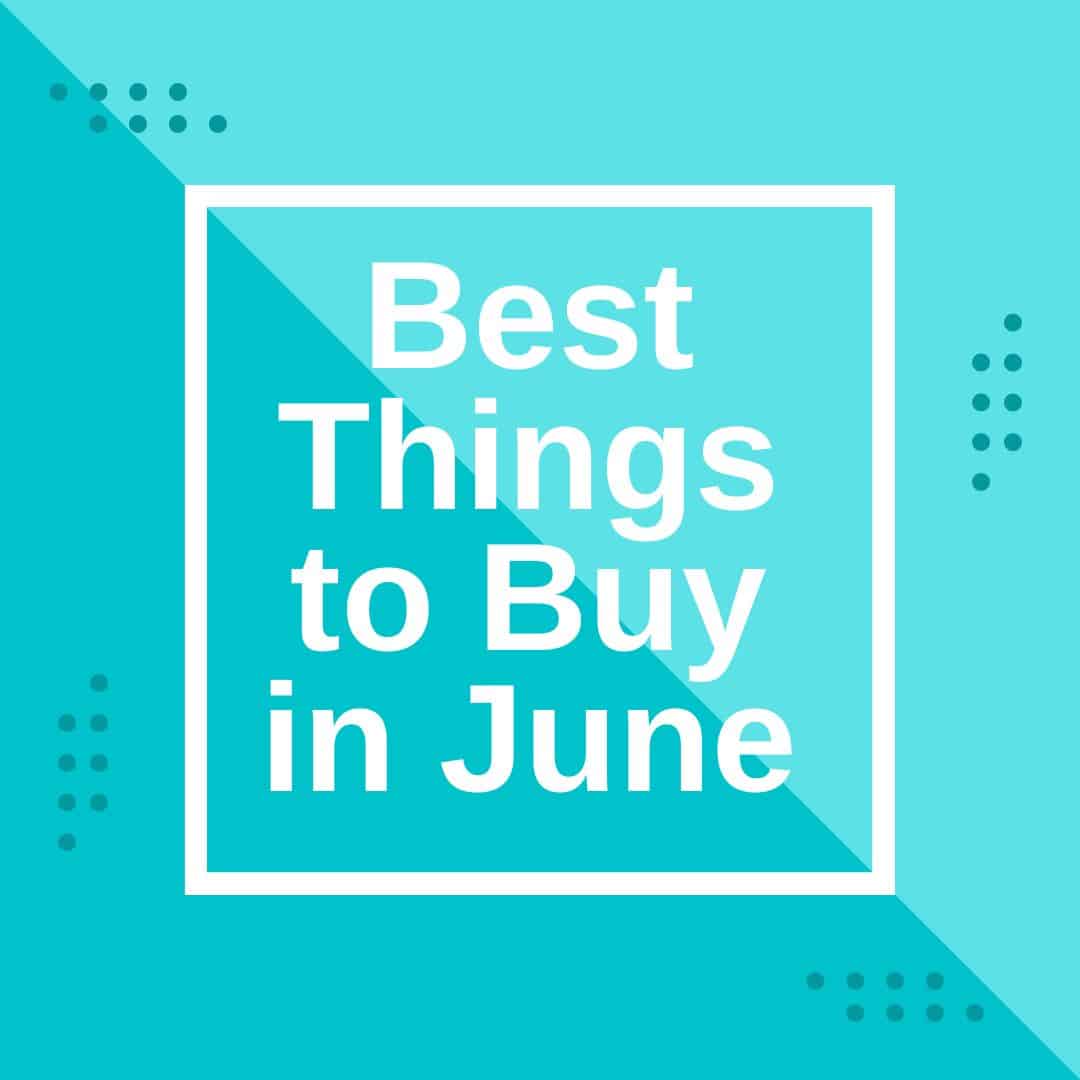 Best Things to Buy in June
by couponlab
BEAT THE HEAT! JUNE OFFERS BIG SAVINGS ON TOOLS AND MATERIALS FOR THOSE DIY HOME PROJECTS.
June sales kick off summer savings with deep discounting for homeowners looking to get new projects wrapped up before it gets too hot to work on. Retailers respond with price drops on key items like tools, paint, building materials, and hardware. Once more, those recurring Father's Day sales offer hidden savings for these items. Tools Shopping Survey (results) ranked Father's Day sales as the best time of year to find deals on tools ahead of Black Friday deals, Spring sales, and Cyber Monday deals.
It's a perfect storm for homeowners as discounting on the yard, garden, and patio products also fit the bill for potential Father's Day gifts and will be on sale most of the month. Add savings on sports and outdoor gear and activewear apparel for summer fun, like fishing, hunting, camping, hiking, golfing, biking, and swimming, with competitive pricing on top brands throughout the month. Local deals from Groupon, Amazon Local, and others also offer huge savings on "staycation" activities like museums, amusements, and festivals. Great way to save up to half off on family summer fun.
Savings tips for the "Best Things to Buy in June":
FATHER'S DAY DEALS ARE MORE THAN JUST FOR DADS:
For many of us, Father's Day is about spending time with dad, then taking advantage of the sales for ourselves. Here's what to expect big savings on leading up to June 21.
Tools & Auto: (power drills, cordless combo tool kits, yard & garden tools, automotive tools and parts, tool storage)
Sports & Outdoors: (golfing, fishing, hunting, camping, hiking, biking, swimming)
Electronics: (laptops, tablets, smartphones, cameras, streaming media, wireless devices)
Local Deals: (auto services, restaurants, golfing, movies, and health/fitness services)
Tip: Taking advantage of local online deals via Groupon, Amazon Local, and Living Social is a good way to save 50% or more on a fun day with dad and the family.
HOME IMPROVEMENT DEALS HEAT UP THIS MONTH:
The rush to beat the heat on those DIY home projects creates a perfect storm for homeowners looking for materials on a budget. Here are the items you can find at the hardware store (and online) with some of the year's best discounts.
Paint & Coatings: (interior and exterior for walls, ceilings, floors, fencing, decks, garage, and house)
Materials: (hardware, faucets, light fixtures, wallboard, shingles, fencing, wood, etc.)
Tools: (saws, power drills, combo kits, storage, ladders, mowers, trimmers, and gardening tools)
Tip: Look for bigger savings of both money and time by shopping online and utilizing free in-store pickup, or better yet, when available, free home delivery (and haul away your old items as needed).
SAVING MONEY ON GRADUATION/WEDDING GIFTS:
Spring clearance and special June sales (Father's Day, Home Improvement sales, Summer Travel deals) have hidden savings when buying gifts. Often you can stretch an in-store discount to combine a few gifts with home needs in one purchase if you shop smart.
Home: (dishware, cookware, bedding, small appliances)
Flowers, Gifts: (flowers, gift baskets, frames, photo albums, jewelry)
Clothing: (jackets, hoodies, pants, long sleeve shirts, raincoats, spring colors)
Travel: (Caribbean vacation packages, hotel and car rental deals, summer event tickets
Tip: Look for items that qualify as gifts during other seasonal sales (this is a great money-saving strategy for buying early holiday gifts, as well).
HOW TO FIND LAST-MINUTE SUMMER VACATION DEALS:
If you're flexible, finding last-minute summer vacation deals is about being flexible with dates and destinations. Plus,  features added cash back savings from +100 travel sites, including Priceline, Expedia, Travelocity, Booking.com, hotels.com, and Orbitz.
Airfare: Bundling airfares with hotels as a package should get you there and back at a bargain if you're willing to come and go at off-hours.
Hotels: Get cash back along with the best vacation packages in hotels like Hilton, Marriot, Westin, Ramada, and more.
Car Rental: Look for free rental car upgrades, one-way discount codes, and rental car packages.
Local Deals: Find 50% or more of local events, activities, and getaways + cash back!
Tip: Rule of thumb for booking last minute is when you see an acceptable rate (factored in all taxes and fees), book it!
CHEAP SUMMER FAMILY FUN VIA LOCAL DEALS:
Local Deals provide daily deal shoppers a one-stop resource with all the available offers from Groupon, Living Social, Gilt City, and other sites in more than 150 cities, including savings on hundreds of timely national deals. Perfect for summer events and cheap meals on the road.
Activities & Events: (concerts, sports, theme parks, museums, arcades, movies, bowling, etc.)
Beauty & Spa: (half off hair cuts and color, manicures, hair removal, and spa packages)
Food & Drink: (coupons for pizza, burgers, drinks, and a variety of full course meals)
Health & Fitness: (gym memberships, pilates, yoga, golfing, chiropractic, acupuncture, etc.)
Shopping: (50% and more off select products and services year-round)
Travel: (complete vacation packages, hotels stays)
Tip: If you are traveling, look at these deals a week or two ahead to save a ton of money on vacation or just visiting family and friends.