Book Lovers Rejoice! Barnes & Noble Black Friday Ad Has Leaked
by couponlab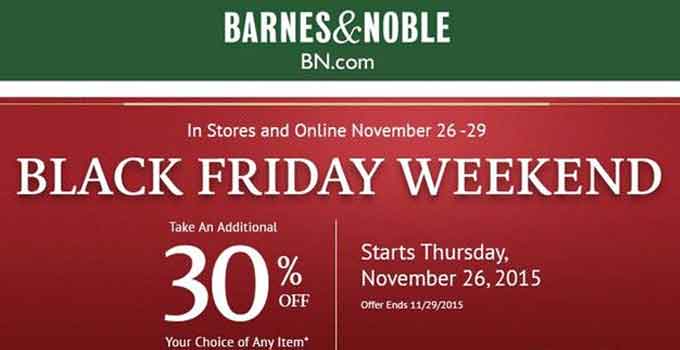 We just posted the nine-item Barnes & Noble Black Friday ad listing along with the two-page Barnes & Noble Black Friday ad scan! The Barnes & Noble Black Friday Weekend Sale will run from Nov. 26-29, and you can shop in-store or online. Take 30% off a single item, plus 50% off gift books. shoppers can get 1% cash back on their Barnes & Noble purchases.
While Barnes & Noble is primarily known as a book seller, you can also find your favorite music and books, along with other unique gift items, such as toys, mugs and stationery.
Literature lovers might enjoy:
Buy one; get one 50% off bargain collectible editions
Buy two paperback favorites and get the third free
Chocolate "quotes" throw blanket for $19.95
Movie lovers might enjoy:Barnes-and-Noble-3D-printer
Up to 60% off select Blu-rays
Up to 60% off select DVDs
Up to 60% off "The Hobbit" Blue-ray
Up to 60% off "Pitch Perfect 2" DVD
39% off "The Art of Star Wars: The Force Awakens" pre-order
The most unique item we saw in this year's ad is the Da Vinci Jr. 3D printer for $249.95.
Looking for more Black Friday news, deals and ad scans? Be sure to check out the Black Friday section of our website. What deals were you hoping to get at Barnes and Noble this Black Friday?