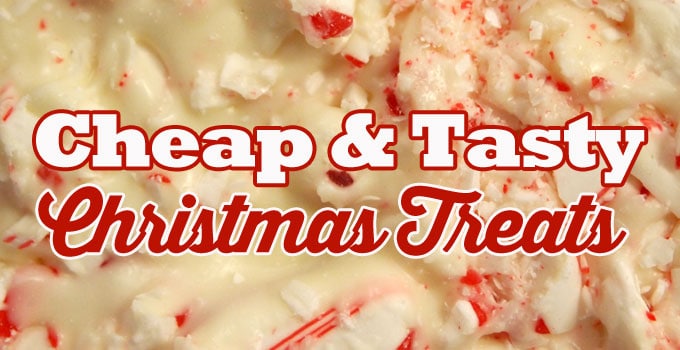 Cheap and Tasty Christmas Treats That Won't Break the Bank
by couponlab
Ever felt envious of Aunt Bea's peanut brittle skills or wished you could garner the same praise as Grandma with your own baked goods during the holidays? Ever paged through fancy cooking magazines and wondered how you were ever going to afford the myriad ingredients required for the perfect tiramisu or whether you'd have time to brush up on your blowtorch skills for a decadent creme brulee? If you've lost sleep (or hair) over holiday baking expectations, look no further than these five simple, cheap holiday-friendly recipes:
CANDY TREATS
Peppermint Bark
Yields 1
Totally excellent white chocolate bark with peppermint candy chunks.
Ingredients
Your favorite brand of white chocolate
Peppermint extract
Peppermint candies or candy canes
Parchment paper and a cookie sheet
Instructions
If your white chocolate isn't in chip form, break it up into small chunks.
Put the peppermint candies into a sturdy bag and pulverize them.
Fill a pot with about 2 inches of water and set it to boil.
Prep a cookie sheet with parchment paper and make room in your fridge or freezer.
Put the chocolate into a metal or glass mixing bowl and set it over the boiling pot. Don't let it touch the water. Add a cap-full of peppermint extract.
Stir the chocolate constantly until it is mostly or completely melted.
Remove the chocolate immediately when it reaches a smooth consistency.
Pour the chocolate over the parchment paper and sprinkle the candies over the still-gooey chocolate.
Put the cookie sheet into the fridge or freezer until it's hardened, then remove and break into large pieces.
Now you can wrap it in cute plastic bags to serve later or just eat it all immediately. I vote for the latter option.
Notes
This recipe can be adapted into dark chocolate almond bark by replacing the peppermint extract and candies with almond extract and slivered almonds (I recommend toasting the almonds, too).
Candied Walnuts
Sweet and crunchy candied walnuts are a great holiday snack.
Ingredients
2 cups walnuts, halved or quartered
1 1/2 cups sugar
1 tsp cinnamon (or to taste)
Sprinkle of sea salt
Instructions
Spread your walnuts out over parchment paper on a cookie sheet and roast at 350 degrees F for about 8 minutes.
Pour sugar and cinnamon into a saucepan and heat on medium until the sugar melts and starts to turn a nice golden brown.
Pour melted cinnamon sugar over walnuts evenly, then sprinkle a bit of sea salt (to taste) over the walnuts.
Let set at room temperature or in the fridge, then crack the walnuts apart with your hands, a fork or fold the parchment paper over them and beat them apart.
Bag 'em up to give as gifts or use as a topping for ice cream or popcorn or just eat them plain.
Toffee Bark
Ingredients
11×17 jelly roll pan (cookie sheet with a lip)
1 sleeve Saltine crackers
2 sticks of butter
1 cup of brown sugar
1 package chocolate chips
Other toppings (optional)
Instructions
Preheat oven to 400 degrees F.
Lay crackers evenly over the 11×17 pan.
Melt butter and sugar together in a saucepan, bringing to a gentle boil.
Pour butter-sugar mixture over crackers, then bake for 5 minutes.
Remove the pan from the oven and sprinkle chocolate chips and other toppings over the bark sheet.
Let it cool off, then cut it or break it apart and enjoy!
 BAKED AWESOME
Cranberry Cornbread
Mix it up, pop it in the oven and just wait for the goodness to arrive with this simple cornbread recipe with a sweet bite.
Ingredients
2 cups cornmeal
3/4 cup white whole-wheat flour
1 tsp baking powder
1 tsp baking soda
1/4 tsp salt
2 large eggs
1 1/2 cups buttermilk**
2 large eggs
1/3 cup melted butter, cooled a bit (if it's too hot, it'll cook your eggs)
1/3 cup honey
1 cup fresh cranberries, rinsed and patted dry, or frozen, thawed and patted dry (I like to chop them up, but you can leave them whole)
Instructions
Preheat oven to 400 degrees F. Prep a 10-inch skillet or 9-inch cake pan with cooking spray or butter. I prefer butter.
Set aside 2 tbsp cornmeal in a small bowl. Toss all the cranberries in this to keep them from sinking in your batter.
Whisk the remaining cornmeal, whole-wheat flour, baking powder, baking soda and salt together in a large bowl.
Lightly beat the eggs in a separate bowl, then add the rest of the wet ingredients (buttermilk, butter and honey). Mix until smooth.
Make a well or valley in the center of the dry mixture. Pour in the wet ingredients and mix until combined. It should look lumpy, so don't worry that you've under-mixed it.
Dump the cranberries into the batter and fold them in, then pour your batter into your chosen baking implement (be it cast iron skillet or cake pan).
Bake for about 25-30 minutes or until the edges are golden brown and a toothpick stuck in the center comes out clean.
Let it cool off, then enjoy!
Notes
**If you don't have buttermilk, use this simple trick: pour the same amount of regular milk into a measuring cup, then add a spoonful of vinegar or lemon juice and let the mixture sit for about five minutes. Once the wait is over, you've got yourself some buttermilk substitute.
You can also adapt this into muffins by pouring the batter into muffin tins rather than a cake pan or skillet.
Adapted from Eating Well
Apple Pumpkin Muffins
Yields 1
Fall and winter flavors combine in these nicely spiced, moist muffins.
Ingredients
2 1/2 cups whole wheat flour
2 cups white sugar
1 tsp baking soda
1 tsp ground cinnamon
1/2 tsp ground ginger
1/2 tsp salt
1/4 tsp ground nutmeg
2 large eggs
1 cup canned pumpkin
1/2 cup (1 stick) butter, melted
2 cups diced apples of choice
Instructions
Preheat the oven to 350 degrees F.
In a large bowl, combine all your dry ingredients (the first seven).
Crack the eggs into their own bowl and beat them lightly until the yolks are broken.
Add the pumpkin and slightly cooled melted butter** to the eggs and combine.
Make a well in your dry ingredients and dump the wet ingredients into it.
Mix until everything is evenly moist, then fold in the apples.
Pour into muffin tins about two-thirds of the way full and bake for 30-35 minutes.
Notes
**Make sure your butter is slightly cooled, otherwise you'll end up with cooked eggs and need to start all over again. You should be able to dip your finger in it, but it should still be liquid.
Adapted from Taste of Home
If you enjoyed these simple recipes and are feeling a bit more adventurous, check out our Winter Recipes Pinterest board to really get crazy in the kitchen this holiday season: