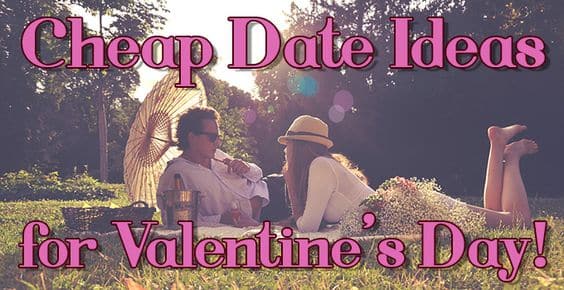 Cheap Dates for Valentine's Day
by couponlab
Here's my idea for Valentine's Day: Take it back! Let's take it back from the crowds and overpriced limited menus. Let's take it back from the so-overplayed music of the De Beers diamond ad and out-of-season roses. Say it with me: I will not subscribe to a restaurant manager's contrived expression of my love.
Instead, here are a few inexpensive date ideas intended to get you brainstorming your own unique experience this February 14.
DINING
PICNIC FOR TWO
Buy some cheap deli items from your local grocery or make finger sandwiches yourself, but don't forget the blanket and basket for a traditional, romantic picnic in the park. If you're in a colder climate, have one indoors on the living room floor. A light lunch together is a cute, simple way to make the day memorable.
CAMPFIRE S'MORES
Pack a thermos of Irish coffee, build a fire in your backyard or local campground, or park out on your deck with a mini hibachi and bundle up together. Have your campfire supplies and s'mores ingredients packed and ready in advance — because forethought is hot.
A MEAL OUT IN THE A.M.
No, not the breakfast-in-bed cliché. Sleep in, brush off the morning breath and skip dressing up. Load up on carbs and bacon before moving on to item three. Dine out on traditional gluttony (biscuits and gravy), fancy pancakes (crepes), or you-keep-me-spicyyyy eggs (Huevos rancheros), all for less than appetizers and drinks off the Valentine's menu. Avoid crowded, popular restaurants, which typically charge 50% to 100% more than their normal prices, according to Lillian Karabaic, financial educator and radio host for Oh My Dollar!.
If you do decide to dine out on Valentine's Day, plan in advance by checking Groupon for local deals on restaurants.
ACTIVITIES
DRIVE-IN MOVIE
Despite the low-fi sound and distracting patrons tromping around a gravel lot doubling as a movie theater, drive-in movies project (yep, I went there) simple romance. Those blessed with a local drive-in and a warm climate can sneak in your favorite takeout and dessert. Done.
As for the rest of us, drive-ins have closed for the season or for land development. Time to bust out the campfire, lawn chairs, and blankets again. Point a projector at the back of the garage and whisk your love away to the low-tech, big-picture experience of the drive-in. Rent the first movie you saw together – hopefully it's not "Tin Cup" like mine.
WORKING OUT
There are tons of options for the exercise-minded couple to participate in, from hanging at the beach if you're in a warm climate to ice skating in the chillier parts of the world. Rock wall climbing, hiking and running are all excellent, low-budget ideas for couples, especially those who enjoy some friendly competition.
ENJOY THE ARTS
Instead of heading out of town to an expensive getaway, go local and check out an art museum, says consumer finance expert for Freedom Financial Network Kevin Gallegos. "For romance, it's not necessary to stay somewhere overnight," and our wallets are inclined to agree with him.
Another inexpensive outing is a Paint and Sip Wine Painting paint-and-sip class, which generally run about $25-$35 per person. Bring your partner and enjoy a unique experience drinking wine and painting a souvenir for yourselves.
HOME SPA NIGHT
There are plenty of recipes for body butter and sugar scrubs online to make yourselves. Spend the evening in with massages and candlelight, and treat your skin to some TLC. It's intimate, quiet and a lot cheaper than a day at an expensive salon and spa.
GIFTS
A really popular and cute idea is to give coupons to your partner. "Make your own set of coupons for activities and things to do, and decide
on things that don't break the bank," says Stef Safran of Stef and the City matchmaking service.
Something super unique you can do together is purchase a personalized romance novel from YourNovel.com. All you need to do is fill in your names and answer questions about what kind of story you'd like to be a part of based on a wide range of categories available. Prices range from $10.95 to $126.95, but most books fall around $49.95. You can do this as a surprise beforehand or together day-of; either way, it's a great way to immortalize your romance in the pages of a saucy book.
If you're more social media savvy, you can always create a personalized Snapchat Geofilter to share Valentine's Day memories with each other and friends. FilterPop's Valentine's Day Geofilters will run you about $15, but it's a great way to show off your commitment to everyone on your Snapchat list.
Join me in taking back the heart in Valentine's Day. Your special day with snookems may have to land on a day before or day after for the sake of creativity. Just remember: forethought is hot; stressing about cash and a so-so night out is not.