Dell Consumer Cyber Monday Ad Released
by couponlab
Tired of all the Black Friday ad leak tedium? Then why not break up the tedium with a little Cyber Monday planning? You can start by reading this blog post.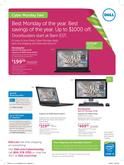 We have just leaked all of the deals from Dell Consumer's 2015 Cyber Monday ad! Dell Consumer's Cyber Monday sale begins at 8 a.m. EST on Monday, Nov. 30 and features a lot of great doorbusters, including an Inspirion 15 3000 Series laptop for only $199.99 and an Inspirion 23 7000 Series touch screen laptop for only $499.99. So be sure to camp out in front of your computer the night before in order to get first dibs on these deals.
Besides its great doorbusters, the ad also totes many other can't miss deals on laptops, monitors, speakers, video game bundles, tablets and HDTVs. Couple this with the fact that shoppers get 2% cash back at Dell Consumer, and it's easy to see why it's a great place to shop online this Cyber Monday.
Wow. Wasn't that a nice break from the Black Friday madness? Granted, we did just supplement it with Cyber Monday madness. But wasn't it nice to have a different type of madness for a moment? We think so.
Anyway, we hope your Black Friday preparation is going well. For more ad leaks, insights and store hours, be sure to check out our Black Friday page.
Thanks for stopping by the Blog. May your shopping dreams soar on the wings of eagles!