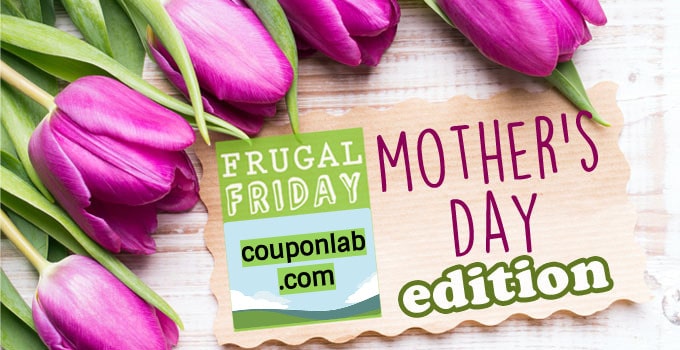 Frugal Friday: Mother's Day Gift Ideas From the Experts
by couponlab
Don't get us wrong; we would never suggest skimping out on a Mother's Day gift because of cost. So we rounded up our in-house online shopping experts with tips on saving money on your mom's special day — and also a few great ideas if you're feeling stuck. Want to DIY your mom's gift? We've got ideas for that, too.
THREE TIPS FOR FRUGAL MOTHER'S DAY GIFTS
1. GROUPON/LIVINGSOCIAL DEALS
So you're not exactly sure about what mom wants. Don't let her in on that little secret and peruse all the great deals on Groupon and LivingSocial. Known for offering up to 90% off, you'll know that you're getting a great deal on spa days, online yoga classes or even an online tarot card reading course. There are endless (interesting) options to gift your dear mother.
2. JEWELRY DEALS
Jewelry is a favorite year-over-year; both to buy and receive. But don't go broke on bling. Search for jewelry coupon codes at stores such as Macy's, where you can currently save up to 25% with code FRIEND. Whether it's necklaces or sparkly earrings, shop smart with codes and use your store card for even more savings.
3. AMAZON SERVICES DEALS
Did you know you can hire professional services through Amazon? You can help make your mom's yard as green and lush as possible with landscaping services. Did she just buy new furniture? Get her assembly services. Break her new iPad? Purchase computer/electronics repair services, and she'll be up and running in no time. And if it's your first time booking a service, you get a $30 Amazon.com gift card.
Of note: services are currently only available in Atlanta, Austin, Baltimore, Boston, Charlotte, Chicago, Cincinnati, Dallas, Denver, Detroit, Houston, Los Angeles, Miami, Minneapolis, Nashville, New York, Orlando, Philadelphia, Phoenix, Pittsburgh, Portland, Riverside, Sacramento, San Diego, San Francisco, Seattle, San Jose, St. Louis, Tampa, and Washington DC.
BONUS: DIY CERTIFICATE
Sometimes mom just wants the damn day off. Make her an adorable coupon (or an entire book!) that she'll really appreciate. Doing the dishes for a week, scooping the cat litter without being asked, or promising to keep the kids occupied so she can be left alone in the bathroom for more than 15 seconds will make her day.