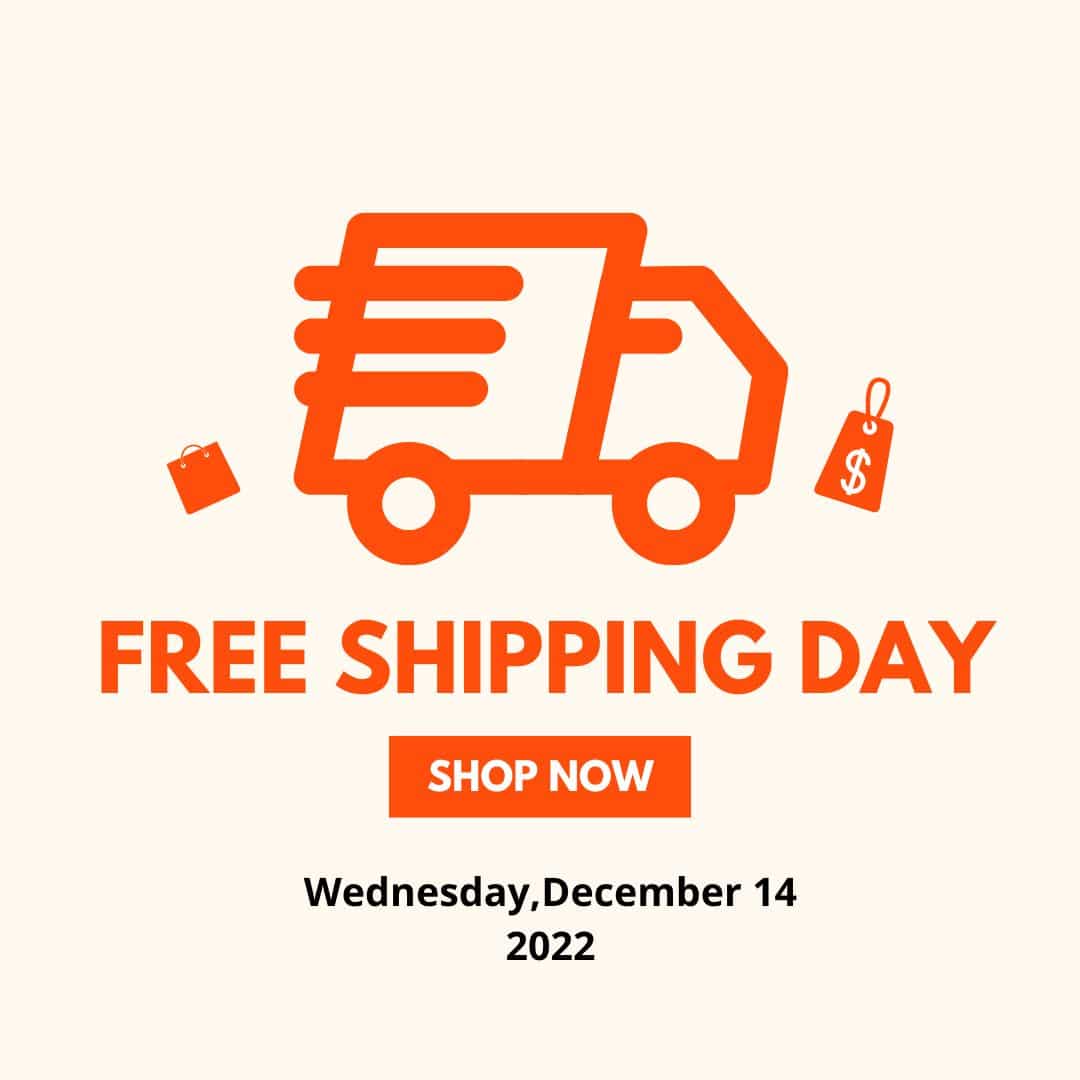 Happy Free Shipping Day! Finish Your Christmas Shopping Online
by couponlab
Free Shipping makes us happy! Not much compares to the convenience of doing your comparison shopping online, being able to stack up coupons and Cashback, and having everything delivered to your doorstep. But you don't want to spend that money you saved with your coupons and Cashback on Shipping, do you?
Yes, it's true! Wednesday, December 14, 2022, is Free Shipping Day. This is the day to take advantage of free shipping offers from your favorite online stores. Be sure to shop early, as most offers are valid while supplies last.
Getting a deal that also stacks Free Shipping can add to significant savings, especially during the holidays when we're shopping a bit more than usual. We hope you enjoy this special day of salvation!
HOW TO GET FREE SHIPPING ON YOUR ONLINE PURCHASE
Here on Couponlab, we offer several ways of finding Free Shipping deals.
On the Coupons, Sales, or Product Deals pages, you can click the free shipping button to view only the offers that include free Shipping.
You can also sign up for Amazon Prime for an annual fee of $99, which gives you free two-day Shipping. I know a few people who sign up for the Free 30-Day Amazon Prime Trial just for the holidays, although I use mine year-round! Amazon also offers free Shipping with a $35 purchase. Some tips on ways to save on shipping charges at Amazon were discussed in the Couponlab forums.
A ShopRunner subscription ($79 per year, $8.95 per month) also gives you free two-day Shipping at many stores. Watch for ShopRunner deals in our forums! They have an ongoing 30-day free trial for new members, but longer free trials do pop up from time to time on Couponlab!
Many stores will also give you free Shipping with a minimum purchase.
Free Shipping Day is December 14th this year, where hundreds of merchants will offer free shipping with guaranteed delivery by Christmas. We will have all the stores listed on Couponlab for you so you can take advantage of it to finish your Holiday shopping!
To help save you money and time this holiday season, we've rounded up a bunch of the free shipping offers here on the blog for you. The list includes any minimum purchase requirements to get Free Shipping, dates that Free Shipping will expire if we have them, and the Cash Back if you shop through Couponlab. Remember, cash-back amounts and store policies can change.
IF YOU'RE GOING OH S*@% BECAUSE YOU HAVEN'T FINISHED (OR STARTED) CHRISTMAS SHOPPING, HERE'S A ROUNDUP OF STORES OFFERING FREE SHIPPING AND THE LAST DAY YOU CAN SHOP ONLINE AND GET CHRISTMAS DELIVERY.
Store Name

Minimum $ Order for Free Shipping

Order by Date for Guaranteed Christmas Delivery (Standard)
Amazon
$35+

12/16 Free Shipping Non-Prime
12/19 Standard Shipping
12/22 2-day Shipping
12/23 1-day Shipping
12/24 Local Express Delivery

Apple Store
Free 2-Day Shipping on All Orders (Order by 5 pm  EST)

Bergner's

12/18: Free Shipping, No Minimum! Promo Code: FREE SHIP

$75+ Use Coupon: FREESHIP75

Best Buy
$35+ (Free 2 Day shipping on thousands of items) Free Store Pickup
Bloomingdales
Free Standard Shipping on All Orders (Exp. 12/22) Free Store Pickup

11/22 5 pm, EST Standard
12/23 12 pm, EST Express

GameStop
$25+ on all in-stock orders (Exp. 12/24) Free Store Pickup

12/19 Noon Standard
12/22 Two Day
12/24 One Day

Home Depot
$45+ on all in-stock orders, Free Store Pickup

12/16 Standard
12/19 Expedited
12/22 Express

JCPenny
$49+ Free Shipping anywhere (Exp. 12/20)
$25+ Free Shipping to the store
Kmart
$59+
Free Store Pickup
Kohl's
$50+ (ends 1/1/15)

12/18 Standard
12/19 Priority

Lowe's
$49+ (Order by noon ET 12/19 for Christmas delivery) Free In-Store Pickup
Macy's
$99+ (Free Returns)

12/22 5 pm, EST Standard
12/22 5 pm, EST Premium
12/23 12 pm, EST Express
12/23 12 pm, EST In-Store Pickup

Nordstrom
Free Standard Shipping on All Orders (Free Returns)

12/16 Last day for Free Standard Delivery to PO Boxes
12/19 Last day for Saturday delivery (order by 3 pm EST)
12/21 Last day for Free Standard Shipping on all merchandise (order by 11:59 pm EST)
12/22 Last day for free standard shipping on gift cards (order by 1 pm EST)
12/23 Last day for free standard Shipping on selected merchandise (order by noon EST)
12/25 Last day to send an e-gift card

Old Navy(Gap, Piperlime, Banana Republic, and Athleta)
$50+(All Piperlime orders ship for free)

12/20 11:59 PM, EST Free Shipping on $50+ (Piperlime free with no minimum)
12/22 3 pm EST: 2-day Shipping
12/23 3 pm EST: 1-day shipping

Sears
$59+

Free Store Pickup

Staples
Free Shipping with Staples Rewards
Target
Free Shipping on All Orders (Exp 12/20)Free store pick up

12/20 (Free Shipping with delivery on select items by Christmas: Choose seasonal Shipping at checkout)

ThinkGeek
12/18 only: Get 25% off plus free standard Shipping on orders of $40+ with coupon:

USGETIT

12/18 12 pm EST (International Express (except Canada))
12/19 12 pm EST Last day to ship using International Express (Canada)
12/20 6 pm EST Last day to ship Standard
12/21 12 pm EST Last day to ship Expedited
12/22 12 pm EST Last day to Ship Express

ToysRUs
$49+

12/19 3 pm, ET Free Economy/Standard on orders of $49+

Walmart
$50+

12/15-17 Value Shipping cut off (date determined by shipping location)
12/19 11:30 pm PT Standard and Site to Store Express
12/21 11:30 pm PT Expedited 2-3 day shipping
12/22 11:30 pm PT Rush 1-day shipping
12/23 Final day to pick up the order in store
12/24 Walmart eGift Card
Ready your wallets, shoppers! Free Shipping Day is back with a vengeance in 2022.
This is the holy grail for all the shopaholics out there craving that feeling of unboxing something new. On this glorious day, hundreds of thousands of retailers offer free shipping and delivery guarantees on every purchase you make before midnight. If you're looking for gifts for friends and family or just a little something for yourself to celebrate the start of the New Year, Free Shipping Day has got you covered! Let's go shopping!