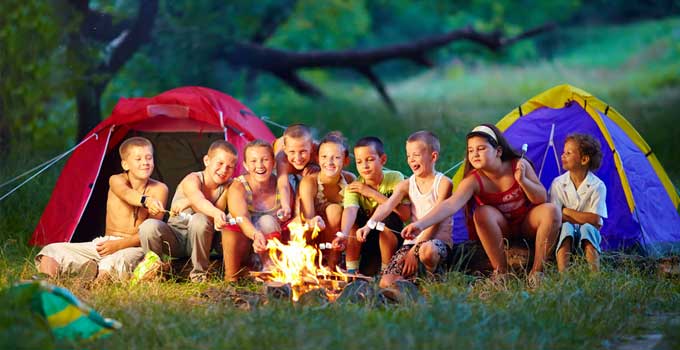 How Camping is the Answer for an Affordable Family Vacation
by couponlab
As the Memorial Day holiday weekend approaches, many people and families will be going on vacation, but not all can afford it.
In the Travel Survey, we found that 19% of people never take a vacation. That number is higher, 39%, for people who make $30K per year or less. People without children go on multiple vacations, 56% more often than people with children.
Suzanne , Family Vacations Expert from forbes.com did the internet research and reported that "parents take shorter vacations than non-parents," and the "average American leaves 3.2 days of paid time off on the table each year."
This is crazy! Take your vacation days! If you don't get very many vacation days, combine them with a holiday, like Memorial day, for more time off.
IF YOU'RE LOOKING FOR AN AFFORDABLE VACATION, TRY CAMPING!
Vacations can be expensive, but camping is not. With campsites renting for $5-$30 a night, camping is a super affordable way to getaway.
Could there be a better way to get away, anyway? Okay, okay. Many might say a getaway at a luxury hotel on the beach would be better, but here are some words people associated with camping. "Happiness, Peace, Escape, Fun…" they all sound pretty great, don't you think?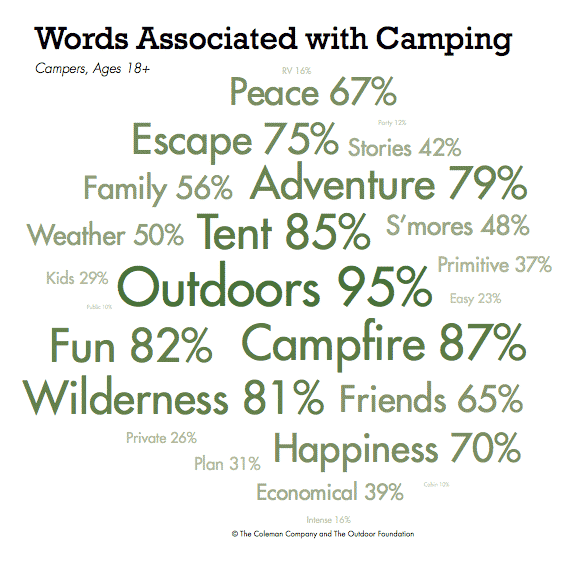 MAY IS A GREAT TIME TO SAVE MONEY ON CAMPING GEAR!
If you're new to camping and need gear, or are a seasoned outdoors man and want to upgrade your equipment, now is the time! In our Best Things to Buy in May, Shopping Trends blog post, we shared that there are many sales on sports and outdoors equipment, specifically fishing, camping, and hiking gear! Watch for great deals over the Memorial Day weekend as well.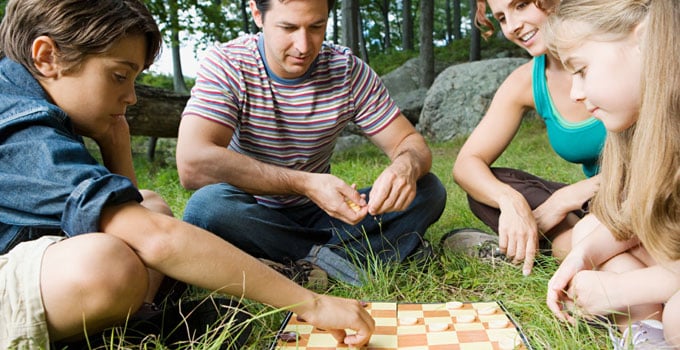 THINGS TO DO WHILE CAMPING:
Here are a bunch of simple ideas to make the most of a backyard camp out. Let's go outside and have some cheap family fun!
CAMPING:
Pitch a tent
Light a campfire in a fire pit or weber grill
Make dinner on the campfire: Pie iron pizzas, roasting hot dogs, foil packets with chicken and veggies, etc. (See Recipes Below!)
Roast marshmallows and make S'mores
Have a picnic
ENJOY NATURE:
Take a daytime hike
Take a nighttime hike
Nature scavenger hunt
Bird watching or listen for bird calls
Collect bugs (identify them)
Collect rocks
Watch the sunset and rise
Study the stars
CAMPING CRAFTS:
Sunlight photography with photosensitive paper
Crayon leaf rubbings
OUTDOOR GAMES:
Casting contest
Flashlight Hide and Go Seek
Run through the sprinkler
Simon Says
Charades
Fly a kite
Play frisbee
Play catch
QUIET TIME:
Write a Haiku about nature (3 line poem, 5 syllables, 7 syllables, 5 syllables)
Read books
Snuggle and tell stories
Write words to each other on the tent ceiling with a flashlight and while the others try to guess what you're saying
Talk about your favorite parts of the day
HELP MOTHER NATURE
Neighborhood clean-up
Plant a garden
Plant a tree
Do some backyard weeding
MORE CAMPING ACTIVITIES FOR KIDS:
Ashley Sears from @QuirkyInspired has a fantastic list of 55 Outdoor and Camping Games for Kids you should totally check out!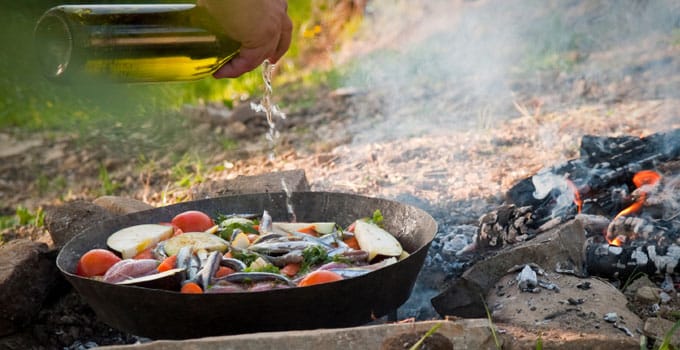 CAMPING RECIPES AND FOOD IDEAS:
One of the best parts of camping is cooking over an open fire. It gives you a chance to try out new recipes and recreate family favorites with a twist!
ESSENTIAL CAMPING EQUIPMENT:
When you're camping in the backyard you don't need much more than a place to sleep and a tent of some kind to keep the dew off. A tarp, stretched across the backs of a few lawn chairs, over your sleeping bags will do the trick.  If you love to enjoy nature's backyard, investing in some camping gear is a great idea. Here are some things to start collecting for your camping kit:
TOP 10 CAMPING ESSENTIALS: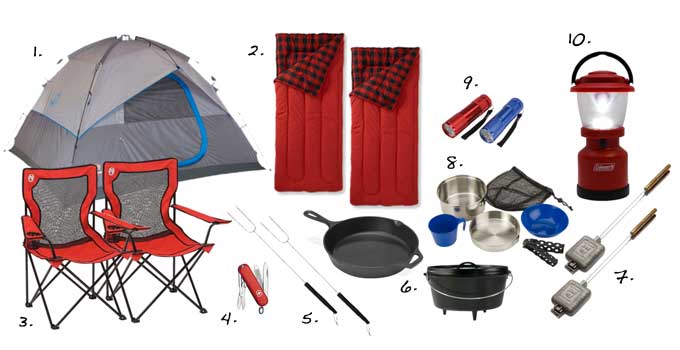 Tent (RuggedGeeks.com has a great resource on choosing a camping tent)
Sleeping Bags
Folding Camp Chairs
Knife
Hot Dog/Marshmallow Roasting Sticks
Cast iron cookware: frying pan and dutch oven (Lodge Cast Iron Cookware)
Pie irons
Mess Kit
Flashlights
Lantern
10 COMMANDMENTS OF CAMPING
Remember toilet paper
Be responsible with your camp fire
Take a buddy to the outhouse
Remember bug spray and sun screen
Check for ticks
Be able to identify local poisonous plants (No poison ivy on your privates)
Pack a first aid kit
No food in the tent! Pack food away from your tent and away from animals
Avoid scary wildlife (carry a bear bell)
No farting in the tent
OTHER CAMPING NECESSITIES:
Sunscreen
Bug Spray
First Aid Kit
Matches
Dish soap
Hand soap
Container of water
WHAT ARE YOUR FAVORITE CAMPING TIPS OR ACTIVITIES? PLEASE SHARE THEM IN THE COMMENTS BELOW!