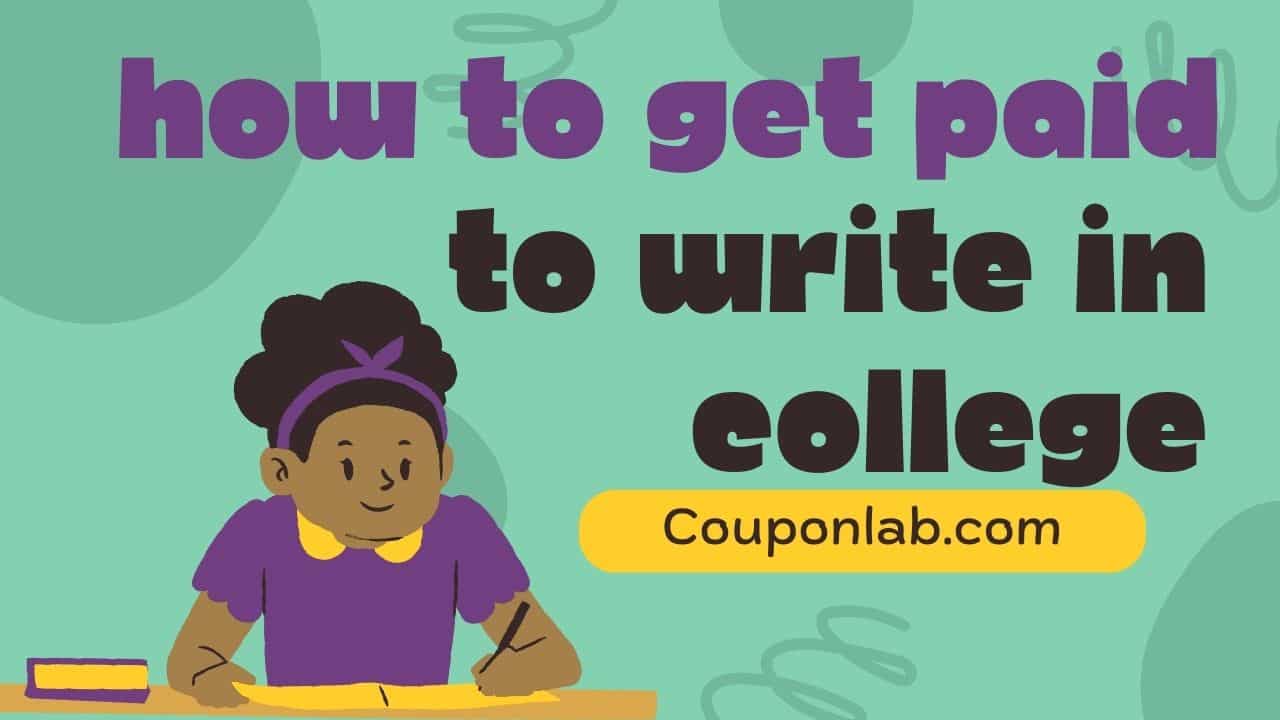 How to Get Paid to Write in College
by couponlab
So you're a college student, and you're short on cash. But you're also short on time, and commuting to an office is out of the question. If you're a good writer, penning freelance articles for various websites might be the perfect solution. Getting paid to write may sound pie-in-the-sky, but consider the vast number of websites and how much content each needs to produce daily. The opportunity is out there! Here's how to get started.

FIGURE OUT WHAT YOU'RE ABLE TO WRITE ABOUT
First, make a list of subjects you already feel confident writing about. Maybe you know much about pets, scuba diving, or building furniture. There's a site for everything, so write down anything you can think of!
WRITE FOR FREE … A COUPLE OF TIMES
Get your feet wet by writing for publications you enjoy that do not pay. You could write an article for your college newspaper or a guest post on a friend's website. Gaining experience by registering for a publication that's not yours is essential. However, don't agree to write for free every time. Only write for free on your terms. Know that, in the long run, your writing is worth paying for!
BUILD A PORTFOLIO
Once you've published a few writing pieces, put them all together on a website or in a packet. Having them on your website is ideal, but create a PDF packet of your best samples for prospective employers if you don't want to.
CREATE A WRITING RESUME
Make a resume that highlights any writing experience you have. It's OK if it didn't pay! List your college newspaper, your friend's website, and any other writing "jobs" you've had. Also, if your major is anything related to writing (English, journalism, communications, etc.), be sure to emphasize that.
PITCH TO SITES THAT PAY
If you have an idea you think would be perfect for a given site, send it to the editor (editors' email addresses can usually be found on the site's contact page). Many first-time writers are shy about this step, but there's no need to be. You have nothing to lose, and most editors are thrilled to receive any pitch that's polite and relevant to their sites. Remember, they have quotas to fill, so they want to hear from you!
A partial list of sites that pay is below.
SITES THAT PAY
This list is by no means exhaustive, but it's an excellent place to start. Rates vary by site, experience, and article length, so be sure to clarify with your editor how much you'll be getting paid before you submit your articles.
Fiverr.com: This popular online marketplace is an excellent resource for finding freelance writing jobs at various price points. Whether you're looking for something simple, like a blog post or social media caption, or something more complex, like an eBook or marketing collateral
eHow: How-to instructions for countless projects. eHow.com is a website that offers advice on a variety of topics, from cooking to car repair. The site has a team of experts who write articles on these subjects, and it also has a community of users who can contribute their tips and advice.
Cracked: Funny lists featuring little-known but the exciting subject matter
Mental Floss: Fun articles dedicated to teaching people interesting facts or improving a skill
Salon: Well-known general interest site covering a wide range of topics
MIT Technology Review: Tech articles
Appstorm: App reviews and lists
Wise Bread: Financial tips and tricks
ListVerse: Fun, often pop culture-themed lists of all kinds
HubPages: General interest site featuring articles on tons of different topics
Photoshop Tutorials: How-to instructions and tricks for using Photoshop
Textbroker: Connects writers with projects from many clients (app reviews, blog posts, etc.)
Tuts+: Tutorials on web design, coding, and other tech activities; a great site to write for if you're tech-savvy
Outpost Magazine: Travel articles
Back2College: Articles about re-entering college as an older student (perfect if you are one of the said students)
YourOnline.biz: Wide variety of business-related articles
Upwork (formerly Elance and oDesk): Connects clients to freelancers with specific skills that clients need. A great option if you can write about your major!
Now get out there and start writing!