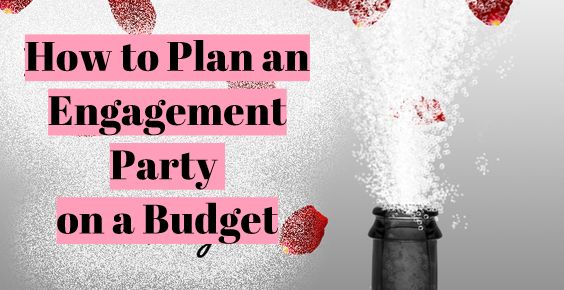 How to Plan Party on a Budget
by couponlab
One partner asked; the other partner said yes. Now you've got a ton of planning to do. Love may not cost a thing, but engagement parties sure do! Don't blow your budget on your first wedding-related event. Here are a few tips for how you can save on your engagement party plans:
VENUE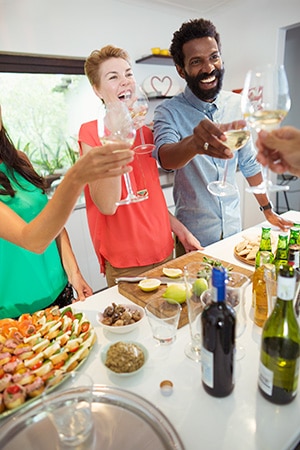 According to Christina René with Voilà Event Solutions, the cost of the venue is tied with catering for the highest expense when planning an engagement party. If you can swing it, René recommends finding a free venue for your engagement party, whether a friend's house, a colleague's conference room or someone's business (i.e. a beauty salon during off hours). The engagement party shouldn't be as big an affair as the wedding, so an intimate affair in someone's backyard or living room is a great way to celebrate your pending nuptials.
If you can't do free, BRIDES Magazine recommends trying to find a location that isn't typically used for parties, like an industrial warehouse, factory, rooftop garden, or greenhouse. Party essentials, such as restrooms, parking and catering amenities, are typically built into these types of venues, minus the party venue price.
If there's a venue you just have to use for your engagement party, BRIDES Magazine says plan your party for a week day to save on weekend prices.
FOOD
Food is another area in which you can easily overspend your engagement party budget. Emoré T. Campbell, a wedding experience curator based in Charlotte, North Carolina, says you can negotiate with the wedding caterer to make the engagement party a trial run for the wedding. Request rounds of hors d'oeuvres or negotiate a big discount since you're booking them for both events.
Don't limit yourself to tradition, though. If dinner just isn't in the budget, consider hosting your engagement party during off-hours so you can offer just appetizers or desserts. Karen Moran with Sweet Lulu's Bakery & Cocktail Caravan based in Mount Pleasant, South Carolina, says small, single serving desserts are a great option because they allow you to offer multiple flavors for a fraction of the cost of a traditional decorated cake. Moran says mason jar desserts are a popular option.
Want to offer more food options, but it's just not in the budget? Consider hosting a potluck. Ask guests to bring a dish to pass so you can all enjoy a nice meal without the big fat bill at the end.
BOOZE
You could toast with sparkling water, but where's the fun in that? Campbell encourages couples to keep the liquor at their engagement parties simple by sticking with beer, wine and a seasonal signature cocktail. Websites like Liquor.com have easy-to-follow cocktail recipes, and you can come up with a special name for your cocktail of choice. You could also stick to just one cocktail or do Champagne only. According to HGTV, you can purchase Champagne wholesale or in bulk at places like Costco or Sam's Club.
If hiring a bartender, Moran says you can save by asking the bartender if you can supply your own alcohol and have the bartender just supply their bartending services. When purchasing the alcohol, work directly with a liquor store that agrees to buy back opened bottles, that way you only pay for what you use.
Really just too strapped to supply the booze? SRG Finance says there's absolutely nothing wrong with making this a BYOB event. Your friends and family are there to celebrate you, not get free booze. Just remember to supply enough ice and coolers to accommodate the influx of libations.
DECOR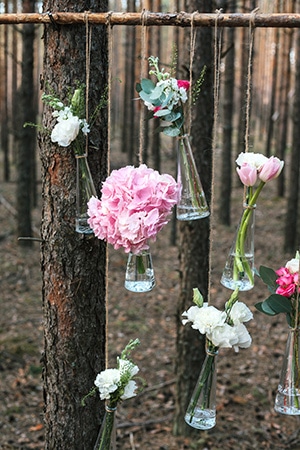 A small budget doesn't mean minimal decor. Necessity is the mother of invention, after all. Campbell says to skip the traditional decor and decorate your engagement party with photos of the couple with engagement party guests. "That old picture of you and Uncle Jimmy cannon-balling in the pool will be a perfect topic of discussion and will send you and your guests back down memory lane," says Campbell.
To add a few extra touches to your engagement party decor, check out dollar stores like Dollar General, Dollar Tree or Family Dollar. Most dollar stores carry items like napkins, streamers, balloons, plastic vases, faux flowers and more for — you guessed it — a dollar. Many of these items are great starting points for DIY decoration projects, including things like DIY props for a "photo booth area" rather than a rented photo booth service, which can cost you thousands of dollars.
"Create a fun-zone or 'photo booth area' with DIY props that take your guests down the memory lane of the couple's time together, like their faces, funny sayings, etc.," says René. "Tie in some social media and create a fun hashtag for the party, too! Guests can use their own devices to capture funny moments and post it to the social media channel of their choice. You can later use the hashtag to collect all the photos and create a photo album for guests to later enjoy."