Kmart Black Friday Preview Ad Posted!
by couponlab
We've just posted a whopping 611-item Kmart Black Friday Preview ad listing along with the 36-page Kmart Black Friday Preview ad scan!
The ad we posted earlier this week was for Kmart's Thanksgiving morning door-busters, which featured no money down layaway and an exclusive beauty bag valued at $50 for only $9.99. This ad will fill you in on their evening event, which runs from 7 p.m. Thanksgiving through 2 p.m. on Black Friday. We wouldn't be surprised if Kmart dropped another round of door-busters for Friday morning in the next few days. Toward the back of the ad, you'll see red pages that are part of a three-day sale at Kmart; the sale runs from Thanksgiving through Saturday, Nov. 28. Kmart didn't mention when their online sales would begin, but we will let you know as soon as possible. Don't forget Kmart cash back: you can snag up to 6%!
Kmart boasts that more than 3,129 items will be discounted for this sale, and the first 100 shoppers in each store will receive a free goodie bag. Make sure you are signed up for a free Shop Your Way Rewards membership so that you can get the best deals possible, as well as points back toward future purchases.
We were impressed with the majority of what this ad had to offer. Here are some notable deals: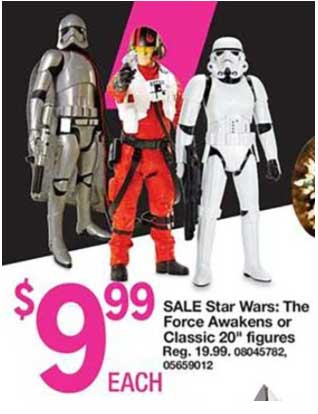 Potted Poinsettia – $0.89
Disney Frozen Snow Glow Elsa Doll – $19.99
Star Wars: The Force Awakens Extendable Lightsaber – $4.99
Star Wars Character Toys (Assorted) – $9.99
Select Nerf Toys – 50% Off
Pyrex 18-piece Glass Storage Sets – $17.99
Apparel for the Entire Family – 50% Off
Buy One Get One 50% Off Event (Valid on select toys, apparel, and home items. Pages 29 – 32.)
LG Optimus Zone 2 Android 4.4 No-Contract Smartphone (Verizon) – $9.99
Thomas The Train Track Set – BOGO 50% off
Basic Edition Kid's Denim – $6
Everlast Sport Men's Fleece Pant (Assorted) – $5
So with more than 3,000 items to choose from this year at Kmart, what's at the top of your list? Stay up to date with all the best deals on Black Friday.