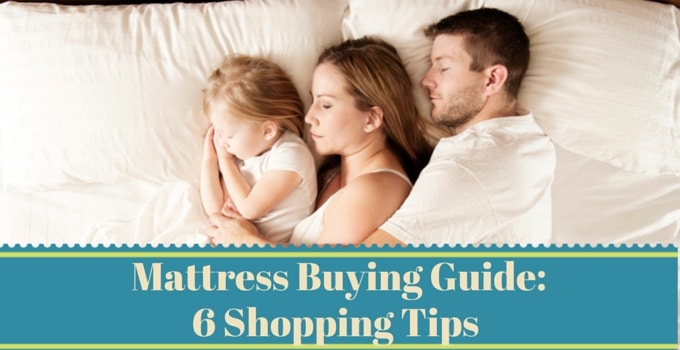 Mattress Buying Guide – 6 Shopping Tips
by couponlab
Many people don't see the purchase of a mattress as such a big deal, and some would even spend more time shopping for a pair of shoes! Well, when it comes to a mattress, it is a big decision. This is something that you will spend usually from 6-8 hours on every night, so you better pay attention. When purchasing something as intimate and as often used as a bed, it can be difficult. To help you out, we created this nifty guide, with 6 great tips on how to buy the best type of mattress for you.
CHOOSE COMFORT
One of the most important factors when picking a bed should be comfort. Not everyone is the same when it comes to mattresses, so you should definitely spend some time researching the different types and materials. The best way to do this is not online. Let me reiterate, you need to go check different beds out in person! I know it's scary, but you'll live. The only way to tell if you will like a certain material that a bed is made out of, is to actually try it out. You can read all the reviews you want, but nothing will be able to tell you how that bed feels to your body. If you are shopping with your partner, make sure you two try it out together and get the feel of it.
KNOW THE BEST TYPE OF MATTRESS (FOR YOU!)
One of the most important factors when picking a bed should be comfort. Not everyone is the same when it comes to mattresses, so you should definitely spend some time researching the different types and materials
The most traditional mattress uses various cushions and materials and is supported by coils. This can produce many types of comfort.
Pillow top mattresses are a great way to add comfort to an innerspring mattress. They can also be helpful for sleepers with back problems. Be aware that a pillow top is sewn into the mattress and cannot be removed.
    PILLOW TOP VS NON PILLOW TOP:
Choosing between a pillow top or a non pillow top mattress all depends on your preferred level of comfort. Sleepers who want to have that extra support at night are advised to choose a pillow top. Pillow top is also better for sleepers who have back problems, as the extra cushion can relieve some of the pain. It is also the preferred mattress for those who are side-sleepers. A downside to pillow top mattresses, though, is that you are unable to flip the mattress like some sleepers do. Flipping it will defeat the purpose of owning a pillow top as there is only one side with the topper. Those who prefer non pillow top are either stomach or back sleepers. Stomach sleepers can hurt their lower back on a pillow top because it tends to curve your back into a U-shape. Owners of non pillow top mattresses claim less sagging, better back support, and easier to get off of.
The most popular today being memory foam is developed with layers of foam put together. Memory foam can also produce many types of comfort and support.
Latex offers the same feel as memory foam mattresses, but it is more "springy" like an innerspring mattress. It also responds well to body movements and doesn't present that "pudding-like" feeling that memory mattresses can produce.
Latex and memory foam mattresses can offer similar comfort and support levels, but do present differences. The big difference is how each mattress feels when you're sleeping on them. Memory foam creates a sensation that you are sleeping on a cloud, while latex is similar to the innerspring feeling.
PICK THE RIGHT STORE
Whether you're buying online or at  a department store, your mattress can be tailored to you. Department stores like Sears will give you a fairly large selection, but tend to be pricier. Furniture stores like Ashley Furniture can offer price-match guarantees, but tend to be high-priced as well. These stores also have some wiggle-room for negotiating price. And buying online from websites like Overstock can give you great deals without leaving the house, but you are not able to try out the mattress.
Looking for a way to buy a mattress that really represents you?  There are some popular new startup companies that have tons of different features catered specifically to you. These startups offer everything from sleek and simple mattresses, to eco-friendly mattresses with a better bounce. You can check out the full article with these startups at Vogue.
DON'T OVERPAY (OR UNDERPAY!)
Buying the right mattress also means figuring out how much you can spend. In order to buy a good mattress, you should budget about $400-$1000. If you can afford it though, spending a little more now has the ability to save you many headaches in the future, including buy a mattress again in five years because the first one didn't last. Also, there is such a thing as underpaying, and you definitely do not want to do it. Underpaying can cost you both more money, and your health! If the deal seems too good to be true, and you aren't going through normal mattress or department stores, you might end up getting stuck with a used mattress and not even knowing it.
SPACE
When considering a new mattress purchase, it's a good idea to know who you are buying it for. Are you single and just need a change, or are you and your partner fighting for space in your current bed? If you're single, then the search is a little easier; pick a mattress that allows enough space for you height and lengthwise. If you are searching with your partner, then make sure they go shopping with you. Picking a mattress that gives you enough space will prevent any midnight kicking or sheet stealing. And if you and your partner prefer to be a bit cozier, then maybe you can avoid buying a huge bed and spending more money.
WAIT FOR A SALE
Many stores and websites will offer big deals around Black Friday, Memorial Day, and post-Christmas. If you're willing to wait for these big-ticket days, then you may end up snagging a great deal on a mattress. There are also chances of big blowout or storewide closing sales that can grant you an opportunity for a sale. Your sore back may have to wait a few more months in order to get a new memory foam mattress for 50% off, but the extra money in your bank may be worth the pain. For some great deals and cash back on mattresses, check out some of these cash back stores: