Meijer Thanksgiving, Black Friday and Saturday Ads
by couponlab
Once again, Meijer has three times the Black Friday fun in store for shoppers this year! We've posted all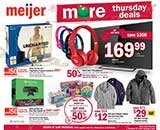 three of their ads for your viewing pleasure: the Thanksgiving ad, the Black Friday ad and the Saturday ad. The store opens at 6 a.m. on all three days, so get there early and shop often!
Some of the great Thanksgiving doorbusters include 50% off Beats 2 Solo Headphones, BOGO 50% off Shopkins and a 49″ Element 1080p LED HDTV for only $169.99. The ad also features many great deals on video games, TV series and movies, including Assassin's Creed Syndicate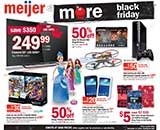 for only $40.00. There are a lot of great toy deals as well, such as 50% off Barbie Fairy Dolls or Star Wars Galactic Heroes Figures and BOGO 50% off Disney Frozen Princess Toys or Minecraft Playsets.
The Black Friday ad features a slew of incredible deals, including 50% off Princess Sparkle Dolls, Buy 1 Get 2 Free Carter's Sleepwear and BOGO $1.00 Kids Cold Weather Accessories. Also, get great deals on home products, like 50% off Olympia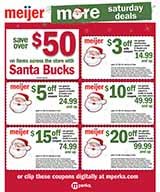 Rolling Duffels and BOGO $1.00 Yankee Candles.
On Saturday it's coupons galore, or rather, Santa Bucks galore! Meijer offers many great deals, including $5 off products $24.99+, $10 off $49.99+ and $20 off $99.99+. So many coupons, so little time!
Truly, Meijer is a must-see destination this Thanksgiving weekend. So what are you planning on buying?
your fortress of Black Friday solitude!