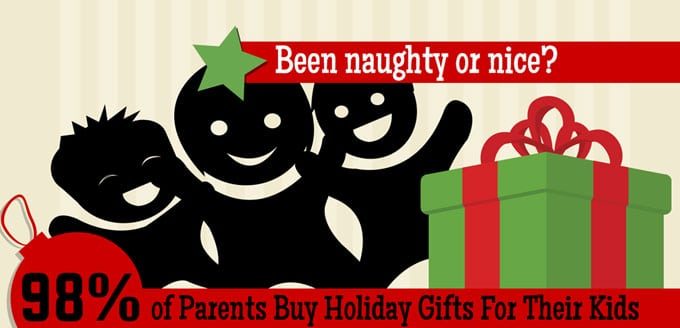 Most Parents Buy Holiday Gifts For The Kids – INFOGRAPHIC
by couponlab
HOLIDAY GIFTS FOR EVERYONE…YOU TOO, SPOT!
Did you know only 2% of parents say they do not buy holiday gifts for their kids? That's according to a new study from (*TNS) that reports 70% parents say they'll buy 3 or more gifts for each child and another 28% will buy 1-3 gifts per child. Overall, 9 in 10 parents will spend the same or more buying gifts for their kids in 2021. This bodes well for 61% of significant others, as 47% of American adults buy more than one holiday gift for their spouse/partner and another 14% buy just one gift for spouse/partner – unfortunately this means 39% ain't getting a darn thing. That said, nearly 4 in 10 buy a minimum of one holiday gift for their pets. Woof!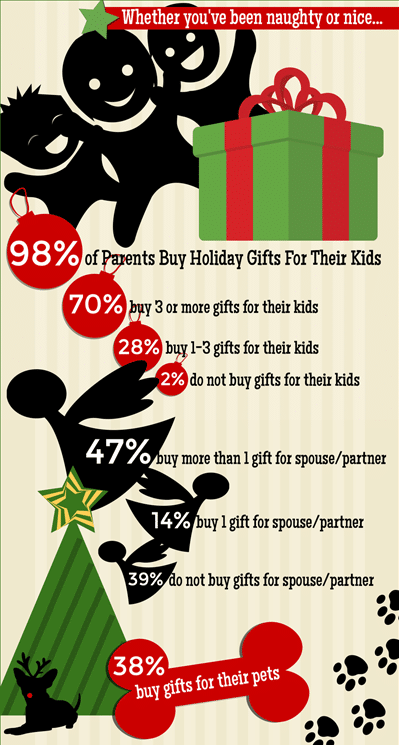 When it comes to what kind of tech products kids want most for gifts this year, parents said 28% of their kids want an Android tablet vs. 23% wanting iPads. Meanwhile, 21% want iPhones vs. 16% wanting Samsung smartphones, and only 7% thought their kids would most want the new Apple Watch. And out of all the techie choices out there, 19% of parents said their kids just want laptops. NOTE: Smart parents will get cash back on any tech gifts.
So, what items do parents think kids want most "overall?"
53% said Toys and Games
42% said Clothes and Shoes
39% said Video Games
39% said Cards or Money
29% said Media (books, movies or music)
28% said Mobile Device (tablet or smartphone)
21% said Laptop or Computer
We also asked parents which non-traditional gifts their kids may want most:
41% want "quality time with their family"
38% want to go to Disney World/Land
20% want a puppy
19% want to go to the new Star Wars movie
  9% want a new brother or sister
Of course, older folks want gifts, too. So we asked what items adults want most this year:
45% want quality time with family
45% want Gift Cards
25% want Clothing, Shoes and Jewelry
22% want a Vacation
18% want a Laptop or Computer
13% want Mobile Device (tablet, smartphone or smartwatch)
12% want a TV
With such a big shift in shopping behavior this year–less in-store purchases, we asked shoppers which online stores offered the best gift buying experience:
74% like Amazon
33% like Walmart
24% like Target
19% like Best Buy
18% like Kohl's
12% like Macy's
  9% like Toys R Us
  8% like Sears
This year's holiday shopping season is proving to be very incentive-laden; shoppers have high expectations for having more control over their purchases than ever before. So we asked shoppers what are the most important factors when buying holiday gifts from online stores this year?
76% said Free Shipping
71% said Getting the Best Deals
49% said Return Policy
33% said Price Matching
32% said Customer Service
22% said Rewards
  4% said Good Mobile Apps