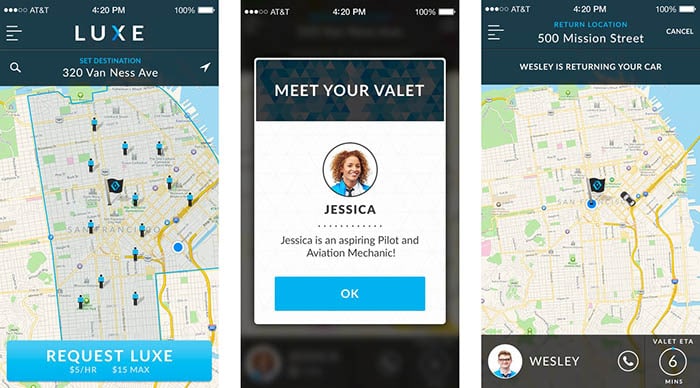 New Brand Spotlight: LUXE
by couponlab
Parking can be a real pain in the rear. In cities like New York and Los Angeles, parking can sometimes even be a deterrent for leaving the house at all. And that's not cool! Today, Couponlab is putting the spotlight on a company aiming to get rid of the problems surrounding safely parking your car in the countries busiest cities.
LUXE is a new app for smartphones that makes parking incredibly easy. Instead of leaving your car at home and calling a Lyft or Uber, drive your car into the city and when you're ready to look for parking, just pull over and call a personal valet through the LUXE valet parking app. One of the qualified LUXE valets will come right to you and take over so you can go enjoy whatever you're doing without any hassle.
The valet will then park your car for you and when you're ready to head back home, just call another valet through LUXE and they'll bring your car to wherever you are in the city! If your car is dirty or low on gas, you can even have the valet take care of that for you. So easy.
LUXE is available in 6 cities so far: San Francisco, Los Angeles, Chicago, Seattle, Austin and New York. The aim of the app is to ensure that "you get valet parking at street parking prices" (from LUXE.com). The app charges an average hourly rate of $5, depending on the city you're in. And don't worry about insurance, LUXE valet parking has a $5 million dollar insurance plan covering all of the valets and customers.
For those looking for a consistent solution to city parking, check out the LUXE monthly parking plan.
Thus far, the app is receiving rave reviews from users.
-Had the best experience using @luxevalet today. This service is the new Uber. (@itzikcoh)
[email protected] is freaking legit. Thanks for making it so easy! (@SahilRoyVerma)
[email protected] just dropped off my car with a valet for the first time. Right in the middle of FiDi in SF. so cool!!!!
Of course, if you're headed out for a drink on the town, we still recommend calling a Lyft or Uber as drunk driving is never cool. But, say you found a sick new Groupon that requires you go into the heart of downtown. LUXE makes it easy for you to be on time and not have to allot time for parking and fueling up.
If you're interested in signing up with LUXE, we highly recommend it. We also recommend checking out our LUXE promo code page. Current coupons for LUXE valet parking app include:
-$20 credit towards your first valet park with promo code "MARK950"
-Refer a friend to get a $10 credit and your friend a $20 credit
To apply the promo code, log into the app on either iPhone or Android. On iPhone, head to the "Payment" tab. On Android, it's the "Promotion" tab. From this screen, you will be able to enter any of the promo codes we have listed here on couponlab!
Get out and enjoy your city!
https://itunes.apple.com/us/app/luxe-valet/id895660292
https://play.google.com/store/apps/dev?id=8087861251604971445&hl=en_US&gl=US