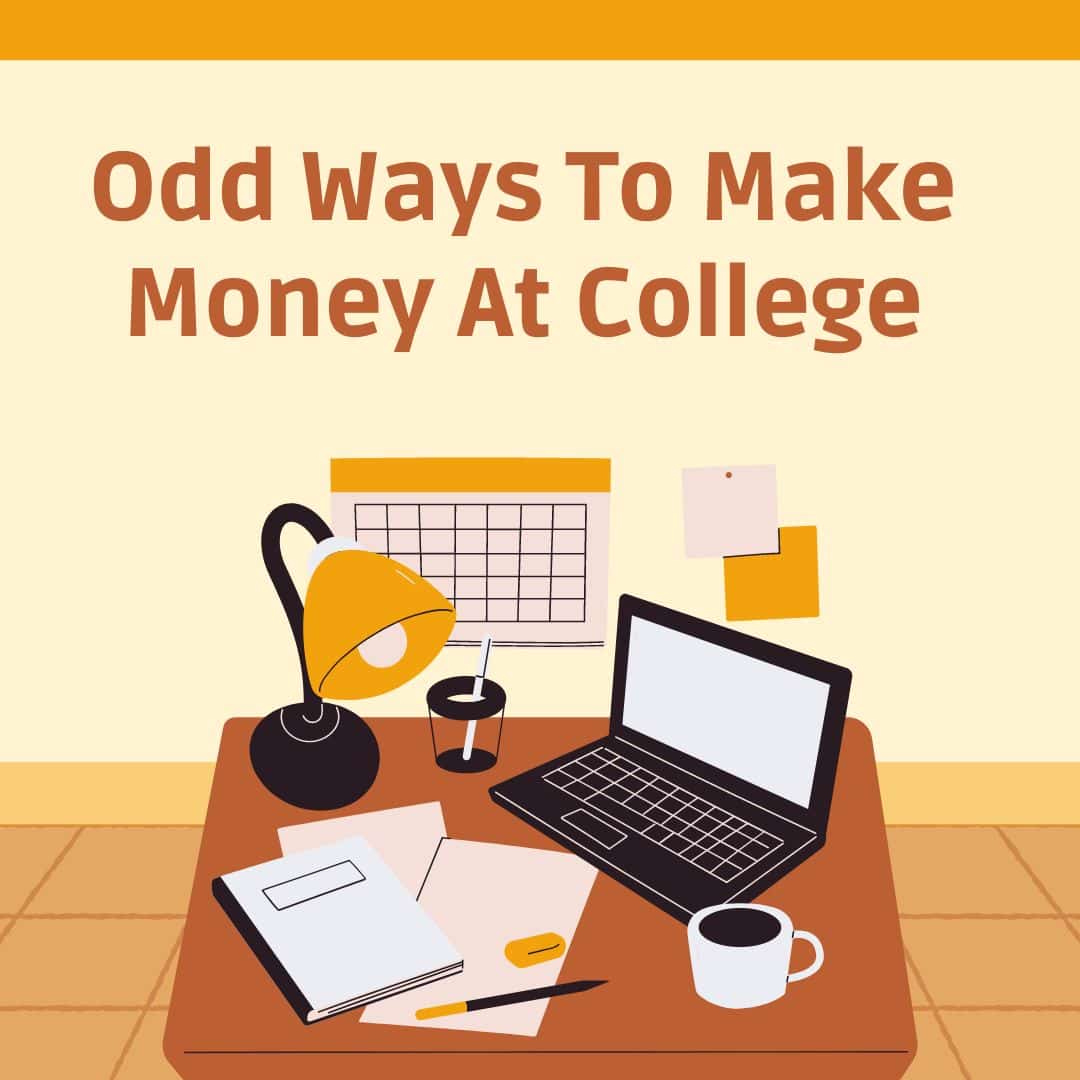 Odd Ways To Make Money At College
by couponlab
As we enter the month of August, students across the country are gearing up to go back to college. We are all excited to go back to football games, live on our own, and not get yelled at by our moms for laying in bed all day. But to afford all these great luxuries, students find themselves scrambling to secure a decent part-time job to hold down the fort for the year. The only bad part is that most times, having a part-time job does not cover all our expenses. $200 football season tickets, $600 rent, $100 in food, another $100 in bills…where does a college student get the money to afford all these things?!
Well, I've compiled a list of all the weird ways college students can make money. Some take more effort than others, but the extra cash would be worth the time.
TUTOR ONLINE OR IN-PERSON SESSIONS
This is something that I have done and still do. I am a paid university writing tutor, but I went through an extensive process to get there. In most cases, students are looking for a quick way to earn cash, so it's not likely they will want to go through the processes to get there. I recently wrote a more detailed guide to make money by tutoring at college.
FREELANCE
Are you interested in freelancing? Well, freelancing is not limited to writing. You can also tutor, design anything from mobile apps to logos, create in Photoshop or Adobe Flash, translate the market for companies, and do computer programming. Check out Fiverr.com, Upwork.com, and Freelancer.com, to name a few.
HELP WITH RESEARCH
Universities are almost always doing research and are actively looking for participants. Not only would you get paid for volunteering your time, but it can also look neat on your resume. It may seem like participating in research is competitive or limited, but sometimes teachers will send out emails asking for volunteers. My psychology teacher gave us extra credit for participating in her research once. You should also check out the undergrad research studies home page for your college, and it's possible that Craigslist could have a few listings too.
BE A CAMPUS REP FOR A COMPANY
So many companies turn to college kids to promote their new products and get the word out about who they are. Most of these companies will hire you for about one semester, and, for the most part, you can do tasks on your own time as long as you complete everything. The cool thing is that you can hand out free stuff to your friends and classmates and even keep some for yourself! It's also great to meet new people and connect to new opportunities. Some available campus rep programs include Mountain Dew, Pura Vida Bracelets, TOMs, Spotify, and Coca-Cola.
TAKE NOTES AND SELL THEM
All colleges have accessibility services designed to help out other students who have trouble taking notes or have a disability that hinders them. These services hire or take in volunteers who attend class and get paid for taking notes. Students submit their letters and receive payment for it. If your college does not pay for messages, why not offer them to those "classmates" who never go? Somehow they have to pass, so it's most likely worth it to them to spend some bucks on good notes.
TAKE SURVEYS FOR MONEY AND FREE GOODIES
Sites like TreasureTrooper and CashCrate make it easy to make money doing trivial things. These sites let you fill out surveys, sample products, do searches in search engines, and complete other various tasks that pay you cash or offer free goodies. Both of these sites work in your favor if you have a lot of referrals as well.
SELL "JUNK" ONLINE
One man's trash is another man's treasure. Robert Farrington from The College Investor shares how he made $3,000 per year selling junk on eBay. "I started selling on eBay in high school and continued college." He talks about selling junk in his article, "How To Build A Side Business On eBay." Robert says if you have the correct mindset of always looking at your junk as treasure, he guarantees you can make at least an extra $100 a month selling it.
RESELL OLD BOOKS
Everyone has old books, but I bet only a few of you know that you can make money from them. It's pretty easy to get started, and during prime garage sale times, it's easy to score books for cheap. Heather Clarke from Queen Bee Coupons was able to team up with her husband and start selling books as a way to make extra cash. They made enough money to be able to send her husband to grad school without taking out any loans at all! She posted a detailed guide called "How to sell used books on Amazon" that explains the step-by-step process of setting up your account and publishing your first listing.
LYFT OR UBER IN YOUR COLLEGE TOWN
This works great if you live in either an urban area or a "college town." Some people earn an extra $300-$500 just working weekends. Drunk people have to get home somehow! In all honesty, I did look into becoming an Uber driver at school, but there are a few regulations you have to follow, and some of those things were out of my control. For example, your car must not be older than ten years old, and you must be 21 to drive. I have a bit older car, and I'm only 20, so make sure you meet all the required specifications before applying to be a driver.
DONATE PLASMA
Donating plasma is an easy money-making concept. You can donate 1-2 times a week for about $50 for every visit, anywhere from an extra $200 to $400 a month, depending if you go once or twice a week. Of course, you must be comfortable with needles, blood, and all that other stuff.
ADVERTISE FOR A COMPANY ON SOCIAL MEDIA
Plenty of small companies are trying to get their brand name out there and will pay almost anyone to advertise for them. All you have to do is wear their clothes, mention their name, or review their product on Twitter, Facebook, Tiktok, etc. In return, these companies will pay you for your time and probably let you keep their free gear. And one big thing is that you don't even need thousands of followers to make money from this. Mark Shaw explains how you make money on Periscope advertising for someone's brand.
USERTESTING
Get paid to give feedback and test out different products for companies online. Most sessions are 20 minutes long, and you're paid $10 for every session you complete. You're able to test products daily once your sample test is approved.
POSTMATES
Postmates is similar to Uber/Lyft, except they have drivers deliver food. You can apply to be a driver and make money by picking up people's food orders and giving them to them. The only issue is that now Postmates is only available in big cities like San Francisco and Philadelphia, so this would ideally work for students at a city school.
SECRET SHOPPER OR SECRET DINER
Websites like Marketforce.com and Secretshopper.com allow you to apply online and go through the necessary application processes to become a secret shopper/diner. These assignments don't take long, but they do require that you have means of transportation to get yourself to each location. You are reimbursed for all your purchases but will most likely not pay for gas/public transportation fees, so be sure to stick to your immediate area. Remember to research before applying to a company because you don't want to get scammed!
BECOME A BEER AUDITOR
How does getting paid to buy beer sound? And you also get reimbursed for your purchase? And you also get to keep the beer? Maybe becoming a beer auditor is the perfect fit for you. The job's point is to ensure the establishment selling you beer is doing its job. You are paid to ensure the card is correctly checked out during purchase. If you say you "forgot" your ID, will they wave it off and say it's okay, or will they refuse to sell you a beer? It's your job to find out! Check out how Kyle from the Penny Hoarder made $5,000 a month.
SELL YOUR HANDMADE GOODS ON ETSY
Starting your own Etsy store may be a good idea for those who are more crafty. You can sell almost anything handmade on there and expect to see profits from it if you have a big enough audience. Most people may think of Etsy as a website only for jewelry or excellent paintings, but the market is enormous for almost anything. Whether you're into cat-print phone cases or science and astronomy, there's probably someone on Etsy with a store dedicated to your interests. Shops like Megan Lee Studio focus on creating educational gifts for all things geeky and science. It proves that you can do much more than just flower crowns for music festivals!
LOOK INTO CONSIGNMENT SHOPS
Consignment shops have popped up all over the place, giving sellers great opportunities to make money. The essential function of the shops allows people to team up with them to sell their unwanted clothes. You would take a pair of pants in, agree to sell it through their shop for a specific price, and you and the shop share the profits. You can get more money for your item instead of just straight up selling your clothes to the shop and having them buy them from you.
"BEERMONEY"
Beermoney refers to a subreddit that helps people find ways of making money online. It's not meant to replace any means of having a job, only to aid you with some extra cash. These sites can be accessed through your computer and phone and usually require no real thought. The tasks vary from surveys to downloading apps or games and can even require you to keep the web page open all day. Doing any of these things can earn you gift cards and extra money. Check out a list of verified websites and the proof of payouts from other users.
SELL YOUR SERVICES ON FIVERR
Tons of people use Fiverr to sell their abilities to write, translate, sing, market, draw, anything! Services start at $5, and you can dictate the prices and what you offer. This site is excellent for small businesses that cannot afford to hire big-time people to do things for them.
ENTER A LOT OF CONTESTS AND GIVEAWAYS
Yes, just like those people on "Extreme Sweepstakes," maybe don't go overboard. Many of these won't necessarily get you money directly, but you could win vacations and TVs or even cars (if you're lucky enough) that you could profit from selling it.
RECYCLE BOTTLES/CANS
This is easy, especially if you're a big soda drinker. You can even ask your friends to set aside their cans for you too! At the end of the week, take all of your aluminum to a recycling center and earn some extra cash.
TASKRABBIT
Get paid to do simple tasks like helping someone move or doing their grocery shopping with TaskRabbit! You can sign up and accept assignments from virtually anywhere if you can get there. However, TaskRabbit works best in big cities because it isn't completely grown yet.
BEST WAY I MADE MONEY IN COLLEGE?
As I already mentioned, I'm a university-paid writing tutor. There's not much left to say. I did work at the dining hall for two weeks, but it got too much. I have also worked retail, supplying a good amount of extra money. But I have met friends who are campus reps, freelance, sell clothes, and sell books, so you can't complain anymore when you're broke because there's always a way to make extra money!