Old Navy's $1 Flip-Flop Sale is Almost Here
by couponlab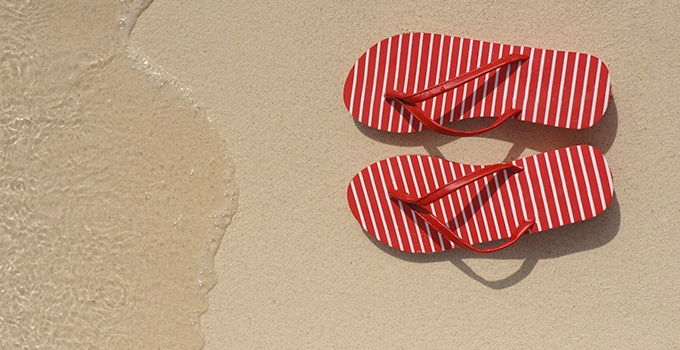 With summer comes the need for sandals, and the simplest, most ubiquitous sandal known to man is the flip-flop. They're usually cheap, flimsy and get dirty exceptionally fast, so they don't last most folks more than a year. Why would anyone pay an arm and a leg for a piece of y-shaped plastic stuck into some foam? With Old Navy's $1 Flip-Flop Sale, no one ever has to again.
This famous sale lasts for one day, and this year, that day is Saturday, June 24. While it's historically been an in-store only sale, this year, Old Navy is bringing the savings to online shoppers, allowing folks to order their flip-flops instead of trudge into stores on a summer Saturday. The only downside to shopping online is that Old Navy generally has a $50 minimum free shipping threshold, which means you'll have to pony up if you want that sweet, sweet free shipping. You also can't go hog-wild with the flip-flop shopping, as Old Navy is limiting customers to 10 pairs each (we recommend you bring some friends).
Tons of styles and sizes are available, so you'll be able to flip-flop fashionably this summer. In 2015, Old Navy gave away a free pair of flip-flops to the first 50 customers in each participating store, so it might be worth it to get your butt in line early. For online shoppers new to flip-flop sizing, Old Navy's senior director of women's accessories Jennifer Halter Baceda has this to say: "Because flip-flops are such a simple construction, they are easy to fit. If you are in-between sizes, it generally works to size up."
It's no Black Friday, but Old Navy's $1 Flip-Flop Sale is a staple summer sale that's sure to bring lots of shoppers into stores, a necessity in this troubling economic times for any retailer. With all the store closings and bankruptcies this year, it seems prudent for more retailers to be creating events that give people a reason to go to the mall. Is the possibility of a free pair of flip-flops good enough to deter the couch potato allure of online shopping? Maybe, maybe not. But here's hoping Old Navy's event goes well this year, and here's hoping you get your dream flip-flops (or at least 10 pairs for $10 in a color you like).