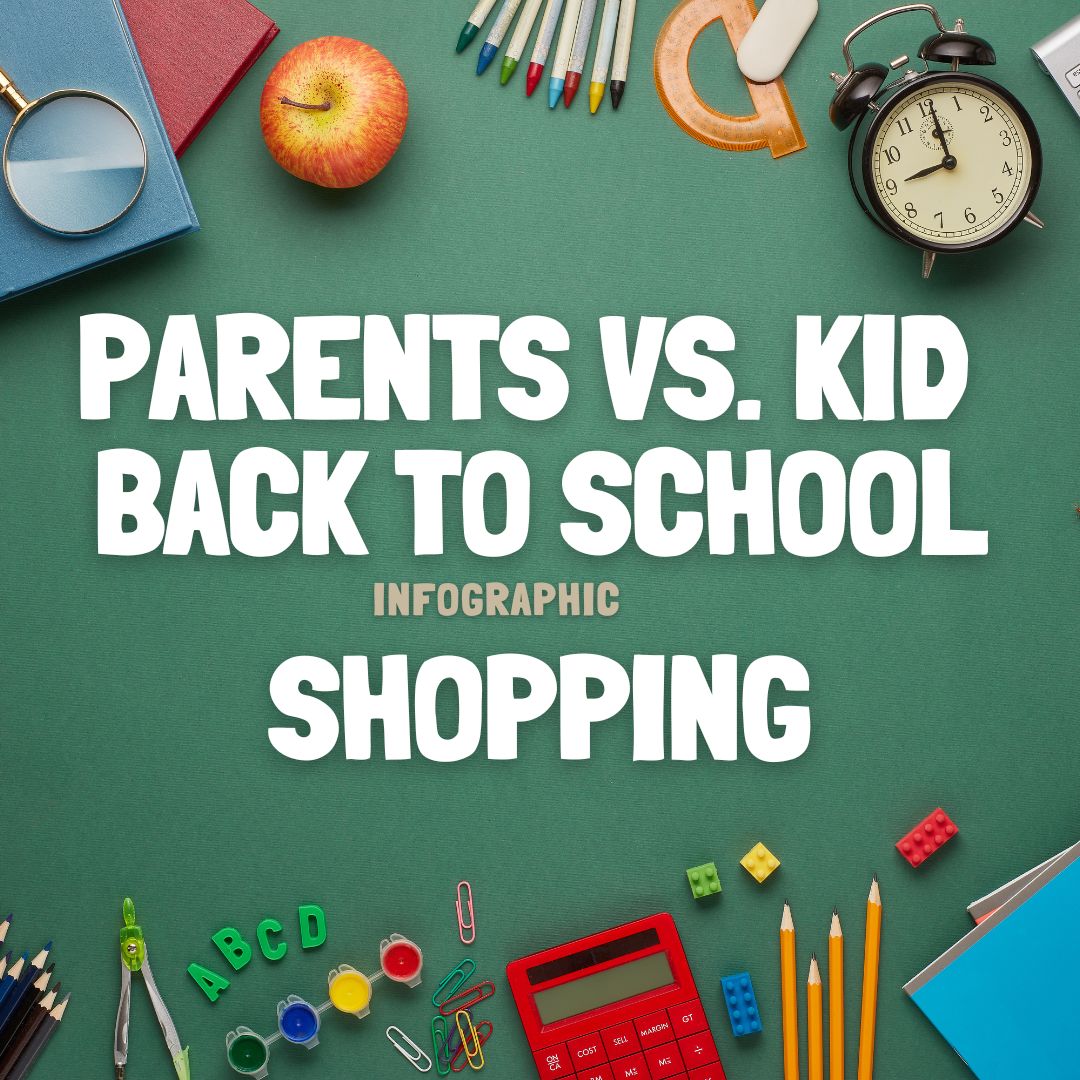 Parents vs. Kids – Back to School Shopping INFOGRAPHIC
by couponlab
TEENS WANT CLOTHES AND SMARTPHONES. PARENTS AGREE, SOMEWHAT.
An annual Back to School Shopping Survey from Couponlab.com asked American parents to chime in about shopping for their kids' school needs. What's topping their 2022 shopping lists? For both parents and kids (what parents "think" kids want), clothes and shoes will be a top purchase, especially for Nike. 9 in 10 parents plan to spend as much or more than last year on back-to-school items. Parents also shared surprising insights regarding whether students should have laptops, tablets, and smartphones. It could be a good year for kids that want these items.
BACK-TO-SCHOOL LAPTOP DEALS ARE BETTER THAN ON BLACK FRIDAY.
In last year's survey, parents ranked back-to-school sales for laptops and tablets as being better during Black Friday. However, this year they claim the laptop deals are better during back-to-school sales, ahead of both Black Friday and Cyber Monday deals. It's not a stretch, as most deal hunters know the holiday deals are usually focused on cheaper, older computing products. Discounting in July and August can be better on high-quality models with a broader selection (add student discounts up to $150, and back-to-school laptop deals are a no-brainer).
The INFOGRAPHIC below shows this year's spending trends for back-to-school shopping (you can grab the embed code below the image).

9 IN 10 PARENTS WILL SPEND THE SAME OR MORE THIS YEAR ON BACK TO SCHOOL.
Q: How much do you plan to spend on school-related supplies and products this year?
27% – More than last year
62% – Same as last year
11% – Less than last year
8 IN 10 PARENTS WILL BUY NEW APPAREL FOR THEIR CHILDREN THIS YEAR FOR SCHOOL.
Q: Which back-to-school shopping items are you planning to purchase this year?
20% – Laptop, tablet, or computer
77% – School Supplies
80% – Clothes and shoes
15% – Smartphone/Cell Phone
41% – Textbooks
Note: Last year, supplies slightly outranked clothing and shoes, while this year, the need for laptops has risen 33%.
MOBILE SHOPPING IS ON THE RISE FOR BACK-TO-SCHOOL, UP 700% FROM 2021.
Q: How do you plan to shop for school-related supplies and products this year?
37% – Online Retailer Sites
16% – Online Coupons/Cash Back Sites
7% – Mobile Shopping App (only 1% in 2021)
91% – In Store
SWAG STILL RULES THE THE SCHOOL FOR STUDENTS OF THESE PARENTS.
Q: Which of the following items do you think kids "want" most for starting school this year?
13% – Laptop
9% – Tablet
16% – Smartphone
13% – School Supplies
41% – Clothes and Shoes
Note: According to parents, more kids want laptops than last year, up nearly 100% (7% in 2021).
NIKE IS THE FRONT-RUNNER FOR BRANDS PARENTS SAY KIDS ASK FOR THE MOST FOR SCHOOL.
Q: Which brands do kids ask for the most for school?
41% – Nike
31% – Apple
22% – Under Armour
19% – American Eagle
18% – Levi's
17% – Converse
16% – Forever 21
15% – Samsung
12% – Adidas
6% – Pacsun
Note: Parents think kids want Apple brands twice as much as Samsung.
7 IN 10 PARENTS SAY STUDENTS NEED THEIR LAPTOPS AND TABLETS FOR SCHOOL.
Q: As a parent, what age group does it become more helpful for students to have their laptop or tablet?
5% Grade School (K-5)
27% Middle School (6-8)
47% High School (9-12)
20% College
1% Wait to buy their own
2/3 OF PARENTS SAY LAPTOPS ARE BEST SUITED TO HELP STUDENTS LEARN.
Q: Which product is better suited to help most students with school work?
65% – Laptop
14% – Tablet
12% – Desktop Computer
2% – Smartphone
BACK-TO-SCHOOL SALES GRADE HIGHER THAN BLACK FRIDAY FOR LAPTOP AND TABLET DEALS.
Q: Which sales event is most likely to have the best deals on a new Laptop or Tablet for a student?
37% – Back-to-School Sales
31% – Black Friday Sales
10% – Cyber Monday Sales
4% – December Holiday Sales
6% – After Holiday (or New Years) Sales
Note: 13% offered that other sales have better deals than the more significant holiday sales events.
2/3 OF PARENTS SAY IT'S PRACTICAL FOR TEENS TO HAVE A SMARTPHONE
Q: As a parent, in what age group does it become practical for students to have a Smartphone?
3% – Elementary (9 or younger)
16% – Pre-Teen (10 -12)
38% – Early Teen (13-15)
34% – Late Teen (16-18)
Note: Only 7% said students should wait and buy their smartphones, down from 16% in 2021.
Note: *The survey online on behalf of in June 2022 was fielded among 1,000 adults ages 18 or older, 50% male / 50% female.