PAYLESS JOINS EVER-GROWING LIST OF RETAILERS DECLARING BANKRUPTCY, CLOSING 400 STORES
by couponlab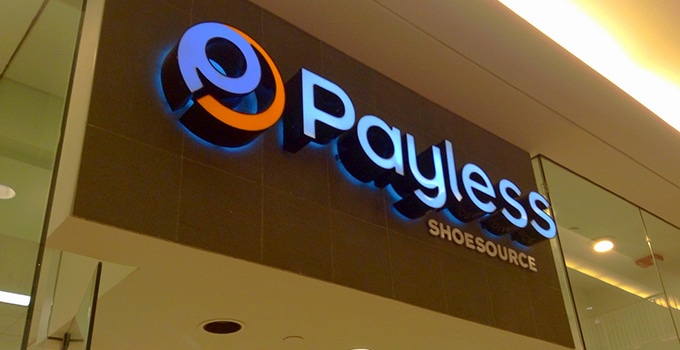 UPDATED 6/20/17:
A new list of the Payless microsites on the chopping block has been released and updated as of June 12. A member of the Facebook group Glitch Community was able to get 90% off hundreds of pairs of shoes at their local store, and they urge shoppers to check if theirs is closing, as well: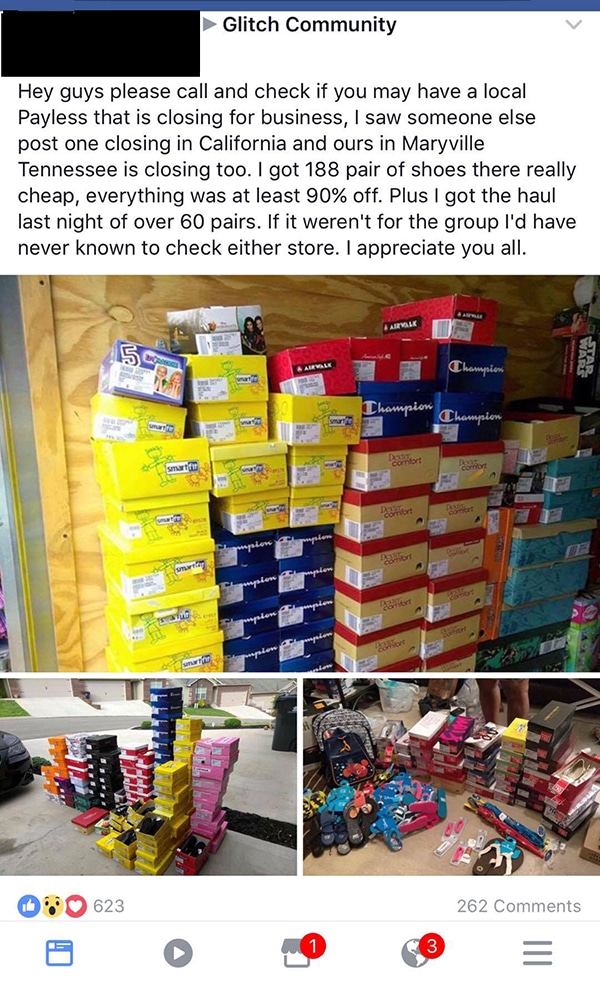 UPDATED 5/30/17:
Payless has filed a request with the U.S. Bankruptcy Court in the Eastern District of Missouri to allow the closure of up to 408 more stores due to lack of profitability, doubling the amount of stores they said they'd close in April. Earlier this year, the company said they may close as many as 1,000 stores in their restructuring, so this isn't terribly surprising. This announcement brings the total closures to around 800. CEO W. Paul Jones stated, "[Payless is] confident that this process will also enable us to leverage Payless's existing strengths to succeed."
ORIGINAL ARTICLE:
Only a week later than predicted, Payless ShoeSource has filed for Chapter 11 bankruptcy as of April 4. This filing will result in the immediate closing of 400 stores in the US and Puerto Rico as Payless restructures to rebalance its debt. There is no report on how many jobs this will cost employees of the company. Payless employs about 22,000 people.
With 4,400 stores across 30 countries, Payless seemed like a company that had deep enough roots to survive the retail apocalypse. At one point earlier this year, the company was in restructuring talks to shutter as many as 1,000 stores. In a statement issued on Payless' website, CEO W. Paul Jones said, "This is a difficult, but necessary, decision driven by the continued challenges of the retail environment, which will only intensify. We will build a stronger Payless for our customers, vendors and suppliers, associates, business partners and other stakeholders through this process." The company has a $520 million term loan that will come due in 2021 and another $145 million loan due in 2022, both of which prompted Moody's Investor Services to downgrade the company's outlook to "negative" earlier this year.
This makes Payless the 10th retailer to file this year, keeping 2017 on track to beat 2009 for the most retailers who filed for Chapter 11. Payless joins Gordmans Stores, Gander Mountain, RadioShack, hhgregg, BCBG Max Azria, Michigan Sporting Goods Distributors, Eastern Outfitters, Wet Seal and The Limited among those who've filed, and it joins a mass of other retailers who are committing to large-scale store closings, like JCPenney (138), Staples (70), Macy's (68), Sears (42) and Kmart (108). E-commerce is on everyone's blame list, but all of these retailers could be judged guilty of failing to adapt to changing consumer shopping habits, still stuck in the traditional shopping mall mindset while the rest of us are buying our boots on Instagram.
Payless has released a full list of the 400 stores they're closing here, so check to see if your local store(s) are on it. Payless ShoeSource isn't disappearing, but these stores may have inventory-purging sales over the weekend, so keep an eye on your local store. Look for sales online while the company restructures, too.