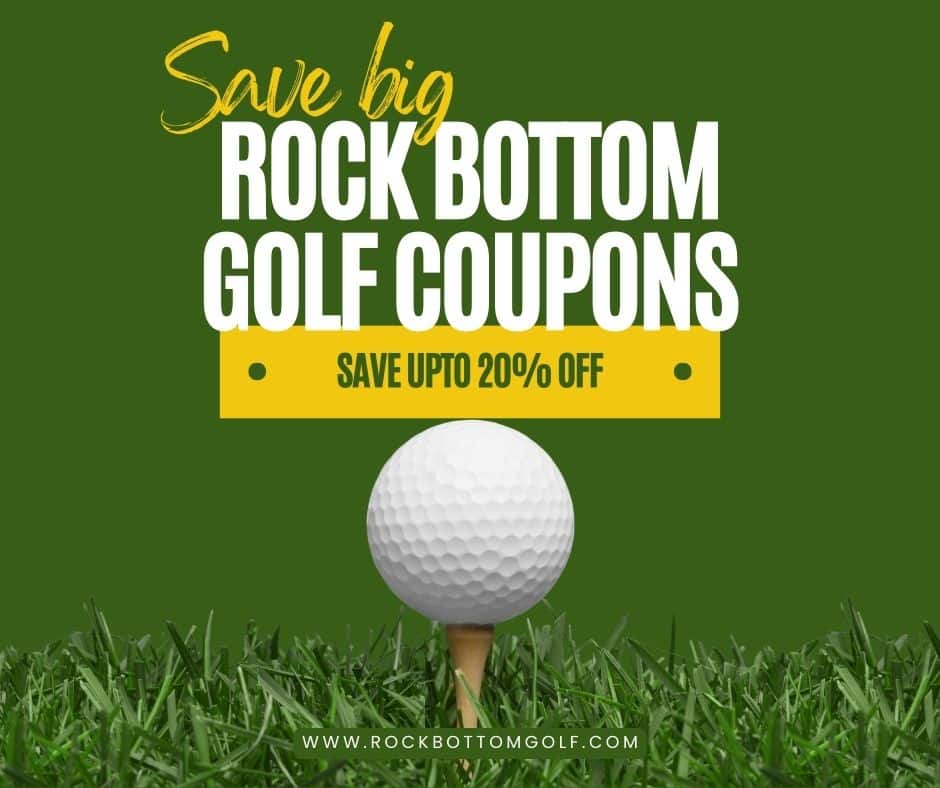 Rock Bottom Golf Coupons
by couponlab
Rock Bottom Golf is one of the best places to purchase your golf gear. It is a fantastic shop for every golf player and enthusiast, which you can enjoy now even more with Rock Bottom Golf coupons from Couponlab.
| | |
| --- | --- |
| $100 Off Sitewide | coupon code : USA |
| 5% off | coupon code : ULTIMATE |
| $20 Sitewide | coupon code : HOLEINONE |
| $10 Off $50+ | coupon code : ssup |
| $10 off $50+ | coupon code : 63BT3KLV |
| $10 off | coupon code : GolfMonthly10 |
| 5% off | coupon code : WINNERGOLF5 |
| 10% off | coupon code : SIGNUP |
| $100 Off With Minimum Spend | coupon code : USA |
| 5% off | coupon code : PROWINGOLF5 |
The shop offers you variety of assortment, including clothing, accessories and every other item necessary to a golf player. You can also visit their website, where you can redeem Couponlab's Rock Bottom Golf codes as well and get as much as 40% off. The website's simplicity and clarity will make the shopping a true pleasure. Enjoy your play with their professional gear and see the jealousy in the eyes of other golf players.
How to redeem Rock Bottom Golf codes
Choose the Rock Bottom Golf coupon you want to use at Couponlab.com. Click use coupon, a box that is just below the coupon. Copy the code. You should copy it manually in order to be sure. By now, your browser should have opened Rockbottomgolf.com for you in another window. Go to the shopping cart section and paste the promo code into coupon code/promotional code section, then click apply. Be sure to check if the Rock Bottom Golf coupon code was applied to your total price before purchasing your items. Remember: not every store will allow you to use more than one coupon per purchase.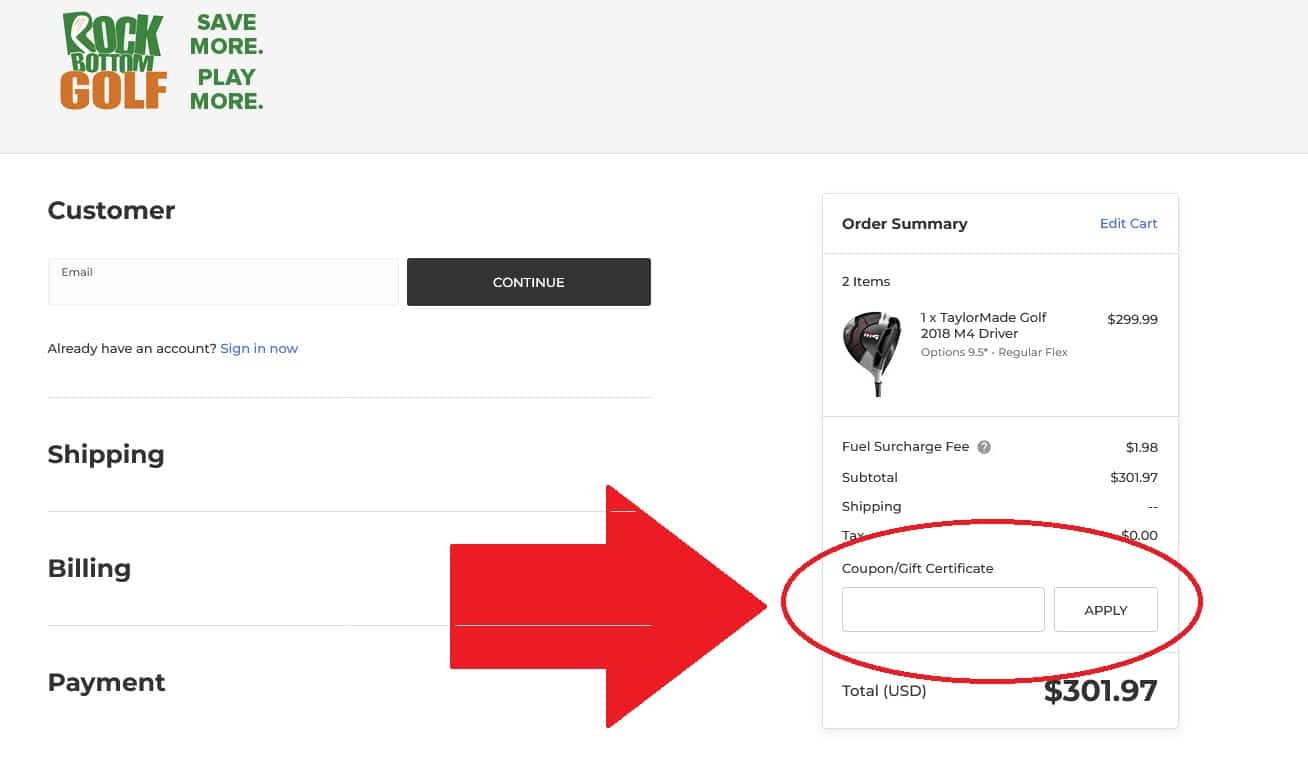 Rock Bottom Golf's origins
Rock Bottom Golf started around a decade ago as a small private company, when the owner was in high school. He would sneak into local country clubs at night to hunt for lost golf balls. The fun started when he realized that he could actually make a lot of money from those dimpled balls. He actually paid for six years of college tuition fees by himself. He and his friends had great adventures hunting for those balls to pay for their school fees. After finishing college, he decided to go legit by buying used and demo equipment to sell at trade shows and flea markets. Later he opened an Ebay shop and made his business grow. Eventually it became a full-time occupation – and Rock Bottom Golf became one of the world's top discount golf retailers.
What does Rock Bottom Golf offer?
Rock Bottom is all about golf. They have everything a golf enthusiast might need – from golf clubs, balls, apparels and clothing (e.g., belts, caps, golf shoes, goggles, hats, jewelry, polos, pants, outerwear, rainwear, shirts, shorts, socks, sunglasses, and watches), accessories (e.g., fitness aids, golf ball retrievers, gloves, head covers, umbrellas, etc.) to items for left-handed golfers, ladies and, of course, for kids. With Rock Bottom Golf, you don't just get what you need to play golf – you can also save cash by buying discounted or sale items. Whether you're buying for mom, dad, teenagers, kids, business people or grandparents, Rock Bottom Golf will have something for you.
What sets Rock Bottom Golf apart from others?
Rock Bottom Golf always gives customers the lowest-achievable prices. They offer a price-match guarantee (i.e., if you find items sold elsewhere for lower prices, we'll beat the price). We always live up to our name by making your golf game a lot more enjoyable and affordable. Why settle for less, when Rock Bottom Golf can give you extra savings on every purchase of the most reliable products?
Why use a Rock Bottom Golf coupon?
Aside from rock-bottom prices, you can save even more when you use coupons. Scratch-approved promos are available upon purchase of golf equipment. Save big with discounts by checking out the hottest Rock Bottom Golf promo codes available on convenient pages provided online. You can avail yourself of different promo rates using coupons (such as their 50% off Clearance Cave, Name your Price, Buy One Dozen Free, and Free Beverly Hills Polo club belt promos). Just hit the Click to Claim button to grab a Rock Bottom Golf coupon. Enjoy great and exciting promos that other stores can't offer! Rock Bottom Golf allows you to enjoy your favorite sport without worrying about the cost of equipment. Shop online now to get the giant discounts you always dreamed of!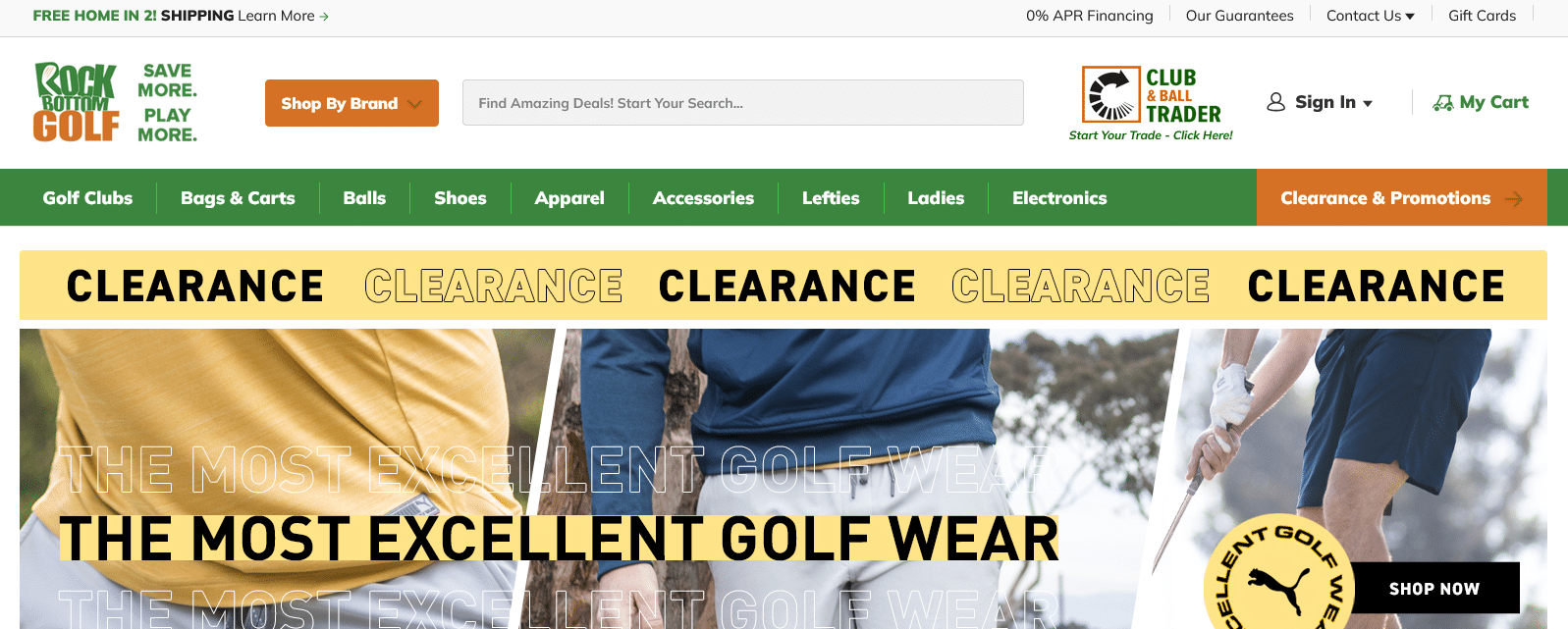 About Rock Bottom Golf
Rock Bottom Golf : Facebook , Twitter , Youtube
What is Rock Bottom Golf?
Rock Bottom Golf is an online shopping site that provides everything you need to play golf. It's one of the top discount golf retailers for apparel, shoes, and other items for boys and girls. It offers apparel and accessories from top brands including Adidas, Nike, and Reebok. It also offers golf balls, refinished golf balls and recycled golf balls, but also gift certificates. If you're having trouble finding the perfect gift for the golf enthusiast in your life, then just purchase a gift certificate, sit back, and enjoy the gratitude you generate!
How to use a Rock Bottom Golf coupon?
Rock Bottom Gold coupons are gear sellers and provide discounts for golf club members. They offers hundreds of discounted deals that can be found at Rockbottomgolf.com. To receive these exclusive promotions and coupons, just sign up to receive an electronic newsletter containing all the details. A Rock Bottom Golf coupon code offers the members a chance to draw prizes, a fitness newsletter – even specialized sunglasses!
How to save at Rock Bottom Golf?
If you become a regular member, you'll receive discounts and coupon codes that can be redeemed to gain real savings. They give you a chance to win a $100 gift card. To find sales on current products, check out the Clearance Cave. The home page of the website also features deals including special promos, BOGO deals and flash sales. Rock Bottom Golf offers guaranteed low prices and a price-matching option that allows you to compare your deal with similar items at other retailers. Rock Bottom Golf will give you an additional 15% off the price if you find a lower price somewhere else. If you create an account, we'll also provide you with incentives including entries to raffles and prizes that have been worth $100 in the past. Check out the deal of the day to take advantage of discounts on featured items. If you shop in the Clearance Cave, you can save up to 50% on some items. On orders worth $100 or more, international customers will receive a $10 discount.
Rock Bottom Gold free shipping policy
You can get free, same-day shipping within the USA if you have spend $150 or more on an order and place your order before 2 p.m. You can even trade in used golf clubs for cash, as long as they're in decent shape.