Rue21 Files for Chapter 11 and Becomes the 10th Retailer to File in 2017
by couponlab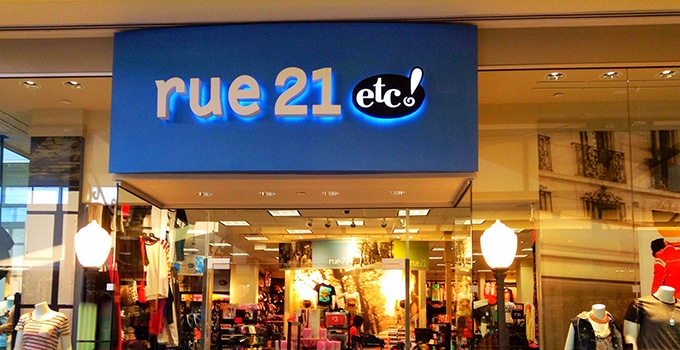 In keeping with the trend of major retailer bankruptcies this year, rue21 has joined the ranks of nine other companies that have filed for Chapter 11 this year. This brings 2017's total bankruptcies up to 10, matching 2016's total bankruptcies for the entire year. The teen fashion retailer didn't cite any specific reason for filing, other than the obvious inability to pay its debts, but they had already begun the process of closing almost 400 stores nationwide earlier this year, sparking rumors of a potential filing that came to fruition on Monday.
Experts blame rue21's downfall on their commitment to brick-and-mortar locations rather than building their online presence. Adheer Bahulkar told Retail Dive, "The brand was indeed hot, but instead of correcting for the shift to online sales and the general decline in mall traffic, as everyone else had already begun to do, they overplayed their hand in 2009, stepped on the gas and decided to triple their store footprint." The company also suffered the loss of their long-time CEO, Bob Fisch, late last year, shaking up the stability of their executive structure.
In their press release, rue21 states that they are expecting to continue normal business operations throughout the restructuring process, specifically:
"Continuing employee wages without interruption;
Paying vendors in the ordinary course for all authorized goods and services provided on or after the filing date; and
Honoring all existing customer programs—including gift cards."
It's a sight more hopeful than many of the other filings this year, especially considering hhgregg and The Limited's total collapse. The apparel industry has been particularly hard hit by the "retail apocalypse," with The Limited, American Apparel, Wet Seal and Payless all declaring in the last six months, not to mention the slew of store closings from retailers like bebe, Macy's and JCPenney. Rue21 has had a particularly bumpy ride and is a staple of many malls across America, but it's looking like they might pull out of the danger zone with new online initiatives like their virtual stylist software developed by mode.ai.