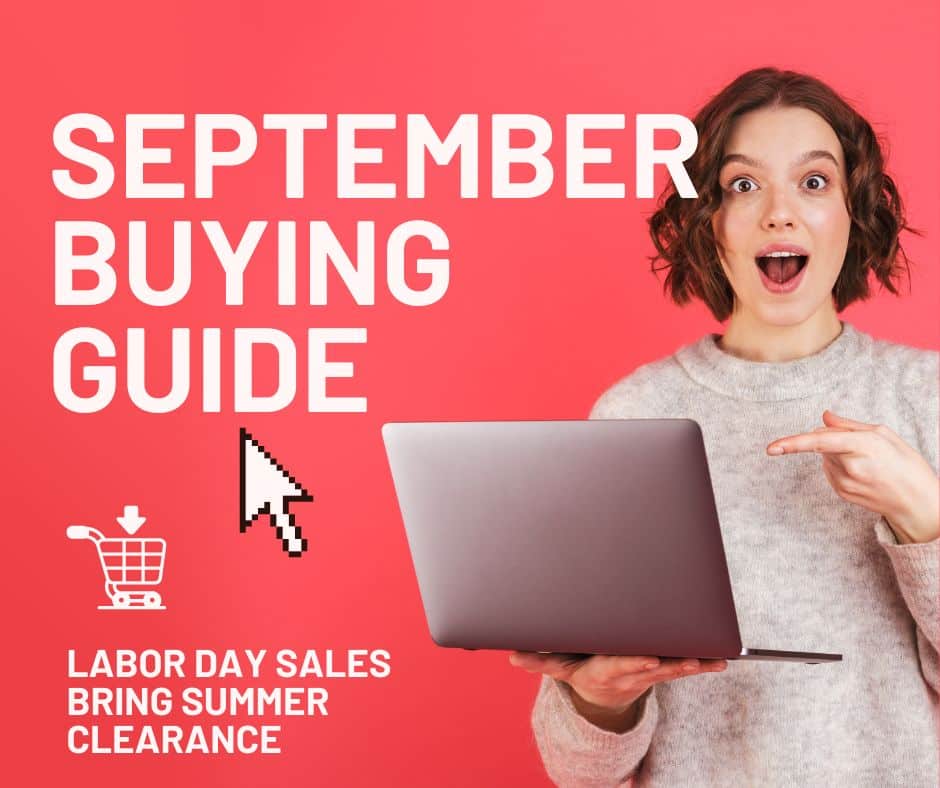 September Buying Guide – Labor Day Sales bring summer clearance
by couponlab
CONSUMERS CASH IN BIG AS RETAILERS MAKE SPACE FOR HOLIDAY
We don't think of Labor Day as an opportunity to shop and save, but maybe we should. Like President's Day and Memorial Day sales, retailers have lengthened Labor Day sales into a 10-day marathon resulting in some of the best prices on various items. The official kick-off of summer clearance coincides with Back to School clearance…and…the clearing of other big-ticket inventory, like appliances, mattresses, and patio furniture. In late August, Labor Day events set the tone for deep discounting throughout September, which can be fruitful to a family's yearly budget — if you know what to shop for from the buying guide below.
WHAT TO BUY IN SEPTEMBER (AND LABOR DAY):
Summer Clothing Clearance: Whether tagged as Labor Day or End of Summer sales, this is the perfect opportunity to buy T-shirts, shorts, sandals, and swimwear at the lowest seasonal prices, from 50-75% off retail at both big box and branded stores, like AERO, Levi's, Nike and PacSun. As well, you'll get cash back and an extra month or two of use wearing outdoors while still having reasonably new apparel to wear next summer. This includes sunglasses being offered at the lowest prices of the season…which, by the way, can be worn all year round!
Back to School Clothing and Tech Clearance: Parents who waited to buy school supplies and clothing, especially jeans, will save a lot of money in September, up to 25% more than in August and July. The risk is whether they'll find the styles, colors, and sizes they want. Hitting back-to-school sales the last week of August during the Labor Day events should be your solution. Expect the same additional savings ops on laptop deals and some tablets, and upcoming smartphone releases will offer the lowest prices of the year on older cell phone deals this month, especially older iPhones.
Yard, Grills, and Patio Furniture Clearance: You've stretched that old lawn mower, gas grill, and patio set to the brink…good job! Now comes the payoff. Starting Labor Day and lasting throughout September, home and garden items are significantly discounted from 20% to 60%, including savings on accessories like seat cushions, grilling utensils, and weed whackers. But don't procrastinate; these items sell fast, and stores clear out inventory as soon as possible to load up for holiday items.
Appliances and Mattresses: Every big holiday sales event offers discounts on oversized ticket home items, and Labor Day is no different. It may be better as prices for most of last year's appliances, except refrigerators, come down with stocking new models in the fall—ditto for mattresses. Expect savings of 50% or more and the lowest prices we'll see until Black Friday — this also applies to power tool deals.
Fall Fashion: Although we'll see some discounting of fall apparel during Labor Day sales, waiting until mid-to-late September to shop for fall fashions will pay off more because summer inventory has cleared out, and sale prices will focus on fall apparel. Look for discounts to start at 20% off and ramp up to 40% off by the end of the month for boots, jeans, jackets, and sweatshirts, with added savings of cash back from more than 450 stores.
Sports and Outdoors: Expect deep discounts on baseball, golf, camping and fishing, and similar sports apparel and gear. It's also an excellent time to shop for bikes and equipment. Add in the first early sale pricing for hunting clothing and gear, including one of the best times to shop for guns and ammo deals from the top sporting goods stores like Cabela's, Walmart, Gander Mountain, and Bass Pro Shops.
Holiday Travel Deals: This is the best time to book in advance for the best choice (timing, selection) and lowest package deal savings on your Thanksgiving and holiday family travel. Travel sites offer up to 50% off airfare, hotels, and packages. Add travel coupons and cashback from over 100 travel sites by shopping through FatWallet. It's a good practice to start monitoring prices ASAP and keep tabs on FatWallet's Travel Discussion forum for current travel tips and insider tactics for finding the best rates, credit card hacks, and other savvy, stackable travel offers.