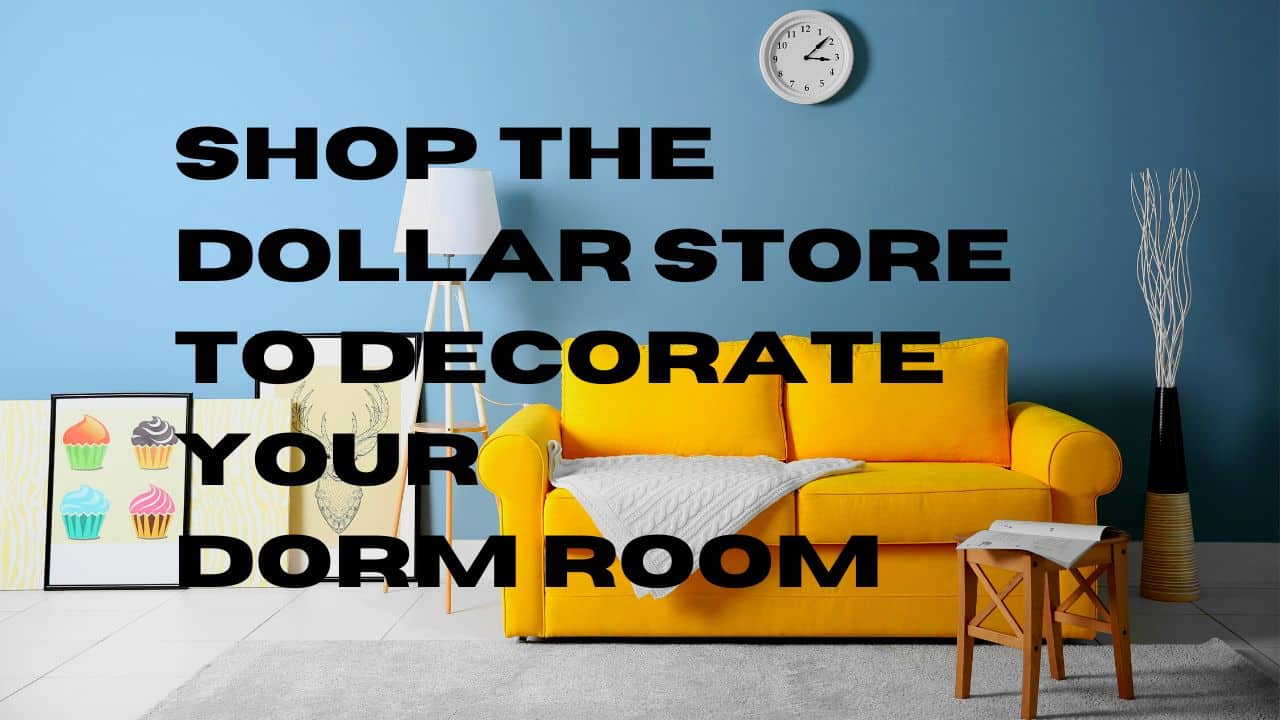 Shop the Dollar Store to Decorate Your Dorm Room
by couponlab
It's back-to-school season, and the time has come to decorate your dorm room. But as a college student, you have virtually no money to your name. Never fear! The dollar store is here. With just a little DIY savvy, you can use dollar store decorations to turn your dorm room into a fun, cozy place perfect for studying — and maybe the occasional party.

Save Space
Your priority in a dorm room is making the most of a small space. This is challenging but not at all impossible. Look around at all your stuff and assess what can be put away and what can be better organized.
Use binder clips to hold cables and cords in place.
Use shower hooks instead of individual hangers for clothes to save a ton of closet space.
Store everything you don't need immediately accessible in clear, stackable storage containers. At only $1 apiece, these containers are a cheap lifesaver.
Use vases to store your pens, highlighters, and scissors on your desk. Writing utensils strewn everywhere will make a room look instantly messy!
Please store your jewelry or other loose knickknacks in ice cube trays to keep them organized.
Decorate
It may sound crazy, but having an aesthetically pleasing dorm room is possible! No Bob Marley posters, please (unless you find one at the dollar store). Keep these tips in mind when decorating your dorm:
Most dorms won't allow you to put nails on the walls, so use self-adhesive hooks to hang any art. They're $1 for a pack of four.
Use drawer liners on the outside of your dresser. It's easy to find drawer liners with pretty patterns at the dollar store, and you can stick them on the outside of your dresser to give it an instant makeover!
Buy welcome rubber mats and spray-paint them any color you want. This makes for an eye-catching burst of color the second someone enters your room.
Paint your mirror frames (or regular picture frames). The dollar store sells many mirrors, but most have boring frames, and you can easily paint them a solid color or any pattern. The same goes for picture frames.
Layer mason jars with your favorite things — anything you like! Fill them with whatever you find visually appealing: marbles, seashells, rocks, ice cream sprinkles, etc.
Another mason jar miracle: mason jar candles. Place electric candles (most dorms ban real candles) inside mason jars to create an enchanting candleholder.
Tips
Dorm rooms are different than apartments in several important ways. Keep these tips and tricks in mind when decorating your dorm.
Remember that you generally can't do anything "permanent" to your dorm room. Don't decorate in any way that will leave damage behind.
Utilize the space under your bed as a place to keep your storage containers.
Don't forget your desk can be used for storage, too! Stow books, notebooks, and other items inside your desk drawer or cabinet.
Be sure to read your dorm's rules before starting to decorate. Laws vary from school to school, and you don't want any of your decorating work to be undone!
The dollar store is an ideal resource for decorating, and you can also pick up a ton of ramen while you're there, and it's a win-win.