Staples Black Friday Ad Released
by couponlab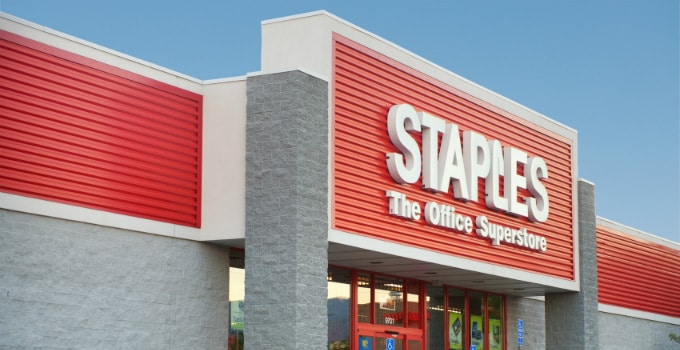 We just posted all of the deals from  Staples Black Friday ad!  The store opens at 6 a.m. on Black Friday, but all of the deals will be available online on Thanksgiving. Keep in mind that members of Staples' free rewards program receive special coupons and exclusive in-store offers, as well as free 2-day shipping on all online purchases. It's not a bad way to save money this holiday season!
If you're looking for great deals on televisions, laptops, smartphones and tablets, then this is the ad for you. It features low prices on all of the best tech brands, including Toshiba, Samsung and Apple products. It also features a lot of nifty deals on office essentials, such as swivel chairs and shredders. Oh, and if you're looking for a deal on a printer, then you're in luck. The ad is littered with printer deals, particularly on page 15, which contains nothing but printers. Truly, if you're serious about getting the best deals on the best office products, then you have to check out this ad!
Here are a few deals from the ad that we found most exciting: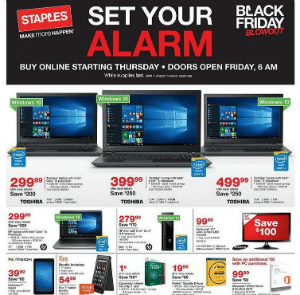 Logitech Computer Mice (Assorted Colors) – $8.99 (Save $21)
Toshiba 15.6″ Laptop w/ Intel Core i3, 500GB HDD, 8GB RAM, Win 10 – $299.99 (Save $200)
Samsung 24″ 1080p Wide-Screen LED Monitor – $99.99 (Save $100)
Staples Turcotte Luxura High Back Executive Chair – $49.99 (Save $100)
HP Deskjet 3634 Wireless All-In-One Printer – $39.99 (Save $30)
Amazon Kindle – $49.00 (Save $30)
So what do you think of Staples' ad this year? Is it worthy of your  Black Friday time? What deals are you most excited about? How do you feel about Staples being closed on Thanksgiving? Have we just asked you too many questions? Yes? Oh. Sorry about that.