Starbucks Roundup: Dragon, Sriracha, Midnight Mint Mocha, S'mores Frappes and Frappe Happy Hour
by couponlab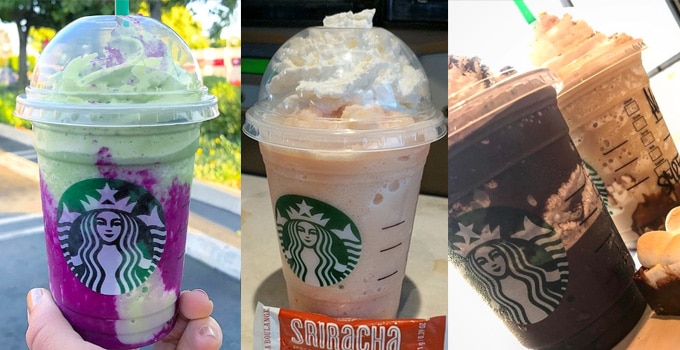 Last updated at 4 p.m. Tuesday, May 2, 2017
We thought the magic died when the Unicorn Frappuccino's limited-time run ended on April 23, but some Starbucks baristas decided to create a little magic of their own. Enter the Dragon Frappuccino (sorry, Bruce Lee fans, I couldn't help myself).
According to Mashable, after running out of ingredients for the Unicorn Frappuccino, some baristas came up with an unofficial Dragon Frappuccino, with a location in Walnut, California, attempting to claim the Dragon Frappe as a store exclusive.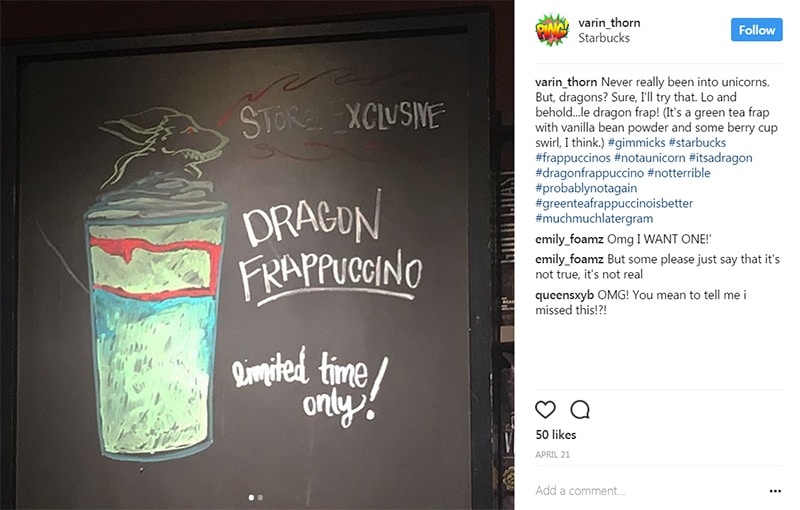 Because this isn't an official Starbucks beverage, recipes for this mythical frappe vary from store to store, but one way the Dragon consistently beats out the Unicorn is that is contains caffeine. Bustle reported that most stores are creating the Dragon frappe using green tea frappuccino (cream base, ice, milk, and matcha powder), vanilla bean powder and berry cup swirl. However, when Bustle writer Sarah Fielding attempted to get a Dragon Frappe in her area, she discovered that most Starbucks stores don't carry the elusive berry syrup used to make the purple swirl, possibly because this was actually created with leftover syrup from the Unicorn Frappe. Some baristas are getting around this by using dried blueberries to make the swirl.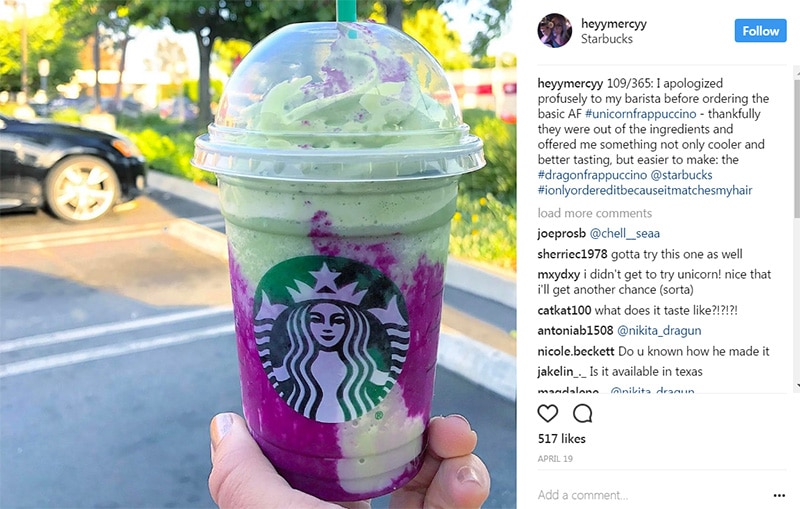 Want to try the Dragon Frappuccino? It's still not an official menu item, but a Starbucks spokesperson told the TODAY Show that baristas can customize your drink more than 170,000 ways, so all you have to do is tell the barista what you want in your drink. They may not know about the Dragon Frappuccino, but they can put the ingredients together for you.
If you can't get enough of these bright, color-changing frappes, you're not alone. According to CNBC, the Unicorn Frappuccino was such a hit that Starbucks plans on releasing more drinks like it. "We will bring at least one entirely new drink into Happy Hour this year that is going to be as good as Unicorn or better," Starbucks CEO Kevin Johnson said.
One possible frappe coming this summer is the rumored Sriracha Frappuccino. Full disclaimer here: Starbucks employees have been quite vocal about how they hate it when news agencies publish articles based on their posts in the Starbucks subreddit, so there is a very real possibility they're trolling the internet by creating fake subreddit threads about the Sriracha Frappuccino. Many employees in this thread and this thread keep asking if these subreddit threads are a joke, so either communication at Starbucks isn't the greatest, or some Starbucks employees are pranking news agencies and customers alike.
If it is real, the Sriracha Frappuccino is scheduled to be released in June or July, and is "like any standard creme flavored frappuccino, this time with sriracha," according to Reddit user languagelearningyay.
Got to make one of the new summer drinks today! from starbucks
We'll keep you posted if we hear anything more on whether the Srirachi Frappe is a real thing.
We do know that the Midnight Mint Mocha Frappuccino and the S'mores Frappuccino are both real and are available in the US and Canada starting today. The Midnight Mint Mocha Frappe is made with extra dark cocoa blended with coffee, milk and ice. It's "infused" with mint sugar crystals, cut with whipped cream, and topped with more whipped cream and dark cocoa dust. The final result is a black concoction inspired by the dark food trends inundating social media, like black macaroons and charcoal ice cream. The S'mores Frappuccino is a popular favorite that's back for 2017. It features a blend of vanilla, coffee, milk and ice topped with marshmallow whipped cream and graham cracker crumble. This is a seasonal offering, so make sure you indulge while it's available!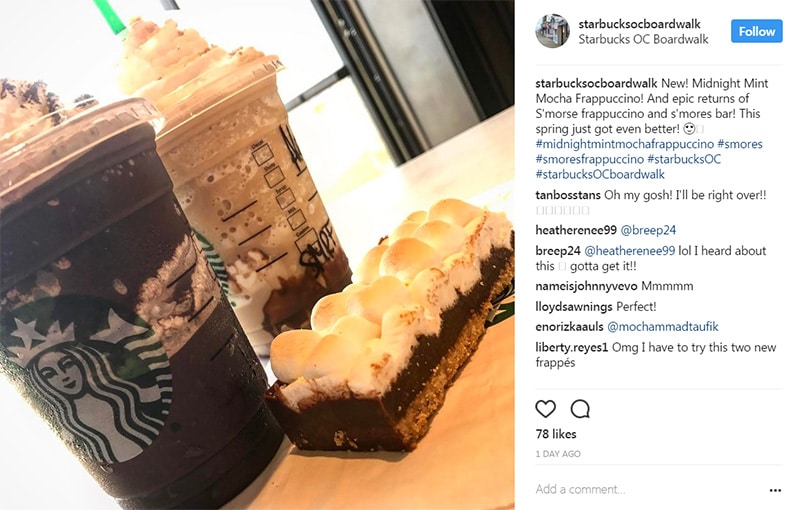 If your frappe addiction is getting a bit out of hand, you can save a little green by taking advantage of Frappuccino Happy Hour. Participating Starbucks locations in the US and Canada will offer half-off frappes of any flavor and size from 3-6 p.m. local time May 5-14.