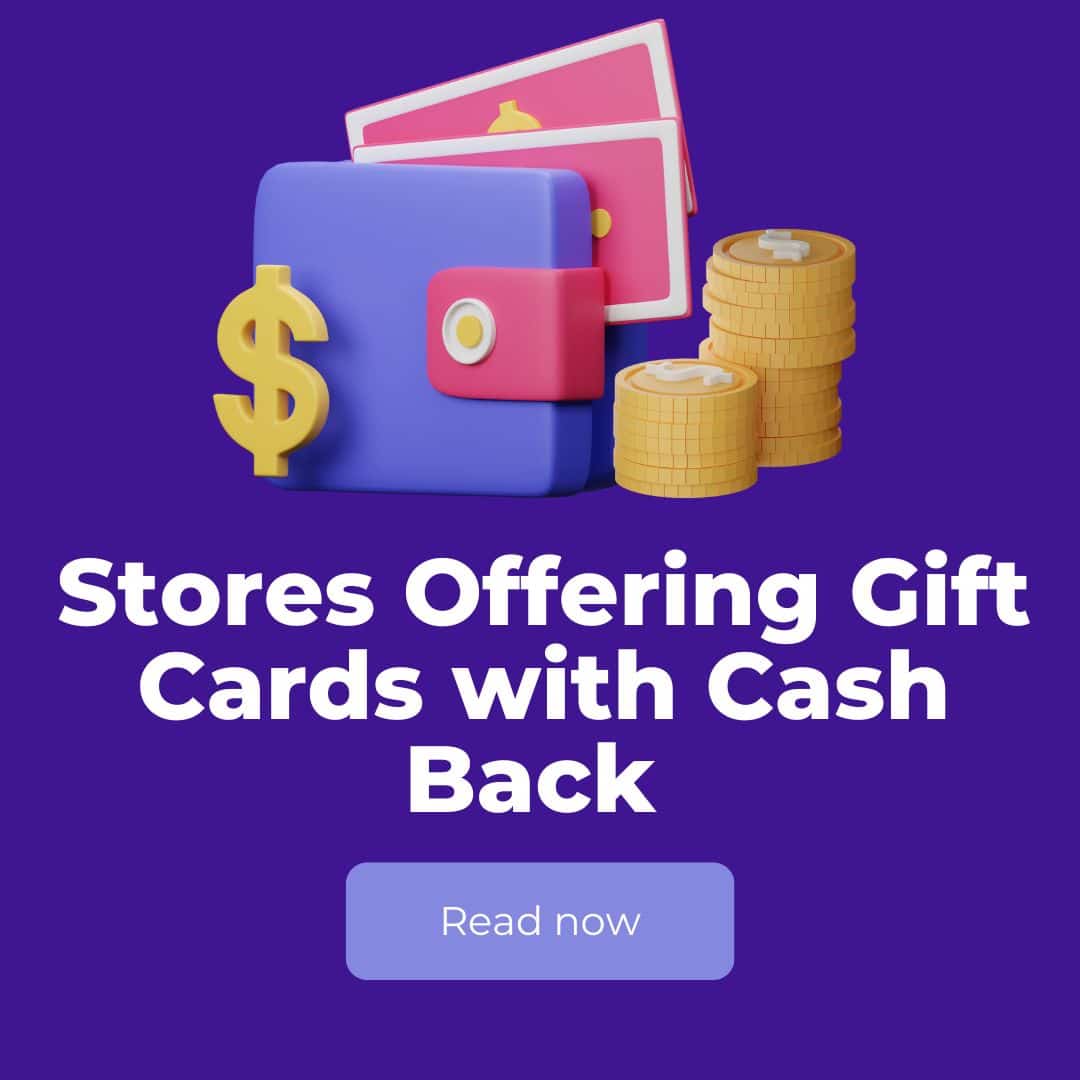 Stores Offering Gift Cards with Cash Back , Happy Holidays
by couponlab
Everyone loves getting gift cards! They're always the perfect size and color. This time of year, getting one during the holidays allows you to spend them during Holiday clearance sales, allowing you to get more presents for your pretty pennies!
Giving gift cards is just as great as receiving one–you've got to love anything that saves time! Do you know what's even better? Earning cash back when you purchase one!
We've rounded up a massive list of merchants who are generous enough to pay cash back when you buy one of their gift cards/eGift cards! They're listed below in alphabetical order with the current cashback amount. Please remember that cashback is subject to change, as are the stores' cashback restrictions regarding gift cards. It's always good to check each store's cashback details on their merchant page here on Couponlab. (Type the store name into the search bar above and click on "Cash Back Details" next to the "Shop Now" button.)
Even if you're caught at the last minute without a gift, and don't have time to have one shipped, many of the stores below will allow you to email gift cards (eGift cards) to your friends and family or print one out to give them in person. Perfect for other procrastinators like me!
Gyft is also a great place to earn 2% Cash Back. Gyft is a trusted gift card site where you can buy, sell, send, and redeem your gift cards!
Happy Shopping & Happy Holidays!
Cash-back amounts are subject to change. Stores offering gift cards are mentioned.
1-800-BASKETS.COM
5.00%
 

(Gift Cards)

1800flowers.com
9.00%
 

(Gift Cards)

4 Wheel Parts
Up to 3%
 

(Gift Cards & eGift Cards)

Adorama
1.00%
 

(Gift Cards & eGift Cards)

Air Filters Delivered
4.00%
American Express(R) Gift Card
1.00%
 

(Gift Cards)

AutoZone
4.00%
Avenue
4.00%
 

(Gift Cards & eGift Cards)

Bass Pro Shops
4.00%
 

(Gift Cards & eGift Cards)

BedHead Pajamas
9.00%
 

(Gift Cards & eGift Cards)

Best Western
2.50%
Boscov's Department Stores
2.50%

 (Gift Cards & eGift Cards)

Build-A-Bear
3.00%
 

(Gift Cards & eGift Cards)

Chefs Catalog
5.00%
 

(Gift Cards & eGift Cards)

Clarks
4.00%
Columbia Sportswear
4.00%
 

(Gift Cards & eGift Cards)

Country Outfitter
2.50%
 (

eGift Cards)

David's Cookies
3.00%
Derailed
2.50%
 

(eGift Cards)

DiscountWatchStore.com
4.00%
 

(Gift Cards)

Discovery Channel Store
4.50%
 

(eGift Cards)

Eastern Mountain Sports
4.00%
 

(Gift Cards & eGift Cards)

Eddie Bauer
3.00%
 

(Gift Cards & eGift Cards)

EyeBuyDirect.com
6.00%
fabric.com
Up to 3%
 

(eGift Cards)

Fandango
Up to $1
 

(eGift Cards)

Forzieri.com Europe
5.00%
 

(Gift Cards)

Fossil
2.50%
 

(Gift Cards & eGift Cards)

GameFly – Online Video Game Rentals
Up to $7.50
 

(eGift Cards)

Gardener's Supply Company
4.00%
 

(Gift Cards & eGift Cards)

Gift Card Mall
Up to 1.00%
 

(Gift Cards & eGift Cards)

Gift Certificates Mall
Up to 1.5%
 

(Gift Cards & eGift Cards)

goHastings
2.50%
 

(Gift Cards & eGift Cards)

Groupon
6.00%
 

(Gift Cards & eGift Cards)

Guess Factory
2.00%
 

(Gift Cards & eGift Cards)

GUESS?
2.50%
 

(Gift Cards & eGift Cards)

Gift
Up to 2.5%
 

(eGift Cards)

Hammacher Schlemmer
4.00%
 

(Gift Cards)

Hanna Andersson
3.00%
 

(Gift Cards)

Harbor Freight Tools
Up to 3%
 

(Gift Cards)

HBO Store
4.50%
 (

eGift Cards)

Home Decorators Collection
Up to 3.5%
 

(Gift Cards)

Hotels.com
Up to 4.9%
 

(Gift Cards & eGift Cards)

I See Me! Personalized Books
5.00%
 

(Gift Cards)

Jack Rogers
4.50%
 

(eGift Cards)

Joann.com
2.00%
 

(Gift Cards & eGift Cards)

Johnston & Murphy
6.00%
 

(Gift Cards & eGift Cards)

Kmart
6.00%
 

(Gift Cards & eGift Cards)

LE CHÂTEAU
2.00%

(Gift Cards)

Lowe's
1.00%
(Gift Cards & eGift Cards)
Magazines.com, Inc.
10.00%
 

(Gift Cards & eGift Cards)

Manhattanite
6.00%

(Gift Cards & eGift Cards)

Maple and West
2.50%

(Gift Cards & eGift Cards)

Maps.com
5.00%

(Gift Cards & eGift Cards)

Michele Watches
5.00%
(Gift Cards & eGift Cards)
Microsoft Store
4.00%
(Gift Cards & eGift Cards)
Mikasa
2.00%
(Gift Cards)
Modells
5.00%
(Gift Cards & eGift Cards)
Mountain Hardwear
4.00%
(Gift Cards & eGift Cards)
NBC Universal Store
4.50%
(eGift Cards)
Northerntool
2.50%
(Gift Cards & eGift Cards)
Only Natural Pet
6.00%
(eGift Cards)
Orvis
2.50%
(Gift Cards & eGift Cards)
Payless Shoe Source
6.00%
(Gift Cards & eGift Cards)
Pfaltzgraff
2.00%
(Gift Cards)
Redbubble
1.50%
(eGift Cards)
Relic
6.00%
(Gift Cards & eGift Cards)
Restaurant.com
Up to 7.5%
(eGift Cards)
RoomMates
8.00%
(eGift Cards)
Sanuk Footwear
5.00%
(Gift Cards & eGift Cards)
Scrubs & Beyond
4.00%
(Gift Cards & eGift Cards)
Scrubs & Beyond
6.00%
(Gift Cards & eGift Cards)
Shopbop.com
4.00%
(eGift Cards)
Sierra Trading Post
Up to 2.5%
(Gift Cards & eGift Cards)
Skagen Denmark
5.00%
(eGift Cards)
SOFT SURROUNDINGS
2.50%
(Gift Cards & eGift Cards)
Sony – Computers & Electronics
Up to 3%
(eGift Cards)
Stock Yards
5.00%
(Gift Cards & eGift Cards)
STYLEBOP.com
3.00%
(Gift Cards & eGift Cards)
Sunglass Hut
4.00%
(Gift Cards)
Swimsuits Direct
5.00%
(Gift Cards)
Teva Footwear
5.00%
(Gift Cards & eGift Cards)
The Popcorn Factory
3.00%
 

(Gift Cards)

TheBouqs.com
10.00%
(eGift Cards)
Ties.com
7.50%
(eGift Cards)
Tire Rack
3.00%
(Gift Cards & eGift Cards)
TOMS
8.50%
(Gift Cards & eGift Cards)
Tractor Supply Company
2.50%
(Gift Cards)
UGG Australia
4.50%
(Gift Cards & eGift Cards)
ULTA
2.50%
(Gift Cards & eGift Cards)
Under Armour
4.00%
(Gift Cards & eGift Cards)
Vera Bradley
3.00%
(Gift Cards)
Watch Station
2.50%
(eGift Cards)
Wayfair
2.20%
(Gift Cards & eGift Cards)/td>
Your City My City
5.00%
(Gift Cards)
Zenni Optical
4.00%
(eGift Cards)
Zumba Fitness
4.00%
(Gift Cards)
ZVOX Audio
4.00%
(eGift Cards)