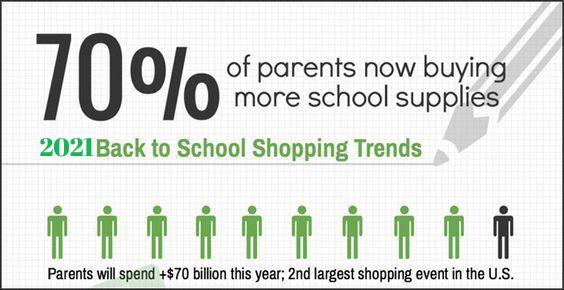 Surveys Parents on 2021 Back-to-School Shopping Needs
by couponlab
Every new school year means shopping for new school supplies, and this back-to-school season is no different. Our back-to-school shopping survey identified a few new trends in back-to-school shopping this year, asking parents questions about how and when they shop, how much they're planning to spend and if their kids need tech like laptops and smartphones to complete their educations.
See full infographic at the end of the article
In 2021, 9 in 10 parents say they expect to spend the same as or more than last year on school supplies. This makes sense when you consider that 70% of parents say they now buy more or most of the school supplies their kids use due to budget cuts at their area schools.
More than half of parents will use their smartphones to shop back to school, and they'll shop online doing it. They also say back-to-school sales are the best times to get the best deals, and nearly two-thirds of parents say these sales are best in July and August (as opposed to the 20% that say after school starts is the best time to shop). With so many online sales and promotions, it's no wonder this number has jumped from past years. Four in 10 parents say that the most important factor in what they buy is that it's the lowest price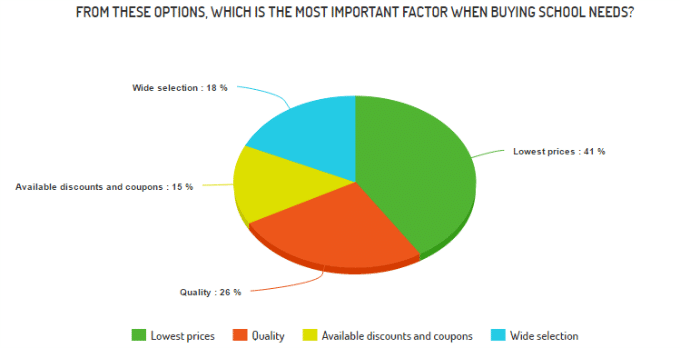 We really dug into how parents view the technology their kids use for school and found that only 28% of parents will buy laptops or smartphones for their kids this year, with 37% saying back-to-school sales are the best time to buy a laptop, beating Black Friday sales (32%). While the majority of parents trust Windows-based brands like Dell and HP with their money, 26% said MacBooks are the best laptops for kids on the market. More than half of parents have concerns about their children owning a laptop, with 6 in 10 saying laptops are the best learning tool for kids. However, when we broke it down by age, we found the surprising result that older parents (ages 55-64) are the least concerned about their kids owning their own laptop.
When asked about the number one stress factor in buying a laptop, parents said "find[ing] the best value for their money" was chief. This made sense when combined with the 65% of parents that only plan to spend $500 or less on their child's laptop this year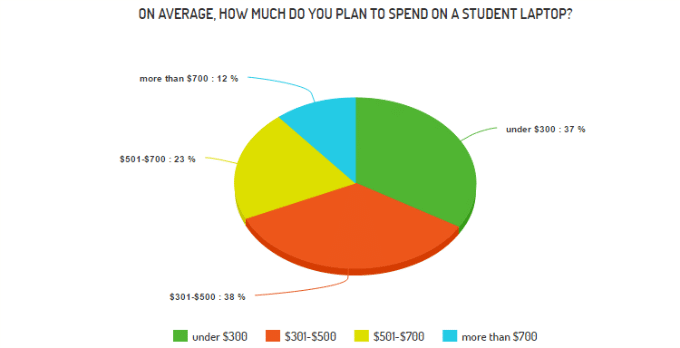 When we broke down the polarizing question of "what age group does it become practical for students to have a smartphone?" by region, we found that no parents in the West and Midwest thought kids should go without a phone, and the majority of parents around the U.S. said children ages 10-15 should have their own smartphones. Parents of elementary school students are overwhelmingly concerned that their children will break their smartphones and are worried about the extra expense. One-third of all parents, however, are not concerned if they break, either because they purchased insurance or because they won't be buying another phone should their child destroy their current one. Only 12% of parents say their kids don't have smartphones.
For the full results, read on below:
How much do you plan to spend on your children's school needs?
MORE than last year – 42%
SAME as last year – 49%
LESS than last year – 9%
Will you use a smartphone to help make purchases for your children's school needs this year?
No – 43%
Yes, to make purchases – 32%
Yes, but only to research/compare – 25%
From these options, which has the best overall prices for school needs?
In stores – 48%
Store websites – 11%
Deal or coupon sites – 13%
Marketplace (Amazon, eBay, etc) – 28%
From these options, which is the most important factor when buying school needs?
Lowest prices – 41%
Quality – 26%
Available discounts and coupons – 15%
Wide selection – 18%
When shopping for school needs, what time of year offers the best prices?
Before June – 9%
June – 6%
July – 22%
August – 42%
After School Starts – 21%
Compared to past years, are schools your children attend providing adequate supplies for classes, or is that expense being passed on to you?
We do not buy more school supplies compared to past years – 30%
We now buy a little more school supplies compared to past years – 40%
We now buy the majority of school supplies compared to past years – 30%
Do the schools your children attend provide laptops (or tablets) for them to use? If yes, when?
No – 20%
Yes, before high school – 24%
Yes, only in high school – 24%
Yes, all grades – 32%
Which sales offer the best deals on a new laptop for a student?
Before back-to-school sales – 18%
During back-to-school sales – 37%
After school starts – 13%
Black Friday – 32%
On average, how much do you plan to spend on a student laptop?
Under $300 – 27%
$301-$500 – 38%
$501-$700 – 23%
More than $700 – 12%
From these options, what brand of laptop is best for your children's school needs?
ASUS – 8%
Chromebook – 8%
Dell – 20%
HP – 19%
Lenovo – 4%
Mac (Apple) – 26%
Microsoft Surface Book – 8%
Toshiba – 7%
Which of these options is the most stressful part of buying a student laptop?
With so many choices, I'm not sure which model to purchase – 31%
Choosing between new and refurbished (reconditioned) – 13%
Higher quality laptops are very expensive – 28%
Not sure what software to include – 22%
How to pay for it – 16%
Finding the best value for the money – 51%
Other – 1%
Are you concerned about your child having their own laptop?
Not concerned – 46%
Somewhat concerned – 37%
Very concerned – 17%
From these options, which product is the better learning tool for your children?
Laptop – 57%
Smartphone – 6%
Both – 7%
What age group does it become practical for students to have a smartphone?
Elementary (9 or younger) – 8%
Preteen (10-12) – 33%
Early teen (13-15) – 46%
Late teen (16-18) – 11%
Students can buy their own – 2%
Which of these options best describes concerns that your children will break their smartphones?
Concerned, smartphones are expensive – 44%
Concerned, phone(s) are not insured – 10%
Not concerned, phone(s) are insured – 24%
Not concerned, as long as it still works – 10%
My children do not have smartphones – 12%
2021 Back-to-School Survey