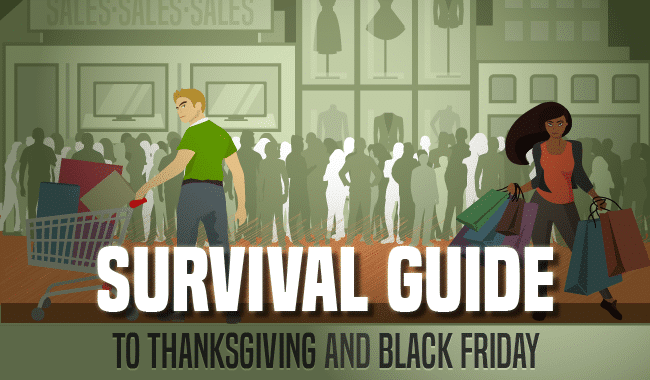 Survival Guide to Thanksgiving and Black Friday
by couponlab
Thanksgiving and Black Friday; these back-to-back celebrations kick off the holidays with a whirlwind of activity that has a tendency to suck you in. Unfortunately, it sometimes seems like you have to pick one or the other, and the most memorable moments can get lost in the craze. You can spend all of Thursday in the kitchen whipping up a Thanksgiving feast that would make Martha Stewart jealous, but then you risk being at the back of all the Black Friday lines and missing out on the best sales. On the other hand, you could get in line at Best Buy or Targetdays before Black Friday commences, but you'd have to settle for a Thanksgiving dinner of frozen turkey slices with a bunch of strangers in a parking lot.
Is doing both even possible? Is there any way to celebrate Thanksgiving and Black Friday without compromising the awesomeness of either one? Well, we think there is! All it takes is skill, stamina, strategy and maybe a few helpful life hacks from our Thanksgiving and Black Friday survival guide.
BLACK FRIDAY PREP
We know Thanksgiving comes first, but you don't want Black Friday stress lingering in the back of your head as you prepare and devour your epic feast. Start taking steps to prep for the big sales now so you're not worrying about them all Turkey-Day-long.
MAKE A GIFT LIST
Black Friday will tempt you with hundreds of amazing sales and discounts, but don't get suckered in. Make a list ahead of time of the gifts you need for friends and family (and maybe a few things for yourself, too). Stick to that list and don't stray. Going in unfocused can cause a shopper to lose a lot of time and a lot of money.
PICK A TARGET
Once you have your list together, you need to pinpoint a store where you can get the most items for the best deals. Retailers will usually start advertising their Black Friday discounts weeks in advance, so pull up your go-to deal site and do your research. It may be tempting to hit up the store that has a big discount on one expensive item, but that could actually end up costing you money. A store with a bunch of little sales can sometimes save you more than one giant sale.
MAP YOUR ATTACK
Head out to whatever store you've picked a few days in advance and get to know the lay of the land. Write down where all the items you want will be stationed and figure out the quickest path between them. Treat it a like a treasure hunt and draw yourself a little map. Seconds can make a huge difference on Black Friday, as some items sell out in less than a minute. The quicker you can get to your targets, the better.
TEAM UP
Find some friends or family members going to the same store as you and coordinate your attacks. You can run to the electronics department and grab everything on your list and theirs, while they head to the toy aisle and do the same for you. If you put together a squad of four or five people, you could be in and out with everything on your lists in a matter of minutes.
HIRE SOME HELP
Use this option sparingly, but there are line-waiters you can hire to wait in line for you on Black Friday. They've likely already started posting their services on Craigslist. Knowing you have a spot secured at the front of the line will definitely keep you from freaking out about Black Friday on Thanksgiving, but the line-waiters will charge upwards of $25 an hour. Make sure the amount you're going to save in the store justifies the expense.
THANKSGIVING PREP
No matter how much prep you do in advance of Black Friday, the day will be ruined if you're still recovering from 24 hours of cooking and cleaning. Keep Thanksgiving as fun and stress-free as possible so you still have energy to go shopping.
EARLY BIRD
Without a doubt, the most time-consuming part of Thanksgiving is the turkey. Cutting down on the prep for your bird can make a huge difference in your day. Start by pre-ordering one from your local grocery store so you have it waiting for you the day before. Sounds simple, but many a Thanksgiving has been ruined when neglectful cooks realized there were no more turkeys within a three mile radius.
GET THE SMALL STUFF OUT OF THE WAY
Slicing, dicing, chopping and stirring may all seem like tiny activities, but when you combine them, they can eat up a ton of time. Luckily, you don't have to do them all on Thanksgiving Day. Many of these can be taken care of a few days in advance. Chop the onions, carrots and celery for you stuffing on Tuesday and store them in a plastic bag in the fridge. Set all your pie crusts the night before. If you can get a few small jobs done every night of the week leading up to Thanksgiving, then all of a sudden you have a ton of free time on the actual day.
PREHEATING IS YOUR FRIEND
And why stop at the small stuff? There are entire dishes you can make a day or two in advance and then just pop in the oven for a quick reheat. Cranberry Orange Walnut Relish, Mascarpone Chive Mashed Potatoes, Butternut Squash and Kale Quinoa Stuffing, and Baked White Cheddar Mac 'n Cheese are just a few amazing sides that will still taste amazing after 48 hours in the fridge.
STAY HEALTHY
No matter how ready you are for Thanksgiving or Black Friday, it can all be for nothing if you suddenly wake up with a cold or the flu the day before. Stay in good health so you can truly enjoy all the shopping and binge eating you're about to engage in.
STICK TO A SLEEP SCHEDULE
Make a "to do" list every day and always put "eight hours of good sleep" at the very top. Losing sleep is one of the easiest ways to get sick over the holidays. Going to bed can seem like a bad idea when there's still so much to get done, but the work you do when you're well-rested is always going to be better and more productive than the work you do after staying up all night.
FEND OFF GERMS
With all your friends and family in the holiday spirit, you're bound to be getting a lot of additional hugs, handshakes and high-fives this time of year, along with lots of additional germs. As unfriendly as it may feel, try to keep the PDAs to a minimum, and if there are some huggers you just can't escape, always keep a bottle of hand sanitizer at the ready to apply at a moment's notice.
DON'T SWEAT THE SMALL STUFF
The holidays are supposed to be fun, right? Don't let stress and high expectations ruin the whole experience for you. So what if your Thanksgiving spread doesn't belong in a Norman Rockwell painting or you don't score every item on your Black Friday wish list. You can keep your holidays awesome no matter what, so long as you stay awesome!
WHAT HACKS WOULD YOU ADD TO OUR THANKSGIVING AND BLACK FRIDAY SURVIVAL GUIDE? TELL US IN THE COMMENTS.