The Only 10 Christmas Movies You Need To See
by couponlab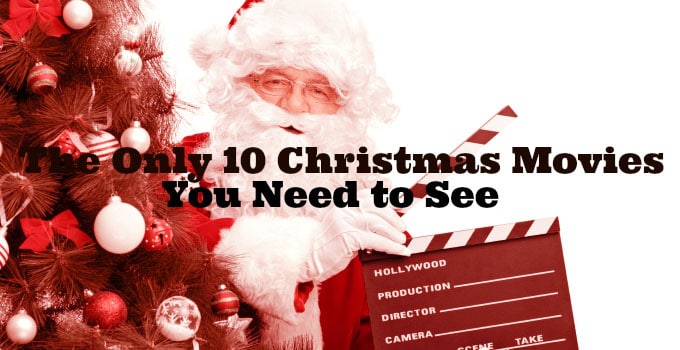 Christmastime is here, and you know what that means! It's time to pick out a holiday movie to watch with your family! But there are so many great choices out there, so which one do you pick? Have no fear; we here at FatWallet are here to help. We have developed the definitive top 10 list of the all-time classic Christmas films. These are some of the silliest, most heart warming and nostalgia-inducing holiday pictures Hollywood has ever produced. Watch any of these films at your next Christmas party, and it's sure to be a holly jolly good time. So feast your eyes on our list, and please save your opposing arguments for movies we left out or ranked too low until the end.
10. A CHRISTMAS STORY (1983)
There's no doubt this movie is a classic. It has so many memorable elements: the green-eyed bully Scut Farkus, the bunny pajamas, the leg lamp and, of course, the Red Ryder, carbine action, two-hundred shot range model air rifle! It just seems like it would be an unforgivable sin not to include this one in a list of the best Christmas movies.
So if you're looking for an unflinchingly honest take on what it was like to experience Christmastime as a kid in 1940's Indiana, you should flip on TBS on Christmas day because they air it 24 hours straight. Although, we wouldn't recommend watching it on repeat for 24 hours straight, or you just might want to shoot your eye out afterwards.
9. HOME ALONE (1990)
Once upon a time, Macaulay Culkin was a cute kid who won the hearts of America by outwitting two scumbag criminals with his arsenal of elaborate booby traps. Sadly, he's not so cute anymore. Sigh…
Don't let that tragic loss of cuteness take away from your enjoyment of this fun Christmas classic. Just have yourself a merry time as you watch a clever little kid outsmart two criminally inept burglars. Don't think about how many times these burglars would have died in real life throughout the movie. And don't dwell too long upon the cruel negligence of his family. (They leave him behind in the sequel, too. Really, guys?) Just enjoy watching Macaulay Culkin, who will always and forever be that cute kid in our hearts, create a bunch of Goldbergian traps in order to torment the heck out of two guys, who in hindsight, probably should have stopped burgling when they realized someone was home. Just do all that and have a Merry Christmas!
8. THE SANTA CLAUSE (1994)
If you're looking for a movie in which Tim Allen turns into Santa Claus, this is probably the only movie for you, but don't watch the sequels. And don't mistake this movie for "Fred Claus," in which Vince Vaughn plays Santa Claus' brother. Don't watch "Fred Claus."
Paul Giamatti plays Santa in "Fred Claus." Paul Giamatti should never play Santa. Tim Allen should play Santa. It makes more sense for Tim Allen, who is generally a jolly guy, to play Santa Claus. Paul Giamatti is not generally a jolly guy, thus he should not play Santa Claus. These are just the facts.
In conclusion, "The Santa Clause" is a better movie than "Fred Claus" because Paul Giamatti does not play Santa Claus in it. So watch "The Santa Clause."
7. DIE HARD (1988)
John McClane is an ordinary guy who just wants to have a normal Christmas with his family, but things go awry when some unexpected guests show up and start making a real mess of things. Oh boy!
"Die Hard" is your classic Christmas tale of faith and redemption. John has to go through a lot to get home for the holidays! But through it all he grows a lot and comes to understand the true meaning of Christmas. Although it's not your typical family Christmas film (it's rated R for frightening violence and a whole lot of F words), this movie certainly has plenty of heart.
"Yippee ki yay!"
6. JINGLE ALL THE WAY (1996)
The premise alone is priceless: Arnold Schwarzenegger and Sinbad dress up like superheroes and fight over children's toys. It's consumerism meets the Governator meets that one '90's comedian who you forgot existed but now are kind of curious about googling to see what he's been up to in recent years! If that doesn't get you pumped for Christmas, we don't know what will.
5. ELF (2003)
We all know Will Ferrell kills it in this movie as the ultra-lovable Buddy the elf, but let's not forget about all of the gems this movie has in its supporting cast. Case in point: Game of Thrones' Peter Dinklage is absolutely hilarious as esteemed children's writer Miles Finch. He and Ferrell even have an action scene together, and it is priceless. Oh, and don't forget about the legendary Bob Newhart, who plays Ferrell's adopted elf father. His dry wit is so freaking on point during his limited screen time that we would almost call it Oscar-worthy if we weren't realists. And we can't leave out Ed Asner as Santa Claus. We'll repeat that last point to let it sink in: the Emmy award-winning comedy legend Ed Asner plays Santa Claus! And it is glorious.
So, clearly, this movie is so much more than just a Will Ferrell movie. It is also an incredibly creative and heartwarming Christmas story featuring an all star cast that is sure to brighten up your holiday if you watch it with an open heart. So don't be a cotton headed ninny muggins this Christmas; watch "Elf!"
4. HOW THE GRINCH STOLE CHRISTMAS (2000)
If you're a fan of the original book and the animated movie, then you'll probably love Ron Howard's live action take on Dr. Seuss' Christmas classic. The film stays very true to its source material, even as it goes above and beyond by diving into the backstories of the Grinch and Cindy Lou Who.
Although Jim Carrey undoubtedly steals the show as the utterly vile yet lovable Grinch, there are plenty of other funny supporting performances by great actors, such as Jeffery Tambor and Christine Baranski. And before you get all up in arms asking about whether or not the movie features the classic song, "You're A Mean One, Mr. Grinch," we're going to stop you right there and say, "Of course it does, silly!" How could you possibly make a Grinch movie without that song? It just doesn't make sense! What does make sense, though, is watching this movie, because it is fabulous.
3. NATIONAL LAMPOON'S CHRISTMAS VACATION (1989)
Clark Griswold is an ordinary guy who just wants to have a normal Christmas with his family, but things go awry when some unexpected guests show up and start making a real mess of things. Oh boy!
"Christmas Vacation" is your classic Christmas tale of faith and redemption. Clark has to go through a lot to have a perfect family holiday! But through it all he grows a lot and comes to understand the true meaning of Christmas. Although it's not your typical family Christmas film (it's rated PG-13 for some mild sexual humor and strong language), this movie certainly has plenty of heart.
"Yippee Christmas Vacation yay!"
2. IT'S A WONDERFUL LIFE (1946)
Are you feeling a little down this Christmas? Is your family life in turmoil? Is your boss on your case at work? Does this weird old guy named Clarence keep following you around and you just don't know why? If you answered yes to one or more of those questions, then "It's A Wonderful Life" is the perfect Christmas movie for you.
This film is so good that people still watch it every year at Christmastime even though it was made during the early years of the Truman presidency! The great Jimmy Stewart plays George Bailey, a frustrated family man who hits hard times and wonders what it would be like if he were never born. Well, through some movie magic, George finds out and discovers that his life ain't so bad after all. The film has one of the greatest endings of all time, an ending that has to be felt to be understood. If you haven't seen this movie yet, we implore you to watch it and experience why life is wonderful after all.
And if you're one of those weirdos who wasn't satisfied with the original ending, then feast your eyes on this alternate take. There! You happy now?
1. THE MUPPET CHRISTMAS CAROL (1992)
Could there be a more perfect combination of things: Charles Dickens, the Muppets and Michael Caine? We don't think so.
This film is the perfect storm. It has everything you could possibly want in a Christmas film wrapped up with a shiny red bow on top. It brings the nostalgia by staying true to the heart of Dickens' classic Christmas tale, but it also has something for the kids. What kid doesn't like the Muppets? Come to think of it, what adult doesn't love the Muppets? They are one of the few things we have left in this culture that both kids and their grandparents can enjoy together. This movie is funny. It's family friendly. It features a ton of great Christmas songs. And, above all else, this film will warm your heart.
Michael Caine shines as Scrooge. He gives a spirited and beautifully emotional performance, which makes this so much more than just a kids movie. Don't believe us? Just watch his heart-rendering performance in this clip. There's nothing sadder than watching Michael Caine cry. Nothing!
So if you choose to watch "The Muppet Christmas Carol" this year, and we really think you should, be sure you find a copy that includes that scene with the song "When Love Is Gone." Because, believe it or not, Disney recently released a version with that scene cut out of the movie. What a crime!
SO WHAT DO YOU THINK OF OUR TOP TEN LIST? WHAT DID WE LEAVE OUT? WHAT DID WE RANK TOO LOW OR TOO HIGH? LET US KNOW IN THE COMMENTS BELOW!
THANKS FOR STOPPING BY THE FATWALLET BLOG. WE HOPE YOU HAVE A VERY MERRY CHRISTMAS!