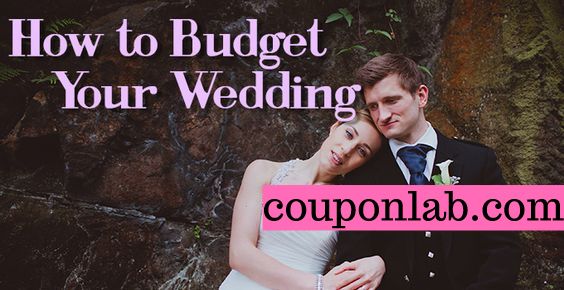 Don't Panic: Wedding Budget Tips Made Simple
by couponlab
Welcome back to our wedding planning series! This article is all about your wedding budget, which is probably the part of planning you're looking forward to least and that scares you the most. Money can be terrifying, especially if this is the first time you've spent a decent chunk of it with your partner. It's often the root of fights in a relationship, which can lead to resentment. No one wants that, so we're here to help smooth things out and make you confident that your budget is working for you, and not the other way around.
We're assuming that if you're here, you're probably footing the bill for your wedding, but if you're splitting some of the cost with your parents or you care about your parents' finances, we'll help you help them save money (and make you the favorite of all their children). Saving money means foregoing things like a destination wedding or extravagant decor, like gold-covered plates, and possibly undergoing a bit of discomfort, like hosting the wedding party at your house the night before the wedding (break out the futons and the sleeping bags), but that doesn't mean your wedding has to be a dud. If your goal is to keep your budget low, we've got your back. We'll help you have a Pinterest-worthy wedding AND keep as much cash in your pocket as possible.
ADDRESSING YOUR NEEDS
Okay, first things first: DO NOT TAKE OUT A LOAN FOR YOUR WEDDING, HOLY CRAP, DO NOT DO THIS. This is a great way to regret your wedding and wonder why you ever had one in the first place after it's all over. You're probably already in debt with student loans, your car or a house; you do NOT need more of it. Now that that's out of the way, let's go through some questions that'll help you solidify your ideal budget.
GUEST LIST AND WEDDING PARTY
More guests means more money. Consider inviting only close relatives and friends, as you'll save on seats, food and venue, since many venues with multiple rooms charge more for bigger spaces. You'll also need to consider the size of your wedding party. The smaller you keep it, the less money you spend on gifts and dresses and suits (if you're providing them). If you're working with a tight budget, fewer is always better.
DIY VS. RENTALS
DIY will save money but cost a lot of time. You can buy wholesale basic decorations like blank, empty vases and bulk "river" stones, as well as floating candles and build-your-own centerpieces, but I recommend enlisting the aid of family and friends. You'll also be responsible for transporting everything to and from your venue if you're not renting decorations. The biggest perk of DIYing your decor, food and anything else is that you control every aspect of design.
Rentals make things simpler but can limit your options and cost a lot more, but if you're looking for as little stress as possible, rental is the way to go. As I mention later, your caterer or the venue (or both) may have decor rental options bundled with the price of food or space, but they'll most likely be limited to white or black, unless they have an event planner on staff or as a partner.
THE DRESS (AND OTHER CLOTHES)
Traditional white dress and tuxedo? Or something more off the beaten path? If you have a willing seamstress, consider having your dress custom-made. My dress was made by my mother and cost less than $300 for materials, plus she got to make arguably the most important part of the wedding herself. You might be honoring a loved one with this request. If you're going for suits, consider buying something inexpensive or as separates and making it unique with a trip to a tailor. Vests and dress pants are also an option, and vest rentals are way cheaper than full tuxedo rentals (plus everyone has a pair of dress pants in their closet).
Keep the bridesmaids' dresses simple. Don't shop wedding stores like David's Bridal; instead, try regular department stores like Macy's and look for low-key prom dresses or simple, monochromatic gowns that fit your color scheme and theme. If you insist on matching dresses, go shopping together so you can find a good style that flatters everyone's shape. Not everyone is going to look good in the same thing, and you'll make your wedding party more comfortable standing in front of 75+ strangers if they're wearing something they look nice in.
Sometimes the bouquet gets lumped into decor, but I think it's part of your outfit. Fresh flowers are expensive and can add extra stress, as they need to be collected or delivered mere days before the event, if not day-of. I opted for dried flowers that I ordered on Etsy, and I designed and made my bouquet, the bridesmaids' bouquets and the boutonnieres myself the week before my wedding (hot glue and clothespins, baby). Dried flowers will last forever, if treated properly, meaning you can keep your bouquet as long as you like, maybe even make an heirloom out of it. If you grow your own flowers, you can just pick from your own garden. Get planning early if you want to grow your own bouquet, as you'll need to pick out the seeds well in advance (this won't really work for winter weddings, though).
Budget range: $100-$10,000+
INVITES AND OTHER PAPERCRAFT
Cheapest way to do invitations is through a free wedding website maker, like The Knot or Wedding Wire, but not everyone checks their email or wants a digital invite. The other cheapest way is to DIY these with a free graphic design software like GIMP and use Vistaprint or another printing service to order your invites. If you're not artistically inclined, you have the option of hiring out to a stationery company, which, depending on the desired embellishments, could cost you a pretty penny. Consider save-the-dates, as well, which you'd send out about 3-6 months before you send invites. This can help you figure out how many invites you need to send, too, if people tell you in advance they can't make it.
If you're making invites by hand, remember to include things like the wedding date, the location of both the wedding and the reception, food options (for both buffet and plated options) and any other notes, like if there's an open bar or if people should bring their own rice to throw. You should also include a space for people to RSVP, and either include an envelope with your return address on it or an RSVP slip postcard-style for people to easily send it back.
Don't forget about stamps and envelopes when you're pricing your budget, as these hidden costs of sending wedding save-the-dates and invites can add up.
You also need to think about programs if you want those for the wedding and reception. These can help answer questions like "When does dinner start?" that you'll hear a million times all night. You'll want one for every seat at the wedding, but you'll definitely want to order more just in case something happens to some of them. These can also be made in the same way as your invites, either by your hand or hired out to someone else.
Budget range: $40-$500
DECORATIONS
You'll need to think about seating, seat covers, the arch or other altar-like decor at the end of the aisle, an aisle runner (we used a strip of donated white jersey fabric), centerpieces, lights and pretty much anything else you want to include in your design plans. This is where your Pinterest board will come in handy and when you'll really want to think about your wedding style. Knowing your style will help you make a list of decorations you want, which will help you plan your budget.
Fresh flowers and velvet seat covers will run you a pretty penny. Look into alternatives, like dried flowers, for a cheaper, longer-lasting décor scheme. Hit up thrift stores for eclectic plates or garage sales where people are getting rid of boxes and boxes of "fine" china if you don't want to use your caterer's dish sets. Look for on-sale fabric in your colors to wrap chairs with and for draping across doorways and your wedding arch.
If you're going DIY, decorations will probably take up the most of your time. Amazon is a great place to find cheap craft supplies and candles; just make sure you order them either with Prime or well in advance.
Budget range: $500-$10,000+
DINING OPTIONS
You can always go potluck for your wedding, especially if you have a particularly food-oriented family. If your wedding is going to be small, this is a great way to keep things personal and intimate and make anyone who felt left out during planning feel included. If you don't want to deal with cleaning up 50 slow cookers full of cheesy mashed potatoes, however, consider catering.
Look for caterers that are newer to the business but have good reputations. Use vendor finder sites like Thumbtack to get people vying for your dollar, rather than wasting time trying to bargain with them yourself. We ended up checking out a local bowling alley that had recently hired a former wedding event planner that was getting into catering, and their chef was actually trained in Italy. We had New York strip steak and baked salmon, plus sides and hors d'ouevres for $2,500, all buffet-style, plus we got a discount on table, chair and linen rentals. Some caterers will offer you a choice between buffet style and plated dinners.
Some caterers offer furniture and decor rental for a discount with their food services, so if you don't mind getting everything from the same place (we didn't), and aren't picky about plates (we weren't), it's a convenient way of saving money and keeping everything simple on your big day.
Budget range: $0 (potluck option)-$7,000
WEDDING AND RECEPTION VENUES
To save money, try for places that are new to weddings or aren't very frequented by brides. Maybe you have a relative with a few acres they'd be willing to host on for you if you want an outdoor wedding. Make sure it's not too far from your officiant's home or office so you don't have to pay extra travel fees. Other options are off-season venues whose business slows down outside of the June-September wedding season and restaurants (for a smaller group), where you can rent a party room and enjoy a more intimate evening.
Budget range: $250-$10,000+
PHOTOGRAPHY AND VIDEOGRAPHY
While it might seem like the frugal option to go with Cousin Ben who just got a brand new Canon T5i for Christmas and loves taking pictures of his cat, this is something you want to consider spending real money on. Look for discounts at wedding shows and local photographers who offer coupons to local couples. You can also try your hand with entering drawings for a free photography package, but I wouldn't bet on those as your first choice. We were able to book a photographer who matched our style and personalities for around $2,500 with a free engagement shoot because we met her at a wedding show and signed within the week after.
Budget range: $1,000-$10,000+
Videography at weddings is a bit of a relic from the '80s and '90s, and with the advent of smartphones, everyone has a video camera in their pocket. Do you need high quality video of a single event, or will still photos and other mementos suffice? If so, this is another one of those things you'll want to spend big on. Request portfolios and thoroughly vet all vendors before you choose one. This will represent your wedding day for years and years after everyone's short term memories are overridden with new cars and babies, so you want it to represent your style (and your dollar) down to the very last detail.
Budget range: $800-$10,000+
OFFICIANTS
You may need to be a member of the church or other organization before you can get married with them, and this may require a few marriage counseling sessions, depending on the priest, pastor, rabbi, etc. Budget your time wisely, if this is the case. If you're planning an off-site wedding with a religious officiant, look into whether or not they have specific requirements for the ceremony, if it's customizable and if they have travel fees. Secular officiants will respect religious requirements (unless they say otherwise) and can be a great way to cut down on the stress of planning around your religion's customs if you're not particularly devout.
Budget range: $50-$400 (not including travel fees)
ENTERTAINMENT
Live music? You'll want to make sure your venue has the acoustics and the space for this, and that the band or ensemble has their own audio equipment, like speakers. Attend shows to see how they perform before you commit, and read reviews to make sure they're reliable. This is probably the most expensive option and the one that requires the most attention. "Brides Magazine" has a great article about the amount of hidden costs to hiring live music, so for a budget option, this might not be the best idea.
Budget range: $3,000-$10,000+
DJ? Often loud, boisterous and energetic, a DJ might be the perfect fit for your wedding. They range in price, from around $1k to over $10k, depending on the package and equipment available, and you will get what you pay for. Interview DJs and be absolutely clear with the kind of tone you want for your wedding, otherwise you could end up with Smashmouth on repeat for an hour. Wedding DJs have notoriously strong personalities (they are salespeople, after all), so if you don't think you can hold your own in a planning meeting, go for something less stressful.
Budget range: $1,000-$7,000
A speaker and Spotify playlist? This is the super budget option and the one I went with for my wedding. My father-in-law provided a high quality speaker set, and we just plugged in my phone. This will take more of your time, as you'll have to create the playlist yourself and possibly field requests. If you're a cheap control freak like me, this is a perfect option, as you won't have to worry about the DJ playing "The Chicken Dance" because your 7-year-old cousin requested it.
Budget range: $60 for a decent wireless speaker
Consider the venue's space allowances, as well. If your venue doesn't already come with a dance floor, you'll have to improvise, and if you're trying to save money, you might have to make do with a tighter space. Converting the dining floor into the dance floor after everyone has eaten is a great space-saving option, or you could make an outing of it and hit the bars with a group of friends and family after everyone's done eating.
THE FINAL LESSON
Basically, what I'm trying to impart to you here is that doing things yourself is often the cheaper, more controlled way of making sure everything is exactly how you want it, but it will incur more stress than hiring out services to run things for you. If you have a lot of people willing to help out, whether it's providing supplies or making things with you, I would go for DIY. You'll have a lot more fun and be able to include a lot more people in your wedding than if you'd outsourced all of that.
As for the things you can't do yourself, like feeding more than 100 people easily or taking your own wedding photos, there are always options to save money if you're savvy and follow the tips I gave you above.