Will You Be Picking Up the New Amazon Echo Show?
by couponlab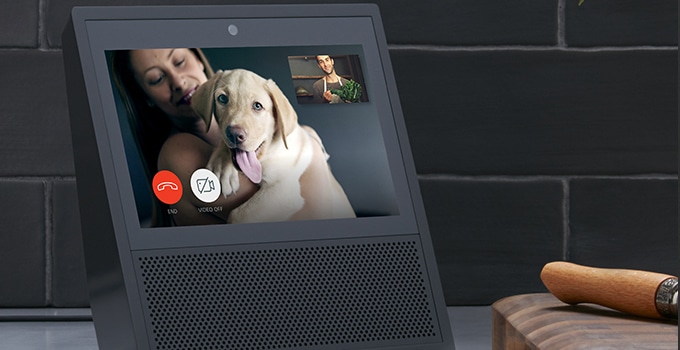 On the heels of their Echo Look announcement, Amazon is now releasing the Echo Show, another addition to their range of smart home devices that now includes a screen. With a 7-inch screen, the Echo Show is meant to incorporate video calling and viewing into your every day life, and it will come equipped with everything in Alexa's skill arsenal. The device will be available in black or white, and it will weigh about 2 1/2 lbs., making it ideal as a stationary home device.
The Echo Show features a 7-inch touchscreen, 5 megapixel, front-mounted camera, dual-band Wi-Fi support, dual 2-inch stereo speakers, A2DP support for audio streaming from Bluetooth devices, hands-free voice control with an 8-microphone array and Alexa. It will come with a 6-foot power cable, as well, and includes volume control buttons and a button to turn off the microphone and camera on the device. The device is currently retailing for $229, and Amazon is offering $100 off when you pre-order two, bringing the price of two Echo Shows to $359.
Right now, the Google Home is the Echo's biggest competitor, but Google only has one device in the game while Amazon has four now, although the Echo Look is still very exclusive (available through invite only). This doesn't mean that Google isn't holding its own in the personal assistant AI game, as the Google Home is arguably a more sophisticated piece of software, while Amazon brings versatile hardware. Where the Home really shines is its complex voice command library and learning capability, which allows customers to differentiate who they are based on their vocal profile. It also infers more from your statements than Alexa can, as evidenced by CNET's recent comparison of the two devices:
For a bulb called 'desk lamp' in the Philips app, Alexa will respond only if you tell it to turn on the 'desk lamp.' You can create a group for all lights or office lights, then command Alexa to turn off the office lights and it'll work. Without those groups, Alexa won't respond to any other names for the lamp, including 'desk light.'

With Google Assistant, I nicknamed the desk lamp 'Lampy,' and assigned it to the office. I could then control it by commanding Google to turn on the 'desk lamp,' 'lampy,' 'desk light,' 'office light,' or 'lights.' Google doesn't get any extra credit for the 'office light' command since assigning the lamp to the room is similar to adding it to a group for Alexa, but I appreciated the Assistant automatically grouping it with the rest of my lights and helping me out with the difference between 'light' and 'lamp.'"
The Home suffers big when it comes to the amount of supported actions, devices and apps it has; Alexa dominates with over 10,000 "skills." When choosing between the two, consumers should consider exactly how they mean to use their devices. Google Home is more streamlined and focused on device control and presenting information, while Echo devices are very geared towards shopping and being able to do lots of stuff, even if you don't need to. Otherwise, the hardware differences in either aren't particularly stark, so it really boils down to features and purpose when you're making a decision between them. With the advent of the Echo Show, however, Google will have to really step up to stay competitive.
Here's a video demonstrating the Echo Show's potential and features:
The release of the Echo Show should also be enough to get Apple executive Phil Schiller to eat his words from this weekend, when he said of the Google Home and Echo series of devices, "There's many moments where a voice assistant is really beneficial, but that doesn't mean you'd never want a screen. So the idea of not having a screen, I don't think suits many situations." Apple itself hasn't stepped into the personal assistant device battle, yet, but his remarks have us pretty secure in thinking Apple's device will include a screen, whenever it shows up.