Would You Pay $5 for McDonald's New, Gourmet Customizable Sandwiches?
by couponlab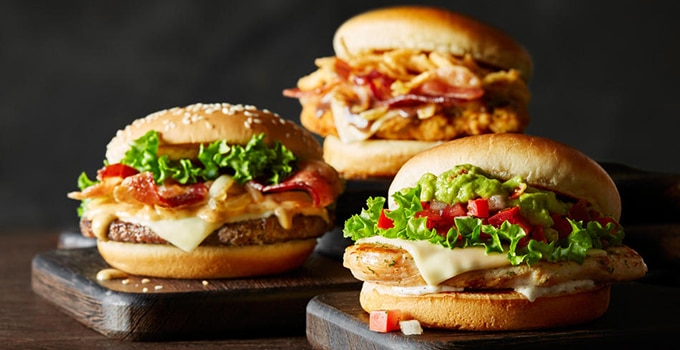 McDonald's has a new product up their sleeves, and it's called the Signature Crafted line of sandwiches. It's a selection of mix-and-match sandwiches with fancy sauces — Maple Bacon Dijon (grilled onions, thick-cut bacon and Dijon sauce), Sweet BBQ Bacon (barbecue sauce, bacon and crispy onions) and Pico Guacamole (avocado, pico de gallo and buttermilk ranch sauce), all with white cheddar — that you can have with a burger patty or grilled or crispy chicken. The sandwiches will be available this week nationwide and cost $5.
If $5 for a burger seems a bit steep for McDonald's fare, you're not the only one who thinks so. Commenters on the Chicago Tribune piece had strong opinions about the price of the new selections:


The announcement comes soon after the discontinuation of McDonald's Create Your Taste program, which was an entirely customizable meal. They've also had little success with previously more expensive fare, like the McPick2's higher priced versions, and they've discontinued other premium options like the Arch Deluxe and Sirloin Burgers due to lack of popularity. In an attempt to balance the high price, McDonald's lowered drink prices earlier this year, offering $1 soda and coffee options, but it's questionable if that will be enough to encourage customers to buy the Signature Crafted line. Customers can also get further discounts and free fries promotions through the McDonald's app, which functions similarly to Starbucks' app in that it allows you to order and pay for your meal ahead of time.
McDonald's seems to be hopping on the growing trend of food consciousness driven by millennials, a generation focused on purchasing experiences rather than material goods and who are increasingly health conscious. People are looking more at the quality of their food and where it comes from, which is driving changes like Tyson's choice to go antibiotic free with their chickens. McDonald's, Burger King, Panera, Chipotle, Taco Bell, KFC and Wendy's are also taking the pledge to remove antibiotics from their food.